Muthama faces tall order selling Ruto in Ukambani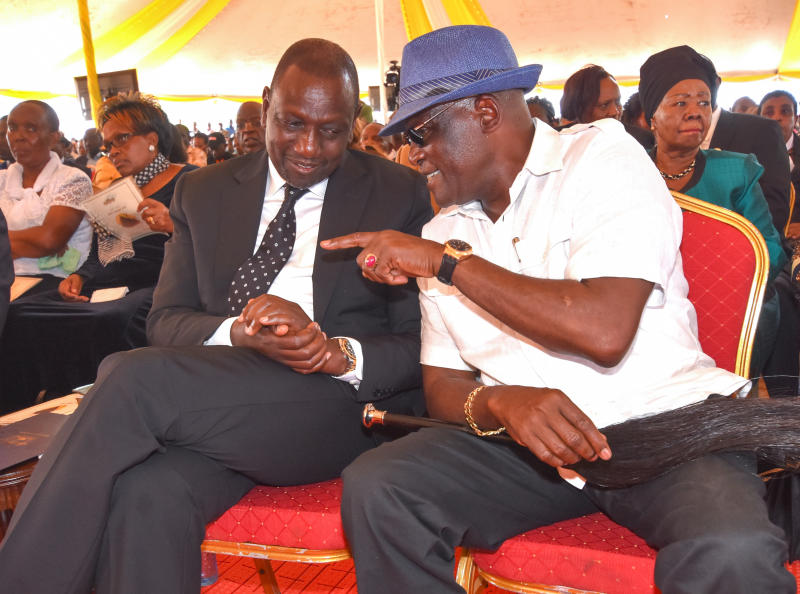 Former Machakos Senator Johnstone Muthama has set himself up for a herculean task of selling Deputy President William Ruto's presidential candidacy in Ukambani ahead of the 2022 General Election.
Mr Muthama is seeking to deliver Lower Eastern's two million votes to Dr Ruto, his newfound political ally.
For over two decades, Wiper leader Kalonzo Musyoka has remained de facto leader for Ukambani and his political journey and aspirations have received near-tacit support from the community.
From his sojourns as Kanu organising secretary to Orange Democratic Movement Kenya (ODM-K) that was later rebranded to Wiper, the Kamba community has given Kalonzo unequivocal support that has earned him a seatt on the power sharing table.
Now Muthama, his erstwhile confidant, is seeking to wrestle the support from Kalonzo or better still shepherd him to support Ruto in the 2022 race.
Formidable team
An insider in the Muthama think tank, and who sought anonymity, said the former senator is seeking to bag the support of Makueni Governor Kivutha Kibwana, several former and current MPs as he seeks a formidable team.
Take a quick survey and help us improve our website!
Take a survey
"There are high-level talks that hope to bring on board a number of former and elected leaders in Wiper and other small parties from the region, including CCU and Narc, to ensure the team for 2022 gains momentum," said the source.
Muthama, perhaps knowing how to deal with Kalonzo, has declared that the Wiper leader will follow him and not the other way round.
He said together with the DP, they were working on a party that will run over the region and Kalonzo will be forced to make a deal with them.
For any presidential candidate, the two million Ukambani votes is a sizeable chunk and Muthama's assignment will be to deliver the votes for his new political friend.
In the last three elections, Muthama has been Kalonzo's confidant and is said to have bankrolled his campaigns, a fact the Wiper leader recently dismissed.
Before their fall out after the NASA defeat in 2017, Muthama, a grassroots mobiliser, was seen as the right hand man for Kalonzo and his word was taken to be that of the Wiper leader.
"We will campaign and get votes even if it is in the mouth of a lion. We will be thorough and resolute in seeking votes," Muthama told a gathering in Tala early last week.
For a month, Muthama has hosted three delegations of leaders, political aspirants, professionals and businessmen for strategy meetings at his Mua home in Machakos County and other consultative meetings in Kangundo and Matungulu constituencies.
Two weeks ago, Muthama hosted MPs allied to Ruto including Victor Munyaka (Machakos Town), Fabian Muli (Kangundo), Nimrod Mbai (Kitui East) and Vincent Musyoka (Mwala) where the leaders vowed to dethrone Kalonzo as the region's de facto political kingpin.
The former Machakos senator had told Kalonzo a few months ago that he will have to follow their political course or be left out.
But Kalonzo has indicated that he will trust himself only this time round and will go for the top seat in 2022 General Election.
Last month during the funeral of a son of late veteran politician Mulu Mutisya at Ngamba village in Wamunyu, Machakos County, Kalonzo accused Muthama of misleading him twice to support Raila, by default signaling the strong influence the former senator had on him.
"I will not allow you to mislead me a third time because you have failed me twice. I will be my own negotiator in national politics," Kalonzo told Muthama.
Kalonzo's reaction
"With all my experience and international standing, do you honestly think that I am supposed to support Ruto who is of much less experience?" wondered Kalonzo.
Makueni Senator Mutula Kilonzo Junior, however, says Kalonzo was still the man to beat in Ukambani.
"Wait and see what we will have in 2022. Those talking now will be gnashing their political teeth because of their misinformed decision," said Mutula Junior.
But Munyaka said time for over-confidence on the part of Kalonzo supporters was gone and Ukambani was slowly walking away from the grip of the former vice president.
"What project has Kalonzo brought to Ukambani all that time he has been at the helm? It is time the community charts a different course," said Munyaka.
His Kitui Rural counterpart Makali Mulu, however, said it is Kalonzo who had the ultimate say in Ukambani and any other person would not make any meaningful impact.
"I wish them well in their endeavour. But I can tell them for free that they are set for an uphill task," he said.