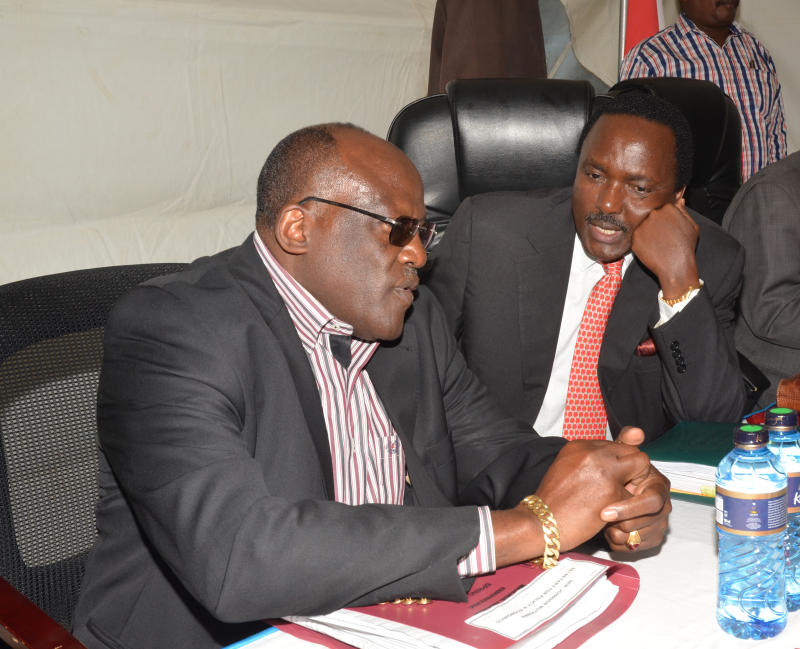 A fierce exchange of political brickbats has dominated Ukambani political scene in the past few days pitting former Machakos Senator Johnstone Muthama and MCAs allied to Wiper party leader Kalonzo Musyoka.
The bone of contention is Muthama's dramatic walk-out from the Wiper party and his firm declaration that he will back Deputy President William Ruto instead of his longtime political ally Kalonzo for the presidency in the 2022 general election.
Muthama's support for the DP has had Kalonzo putting up a fight to consolidate his grip on the lower Eastern vote block.
On Tuesday a host of Machakos MCAs loyal to Kalonzo convened a press briefing at the Machakos County Assembly where they castigated the former senator for what they termed as his disrespect for the former Vice President.
Led by Majority Leader Mark Muendo, who is also the Kinanie MCA, the Ward representatives asked Muthama to tone down on his chest-thumping and stop making offensive utterances against the Wiper party leader.
Read More
"We are telling Muthama to mind his own business and leave Kalonzo alone. Being a non-member of the Wiper party, he has no entitlement to speak for or against the party leader," said Muendo.
He said Muthama's claims that he had been financing Wiper party operations were false.
"He has never been a financier of the Wiper party at any one point. The party has enough elected leaders who have been supporting its activities through usual subscriptions," he said.
The MCAs claimed Muthama had betrayed the Kamba community by mobilizing support for DP Ruto, instead of rallying the community's support for Kalonzo's presidential bid.
"Kalonzo will be on the presidential ballot and not as anyone's running mate. Muthama planned to make Kalonzo Ruto's running mate but we cannot allow that to happen," they said.
But Muthama, who has vowed to dislodge Kalonzo as Ukambani political kingpin has defiantly stood his ground, promising Kalonzo the mother of all political battles in the coming days.
The outspoken former senator has teamed up with MPs Victor Munyaka (Machakos Town) Vincent Musyoka (Mwala), Nimrod Mbai (Kitui East) and Fabian Muli (Kangundo) to drum up support for Ruto's presidential bid in what they are calling 'Hustler Nation Ukambani Chapter.'
On Wednesday Muthama hosted hundreds of delegates from Makueni County at his Mua home where he declared his decision to support Ruto was unstoppable.
He also vowed to lead a political revolution throughout Ukambani which he said will liberate the Kamba nation from poor political leadership.
"The Kamba community has been rendered almost irrelevant in national politics because of poor leadership and self-seeking political leaders like Kalonzo. To bring back honour for the Kamba nation, Kalonzo and Wiper must be stopped," Muthama said.
Muthama said those claiming he was auctioning the Kamba community to DP Ruto were peddling cheap falsehoods.
The gemstone dealer said he had deeper pockets than Ruto who would come for funds from Kanu when he was bankrolling it in the 90s.
"What can DP Ruto offer me? I am a man of means who has funded several presidential campaigns before," said the former senator.
In a video doing rounds, Muthama is heard saying he cannot auction Kalonzo because there would be no takers.