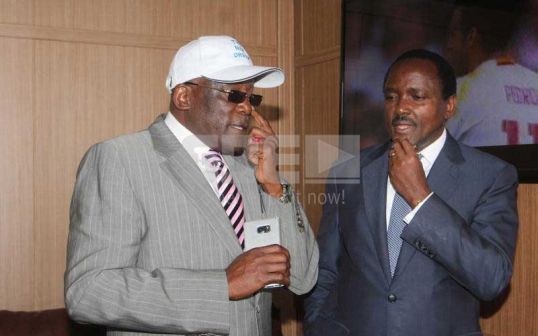 The nasty political tiff between Nasa Presidential running mate, Kalonzo Musyoka and abrasive Machakos Senator Johnstone Muthama is about to take an ugly turn, which the gemstone dealer swears "will not make Kenyans sleep" once he spills "devastating" beans on his former buddy.
Those who know them intimated that their differences stretch from politics to business, but the recent party primaries that eventually led to Muthama ditching the party and opting not to defend his senatorial seat, was the shift that tilted their political tectonic plates.
But Muthama is also said to have never forgiven Kalonzo over the circumstances under which he acquired Athiani FM, a vernacular radio station, long after he (Muthama) processed its licensing and did the bulk of its founding work.
A senior member of the Kamba professionals group that has been working with Jubilee government to deliver the Kamba Nation — of which both are prominent leaders — to President Uhuru Kenyatta's Jubilee Party, also recounted the genesis of their fall-out as having emanated from back-pedaling on "commitments" from Kalonzo to dump Nasa for Jubilee.
In this instance, and the process leading to Kalonzo agreeing to be Raila's running mate, Muthama was side-stepped. Contacted, Muthama neither confirmed nor denied floated reasons for their acrimony, but confirmed there were "more things" he will say about Kalonzo at an appropriate time.
Asked whether the information revolves around the intrigues of the Nasa formations and parallel covert quest by President Uhuru's Jubilee Party to sway him to their side, Muthama retorted: "That's coming from you. For me, I have a story to tell Kenyans... and when I open my mouth, the whole country will be shaken."
Muthama also vowed to reveal the true character of Kalonzo besides opposing his son's nomination to the East Africa Legislative Assembly (EALA) since "we cannot nominate the father as the Deputy President and proceed to nominate the son as an MP. That position can go to another deserving Kenyan whose family is not anywhere near the top leadership of the country."
Makueni Senator Mutula Kilonzo Jr, also the Wiper vice chair noted that,"I will not be surprised if this issue gets nasty, personal and out of hand."
The two come a long way from the days when Kalonzo was a national Kanu official, while Muthama was Machakos branch official. He however later ditched Kanu for DP but they would be re-united in post-Kanu years. In 2007, Muthama is said to have played a decisive role in convincing Kalonzo to work with former President Mwai Kibaki. In 2013, again, he played a key role in swaying Kalonzo towards Raila Odinga. The people around Kalonzo now believe that on the two occasions, Muthama essentially 'auctioned' Kalonzo off. One source very close to Kalonzo said they had no idea what Muthama was up to since "Kalonzo is a very open person."
"It's nothing personal, nothing private about all this. As far as Kalonzo is concerned, there's no fallout between them. Unless he is planning to make up stuff, Kalonzo is not aware of anything that is destructive in his life. He has no beans to be spilled."
The source said Muthama has neither private nor business interests with Kalonzo.
"The broker-politics of yesteryears are no more and with it, the likes of Muthama. Our party leader has come of age and can negotiate his way around if it comes to that. The fact is that for a long time now, Muthama has never had Kalonzo's interest at heart," said Enock Wambua, who won the Kitui senatorial nomination on a Wiper ticket. The source also linked the recent closure of Kalonzo Musyoka Foundation to a deal gone sour and predicted much more "punishment" for Kalonzo in the near future.