EACC arrests officials over alleged embezzlement of Sh85.1m at Homa Bay County Assembly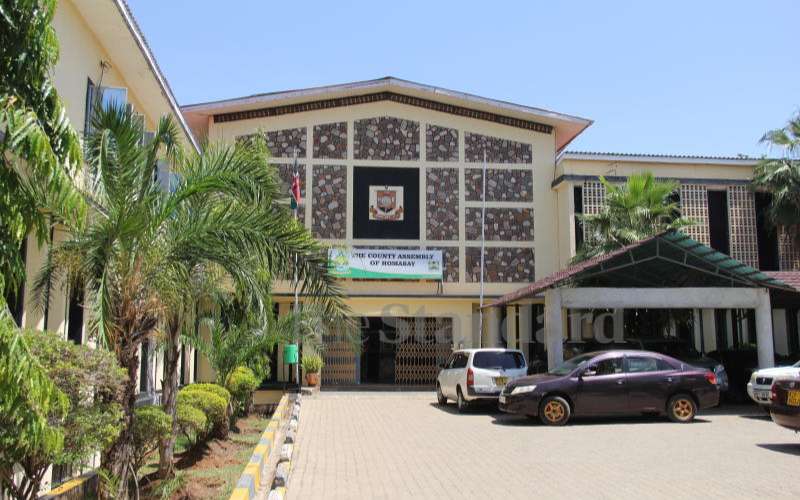 Six people have been arrested over the alleged misappropriation of Sh85.1 million in the Homa Bay County Assembly.
Today, the Ethics and Anti-Corruption Commission (EACC) detectives arrested former clerk of the county assembly Bob Kephas, interdicted chief finance officer Caroline Sang', interdicted senior accounts controller Maurice Amek and three others - Evelyne Ogutu of Nyangume Enterprise, David Mireri and Lilian Aloo of Damila Enterprises.
Some of the suspects allegedly received multiple payments as salaries. They are also linked to companies that allegedly received payments from the assembly.
In a press release, EACC Chief Executive Officer Twalib Mbarak decried massive embezzlement of public funds in the assembly.
EACC claimed that Nyangume Enterprises received Sh26.2 million while Damila Enterprises 46.5 million from the county assembly, yet neither delivered goods nor provided any service to the assembly.
Kephas allegedly received more than Sh24.2 million and Sh750,000 from Damila and Nyangume, respectively.
Aloo is suspected of receiving more than Sh12.3 million from the assembly as salary, yet she was not an employee of the county assembly.
Sang' allegedly received Sh3.95 million from Damila as benefits. Amek also allegedly received Sh5 million from the same company as benefits.
They are being held at Homa Bay Police Station.
The EACC has recommended that the six be charged with conspiracy to commit economic crime, abuse of office, unlawful acquisition of public property, dealing with suspect property, stealing and money laundering.
"Upon concluding investigations, the EACC submitted the investigation report to the Director of Public Prosecutions (DPP). The DPP reviewed the recommendations and granted consent to charge the suspects with the above recommendations," the press release reads in part.
Kephas, Ameka and Sang' had also been charged in an anti-corruption court in Homa Bay with another case involving misappropriation of public funds.
Homa Bay County Directorate of Criminal Investigations Commander Abed Kavoo said the suspects would be arraigned on Tuesday.
"This is a matter that has been investigated for some time until they were found culpable for misappropriation of the said funds," said Kavoo.