Traders risk life and limb and as gangs fight for control of markets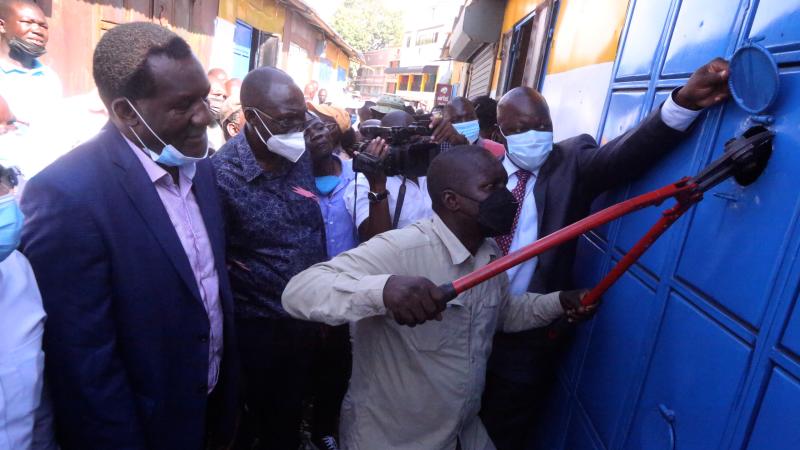 It is about 6pm, and a group of women are frantically calling out customers along the sidewalks, next to the main bus park.
The traders have turned the sidewalks into a busy open-air market, as all kinds of items are displayed along the stretch.
They have nowhere to ply their trade following delays in the completion of key markets and a fight for control of the few markets.
June Awino, a vegetable vendor, narrowly escapes death as a Tuk Tuk evading traffic police officers at the nearby roadblock swerves dangerously onto the pavement, and in the process, destroys the tomatoes she had been selling.
She collects the few remaining tomatoes that were not trampled on and resumes her position as she waits for customers.
It is the danger that several traders hawking items along the streets grapple with each day.
Corrupt county officials working in cahoots with criminal gangs have made life unbearable to some traders and pushed them to the streets.
Some traders claim that they have become victims of extortion from county officials and some gangs that control the available stalls.
The sellers who claim to have no choice have to dice with death every day on sidewalks of major streets to sell their goods, unperturbed by the danger posed by the vehicles.
One can only imagine what would happen if a vehicle swerved out of the road. But for them, the risk supersedes their relentless quest to put food on their tables.
The traders claim that the delays in completion of two main markets, Kibuye and Uhuru Business Park, have worsened their situation.
And despite several arrests and confiscation of their goods by city askaris, the have chosen to stay put.
The situation is similar at the newly established market next to the Moi International Stadium.
Awino admits she understands the danger she is exposing herself to but claims she has no alternative.
She is among traders whose stalls were demolished by the county government last year when Governor Anyang' Nyong'o's administration moved in to restore the city.
Controversy surrounds the ownership of stalls at the Maendeleo market. Two groups are claiming ownership of the market. The newly built market was to resettle traders affected by evictions from the Central Business District, but infighting between gangs, corrupt government officials and investors keen on grabbing the stalls has affected its occupation.
Whereas the county government claims ownership, some traders also claim that they are the ones who mobilized funds and constructed the stalls, and so they are entitled to levies from the stalls.
On Thursday evening, senior government officials, led by Kisumu Central County Commissioner and city manager Abala Wanga, moved to the market to reclaim the stalls that had been grabbed.
During the operation, the officials gained forceful entry to about 55 stalls which they claim the group had grabbed and redistributed them to other traders.