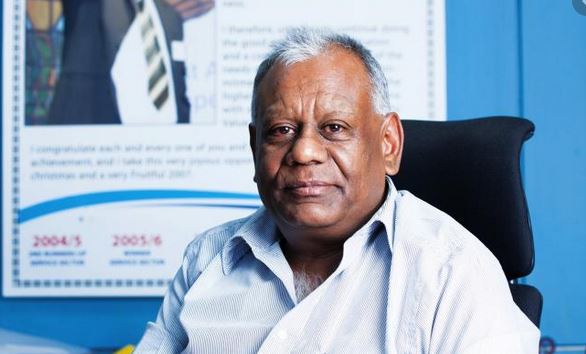 Nakumatt Chief Executive Officer Atul Shah cannot attend court sessions due to sickness, a Mombasa court heard on Monday.
A personal doctor to Nakumatt CEO Atul Shah confirmed that he is on bed rest making it hard to appear in court personally to answer to charges touching on Sh74 million rent dispute.
Dr. Hemendrasinh Vaghela said that Mr. Shah was suffering from effects of high blood sugar levels, diabetes and fluctuating blood pressure, hypertension as well as fresh symptoms of acute angle-closure Glaucoma.
"I visited him at his residence on the evening of February 11 2020 and I can confirm that he is suffering from effects of high blood sugar levels, diabetes and fluctuating blood pressure, hypertension as well as fresh symptoms of acute angle-closure Glaucoma," said Dr. Vaghela.
MP Shah Hospital also clarified that the Nakumatt CEO attended their satellite hospital at Village Market in Nairobi on February 4 with severe hypertension and uncontrolled diabetes.
Lawyer Daniel Ngonze said that Shah was unable to personally engage in court proceedings.
Shah is embroiled in a Sh74,438,765 rental dispute with his former landlord, Ideal Location who accused him of forging medical letter and applied for his arrest.
On June 11 2020 Mombasa High Court registrar Christine Ogweno Issued a warrant of arrest against Shah for failure to avail a medical report proving that he was indeed sick and over contempt of court to pay the said amount.
"This is to you to arrest the said Atul Shah and unless he shall pay to you the sum of Sh74,438,765 together with police expenses and fees of any to bring the said judgment debt before the court with all convenient speed," said Ogweno.
Earlier on MP Shah Hospital in a letter refuted claims that Shah attended the hospital which prompted Ogweno to summon him and shed light on the same.
Hanish Doshi, the son to Mombasa based tycoon Ashok Doshi accused Shah of using a fake and forged letter from Dr. Mohen Gaballa of M.P Shah Hospital indicating that he was unwell.
Hanish is the director of Ideal Location Limited that owns City Mall in Nyali where Nakumatt was the anchor tenant.
Ideal Location lawyer Willis Oluga said that Atul failed to pay the said arrears in which he had guaranteed payment of rent to a tune of Sh39, 049, 812 to his former landlord Ideal Location Limited.
However, in a letter to the courts, Dr. Bhupinder Reel Deputy Medical Officer at MP Shah confirmed that upon reviewing the records, Shah did attend their hospital.
"Upon review of our records, it has come to our attention that Mr. Atul Maganlal Shah (MP Shah Hospital UHID 10031508) did attend our hospital' satellite clinic situated at the village market as a patient of Dr. Mohsen Gaballa of February 4 2020," read the message from the hospital.
Also Shah's personal doctor, in a follow-up letter placed before Ogweno said that Shah was unable to concentrate and focus and thus he advised him to take complete rest and keep away from intense work and heavy reading.
The doctor said that he advised him to change medication, change his diet, environment, and develop a more relaxed lifestyle which should help the current suffering.
"He is strongly advised to be on full bed rest and no strenuous activity for a period of 60 days," said Dr. Vaghela.
On Monday, Shah applied for the High Court protection against his arrest by police after Ogweno, issued a warrant of arrest against him.
In an application filed before Justice Charles Yano, Shah is seeking the court's intervention to stop the police from arresting him after a warrant of arrest.
On November 8 last year, Ogweno issued a notice to show cause against Mr. Shah who had been admitted at MP Shah with chronicle Blood Pressure.
Ngonze applied for a stay of execution of the notice to show cause, arrest by police, and all other proceedings in the lower court until the application is heard and determined.
Shah also sought the orders to have the High Court to dispense him from attending court in person in any proceedings related to notice of show cause.
Ngonze also applied to have Justice Yano set aside in its entirety the execution process of Ex Debito Justiciae recovering the whole debt as decreed by the Justice Yano in 2018.
Ngonze said that the Justice Yano had on March 5 2013 found Ideal Location Limited to be in breach of the sub-lease agreement dated June 9 2014.
Nakumatt's administrator Peter Kahi in a sworn affidavit said the issuance of the warrant of arrest against Shah was out of non-filling of a medical report on his health status on or before March 3 2020 as directed by Ogweno on March 13 2020.
"Non-filling of the said report as above was not contemptuous of the honorable court's directive rather a combination and permutation of factors beyond Shah's control and influence," said Kahi.
He said that Shah's acute indisposition, the emergence of Covid-19 pandemic, downscaling of court operations throughout the republic and temporary closure of the Shah's commercial premises and his advocate's offices was among the factors for the late filing of the medical report.