Havi has brought LSK to eminence with his wit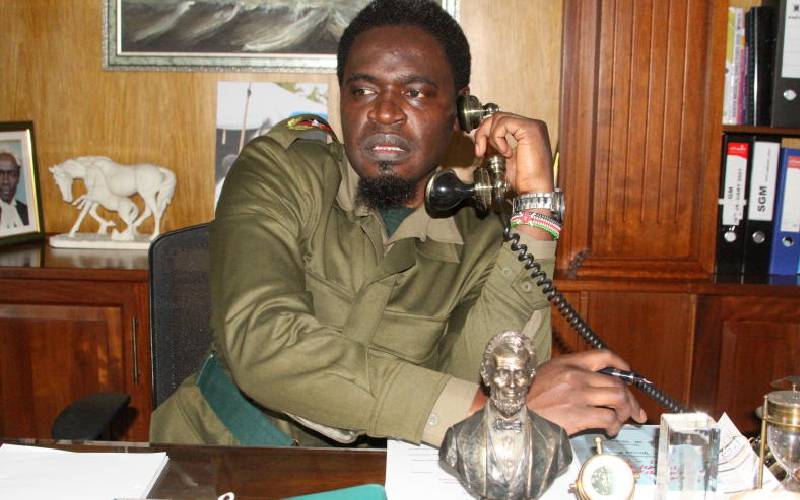 From dressing up in revolutionary regalia – favourite among freedom fighters – to donning colonialist gowns, Nelson Havi is a cocktail of contradictions.
He abhors dictatorship, yet some of his colleagues at the Law Society of Kenya (LSK) describe some of his actions as dictatorial. At a special general meeting in February this year, a lawyer claimed that Havi had a knack for having things his way.
The LSK boss thrives in order and revels in chaos. Order grants him the chance to articulate his issues as concisely as he does. Whenever he doesn't have to worry about other voices drowning him, Havi speaks with a clarity that would put PLO Lumumba to shame.
His utterances seem to be a product of a careful thought process. He caresses his words with his tongue and enunciates them as though he is reading from a phonetics dictionary.
Chaos, on the other hand, lets him employ his other talent – playing indifferent. Those who dare speak when he is speaking have experienced his indifference firsthand.
The POLSK, as he refers to himself, is the perfect snob. He has a way of feigning attention whenever anyone raising an opposing view from his interjects him. He casts his gaze to the floor, giving the impression that there is nothing he would rather do than listen to them.
If Havi is patient enough to listen through an entire contribution, he will move on as though no one had been speaking all along. Occasionally, he cuts them short and ignores whatever the other person had said.
And in the rare occasion that he is attentive, he delivers a stopper from his well that never runs dry.
"When you have your chance to chair this meeting, you will do as you please," Havi will say to anyone challenging his authority.
Elected LSK president in February last year, Havi was billed as the kick the lawyers' body – arguably hurtling towards irrelevance – needed to regain its former glory.
His full in-tray included reclaiming the society's former slots on evening news and in newspaper pages. A year later, Havi has outdone himself. LSK is a common feature in news but for wrong reasons, notably the society's tea party in Bunge in October.
For more than a year now, LSK has been mired in wrangles among members of the society's council. Two factions – one allied to Havi and another to Chief Executive Officer Mercy Wambua – have suspended and counter-suspended, expelled and counter-expelled each other countless times.
The latest round happened at a meeting last weekend when Havi's wing expelled eight council members and replaced them with others, sworn in amid confusion.
Described as a sham by the expelled council members, the meeting was an improvement of February's, which revealed that the sport of trading blows was not necessarily a reserve of "uneducated" MCAs.
Curiously, Havi wore war-like regalia to last Saturday's peaceful meeting and a suit to February's brawl.
[Brian Otieno]