Judiciary to reduce backlog of pending cases next month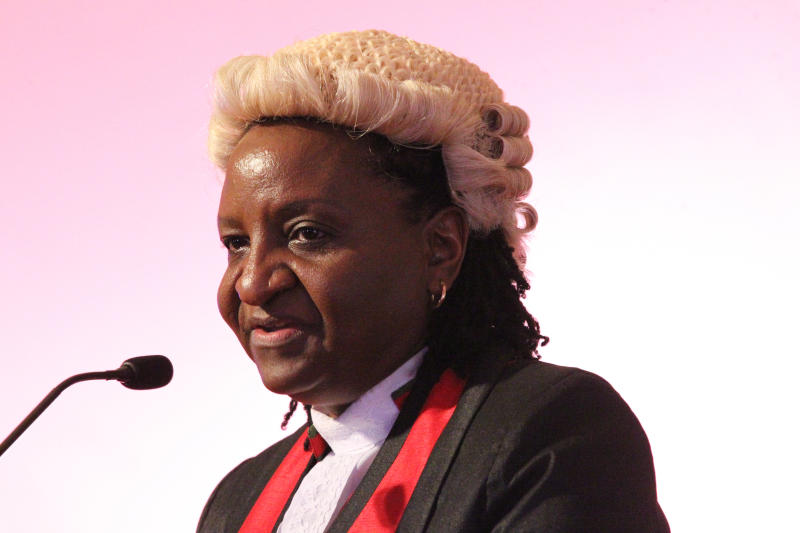 The Judiciary is working on modalities to reduce the backlog of cases occasioned by the closure of courts due to the coronavirus.
In a strategy to address the pile-up especially at the Milimani Law Courts, judges who have been handling criminal appeals through virtual courts are planning to hear and conclude most of the matters at a service week scheduled for September.
Anne Amadi (pictured), the Judiciary Chief Registrar said this would reduce criminal cases at the Milimani Law Courts that have increased by 16 per cent as a result of the initial down-scaling of operations from mid-March to June.
Since March, 19 court stations have reported cases of Covid-19, leading to seven of them closed to allow for testing and quarantine of the affected staff.
"We are experiencing some challenges with the hearing of criminal cases where witnesses need to be physically in court, but courts are doing their best. We have provided tents and are even using other open spaces outside the courtrooms to reduce chances of infection," she said.
Amadi said plea-taking is also being conducted at police stations that have video link facilities to avoid physical contact while ensuring the administration of justice is not hindered.
In an effort to protect court users, the Judiciary will fumigate 131 courts and 10 tribunals at least once a month to mitigate the spread of the coronavirus.
After concerted push by the Law Society of Kenya, the judiciary reopened courts in June.