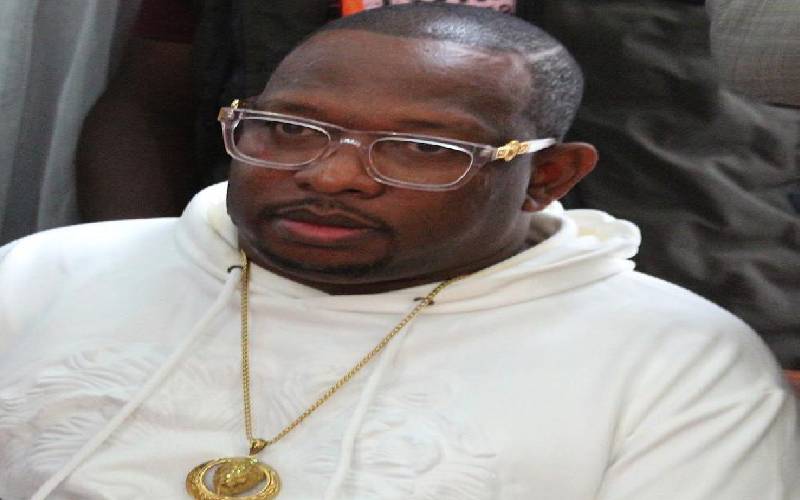 A court has saved Nairobi Governor Mike Sonko (pictured) from an impeachment motion planned against him this week.
Yesterday, High Court Judge Byram Onganya ruled that due process must be followed before the motion to remove Mr Sonko is considered.
"The County Governments Act and Standing Orders 67 and 72 should be observed before the motion is debated," said Justice Onganya.
Sonko filed a petition at the High Court on Friday seeking to stop the planned impeachment.
Read More
His lawyer Harrison Kinyanjui had informed the court that documents that were to be tabled for debate during the impeachment motion were not served to him.
"I have had a look at the county website several times and the documents, including those containing details of the intended motion, have not been uploaded," said Mr Kinyanjui.
He termed the motion unlawful and a breach of Sonko's rights. Kinyanjui also argued that the assembly clerk is yet to approve any censure motion.
"The intended motion has not even been confirmed by the clerk," said Kinyanjui.
Kinyanjui has insisted that the acting clerk, Monica Muthomi, has no right to approve a censure motion against the Nairobi County boss.
He said ousted clerk Jacob Ngwele is the official legally mandated to handle an impeachment against Sonko.
Both the Nairobi County assembly speaker and the Senate speaker have sought for more time to respond to Sonko's petition.
The High Court ruling comes two days after city MCAs were summoned to State House where President Uhuru Kenyatta asked them to drop the impeachment bid.
During the meeting, Mr Kenyatta convinced the MCAs that an impeachment motion would lead to a by-election that would be bad for the country given its limited financial resources.