Holier than thou? Church embarks on race to self regulate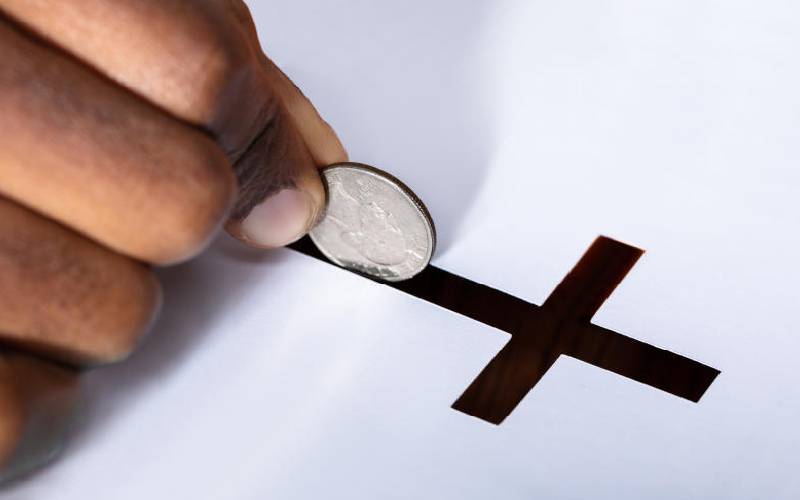 After a decade characterised by drama in religious circles, the church in Kenya seems ready to inject order in its operations.
A proposed regulatory framework from the church itself seems to admit urgent need to change the way it operates.
The Draft Code of Conduct and Governance Guidelines for Churches in Kenya has been put together and it is expected to be operational by May. This is after a validation exercise that will bring together church leaders on January 25 and sometime in March.
In its foreword, the church seems to be indicting itself for losing its moral authority and voice to chastise the State and political leaders.
"First, we the church cannot point a finger at political and government leaders for poor governance and lack of accountability, unless we can model these values in our churches. Second, churches cannot keep asking the government to be allowed to self-regulate when we cannot show how we can put our house in order," reads the 72-page document put together by the National Council for Churches in Kenya (NCCK) and the Evangelical Alliance of Kenya (EAK) with help from Hesabika Trust.
Self-regulation
Joy Mdivo, an advocate of the High Court actively involved in the project on behalf of EAK, says the document seeks to root out the bad behaviour the church has been accused of.
"The context of this document is self-regulation because of some people behaving badly in the church and its leadership. The church has in some instances not behaved as per expected standard," Mdivo reiterates.
The move comes amid a background of attempted regulation by the government - which was vehemently opposed by the church.
In March last year, Kigumo MP Muturi Kigano filed a motion in the National Assembly to compel the Attorney General to present a Bill to tame churches. He threatened that if the AG did not act, then he would table a private member's Bill that would target churches that "have nothing to show for their existence and had become a den of corruption, extortion and other social evils."
This move forced the church to put together a set of proposals to be presented to the Attorney General with regards to self-regulation. Mdivo says now the ball is in the AG's court.
The documents reads: "Integrity and ethical conduct are central to biblical teaching and practice. The scriptures liken the church to a bride who must be faithful and loyal to Christ, a standard higher than any other authority."
The draft gives a raft of measures to guide church operations, including dealing with the flock and management of funds. One prominent requirement the denominations will have to abide by will be on church leadership. The document stipulates that church leaders must be architects, not mechanics; managers and shapers of the future, not precedent followers of the past.
It recommends that each church should have a board for oversight while at the same time have staff for ministry. Church governance will determine direction, doctrine and discipline which in essence could effectively tame churches where founders or leaders are the law unto themselves.
The document goes ahead to separate the roles of elders and deacons in the church with financial policy and management, care of assets and business affairs being left for deacons as opposed to spiritual care, church discipline and appointment of pastors which is assigned to elders.
Rev Timothy Njoya, a retired clergy of the Presbyterian Church of East Africa (PCEA) opines that while the document is a good move, it does not go ahead to tell how some of this misbehaviour should be punished.
Market-place
He says the church has been turned into a market place where sycophants go to bribe God in order to get blessings and this should be punished.
"This document will not change those people who trade with the Holy Spirit like chang'aa and may not tackle the many theatrics in the church today," argues Njoya.
Materialsm has become commonplace in church and people need to repent, he says.
Not long ago, a video of Neno Evangelism Centre's Apostle James Nganga surfaced showing him allegedly abusing men in the church. Perhaps, some of these are the examples of demeanour the guidelines want to address.
More often than not, financial resources have been the root cause of conflicts that have bedeviled many churches and church organisations. The document speaks to the issue by forbidding illegal dealings in finances.
"We will refrain from unlawful, corrupt, manipulative or misleading conduct when soliciting contributions or securing funds from members, external donors or other sources," it reads.
Complains have arisen in many churches where members have been left scandalised by the issue of giving tithe and offertory among other donations. To this end, the churches commit to avoid manipulative and exploitative tendencies as has been witnessed.
The document states expressly: "Giving is a form of worship to God and the Bible admonishes that "when you give … do not let your left hand know what your right hand is doing." Consequently, we will desist from announcing contributions given in church as all giving should be to God."
Cash records
One way to sort misuse of funds will involve leaders declaring any conflict of interest and the requirement to keep accurate financial records in accordance with accepted financial practices.
Other articles show how bank accounts should be operated, handling of gifts, internal and external audits, fundraising and use of church credit cards.
"Collections should be banked before expenditure," it states in an attempt to track flow of funds.
Church leaders and workers will be forced to have a laid down remuneration. This is expected to address issues where church leaders, including bishops, drive top of the range fuel guzzlers while church pastors cannot even afford to keep their children in school.
Mdivo clarifies that the document will be used in tandem with the Religious Freedom Bill. The only church leader that has come out openly to state this in the face of political incursions into the pulpit is Anglican Church of Kenya Archbishop Jackson ole Sapit.