Family turns room into ICU, after efforts to remove bullet lodged in the head reach dead end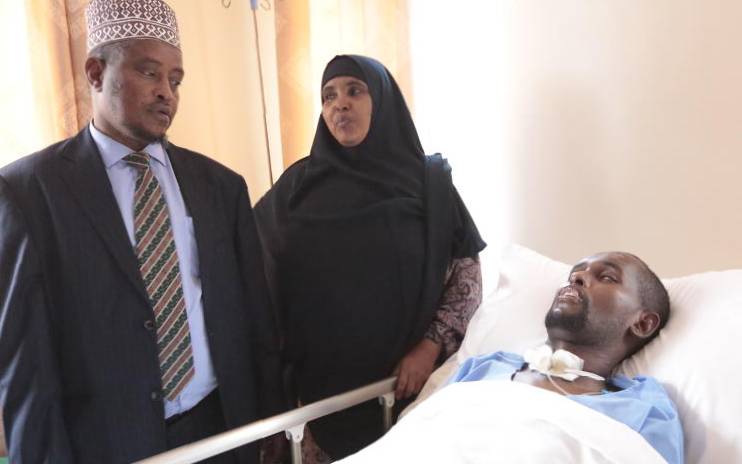 It is Idriss Mukhtar's birthday today. But he will not be cutting a cake or blowing out candles, and no one will be singing "happy birthday" to him.
In fact, it will not even dawn on him that another year has just set for him and that now he is 44.
Time doesn't matter to Muktar anymore. He has been in a coma since August 19, 2018 when a lone gunman opened fire on him as he was leaving a mosque in Kileleshwa, Nairobi, where he had gone for evening prayers.
A bullet is still lodged in his head.
The former County Executive Committee member in Wajir County has been bedridden since that dark day. But his family has never given up on him.
After spending over a month in the intensive care unit of a city hospital, he was taken to India with the hope that doctors there would be able to remove the bullet.
But, according to the family, the Indian doctors said that removing the bullet could turn fatal.
He was returned to Kenya after spending 52 days in India on January 11, 2019.
After his return, his family, drained of finances and unable to keep him in hospital due to the high charges, decided to take care of him at home.
They set aside a room which they converted into an ICU.
When The Standard visited his home in Nairobi yesterday, we were welcomed by the beeping sound of the life support machine.
Muktar lay motionless on the bed, with his mother sorrowfully staring at him.
The family hopes and prays that he will one day wake up from the coma; that the once energetic and jovial man will get back to his feet.
"We have employed two nurses. One during the day and one at night, a neurosurgeon and a physiotherapist," said Idriss's father Aden Mukhtar.
The family has spent a fortune in the treatment of their son. Besides medical fees, it has spent about Sh8 million on transport alone.
Mr Aden had to quit his job as a teacher to take care of his eldest son.
The motive of the shooting is yet to be established but a family spokesperson said Mukhtar had received death threats before he was shot.
No progress
The family called on Director of Public Prosecutions (DPP) and Director of Criminal Investigations (DCI) to speed up investigations to bring those behind the crime to book.
Aden threatened to chain himself outside the DPP's offices if no progress was made on the case.
"My wife and I promise to chain ourselves at the DPP's offices if there is no progress on the case in one month. I will also write to all independent constitutional commissions that are concerned with this case asking for their help," said Aden.
He also asked politicians not to meddle in the investigations.
Two people — Juliet Charity Njoki and Mohamud Hussein Aden — are in court over the shooting of Mukhtar.
David Mwai, a third suspect, died in police custody last year reportedly by committing suicide.