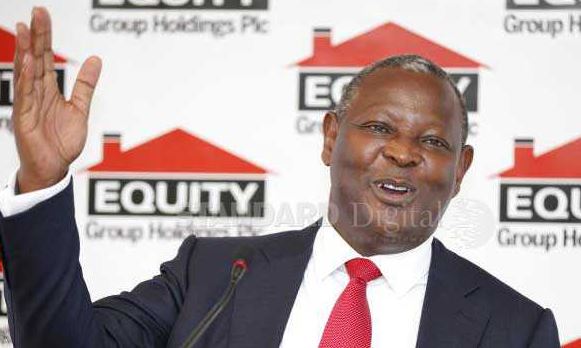 NAIROBI, KENYA: Equity Bank Chief Executive Officer James Mwangi has won the African CEO of the Year Award.
At the same time Safaricom, the giant telecommunication company, has been voted the African Company of the year, beating Nestle Nigeria, Standard Bank Group, and First National Bank South Africa.
Dr. Mwangi beat Maurico Alarcon, the former CEO Nestle Nigeria Plc to win the award this year.
Other contestants in the category were Alain Law Min, CEO, Mauritius Commercial Bank, Stephen Delport, CEO Lighthouse Capital Limited, Mauritius, and Joseph Siaw Agyepong, the executive chairman Jospong Group, Ghana.
According to a bulletin by the editorial board of the African Leadership Magazine released on August 16, Nakuru Governor Lee Kinyanjui and Kengen Chief Executive Officer Rebeca Miano were among African leaders who were declared winners in the 17 categories of the African Business Leadership Award for this year.
Read More
Mr. Kinyanjui won the Business-Friendly Governor of the Year Category while Ms. Miano bagged the African Inspirational Business Leadership Award Category.
Winners, Runners-up to be honored at the 5th US – Africa Investment Forum and Policy Dialogue (Virtual) on 29-30 September 2020.
The online voting was responsible for sixty-five percentage points and supporting evidence responsible for 35 per cent in the final selection process for the 2020 winners.
The African Business Leadership Award is a prestigious recognition event to reward exceptional corporate practices and outstanding achievers in Africa's business landscape and its private sector.
The awards are in keeping with the African Leadership Magazine's tradition of presenting the sides of the continent's businesses and leaders, which hardly find placement on global media platforms – celebrating exemplary business leadership on the continent.