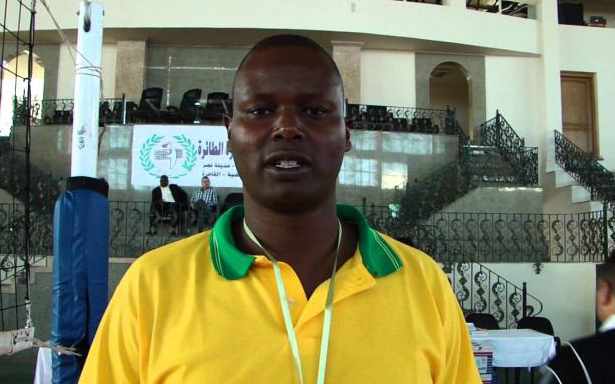 Sunday Magazine
Once the captain of the national volley team and now a much sought after coach, Paul Bitok is no stranger to pressure and hard work.
Watching the fit girls return to serve, battling it out on the volley pitch for the African Championships prize a few weeks ago was a mind wracking experience. They had what it takes. He knew that. But a lot was riding on this. It was his first game with the team after coming back home to Kenya from Rwanda where he had been for the last 10 years. This game was going to set the tone for him. He needed the win. The pressure wasn't anything he wasn't used to. As a coach in Rwanda for the national team, all the six foreign coaches had a scorecard that determined if they kept their contract. And the standards were high. So much so that all of them quit within the first two years. So this muscle clenching and cracking of knuckles from tension was the name of the game for him. But when the final whistle was blown and the Kenyan team had won, he sighed in gratitude. They had made it. The gold was in the bag. The queens were back on top. And he was right there with them. Bitok, 45, unfolds his 6'8 frame as he stands up to greet me. He is tall by any man's standards. He towers over the group of women around him ; The Africa champions, who are not in any way vertically challenged either. I remark that he could easily have been a great basketball player. He reckons so too. And regrets the lost opportunity. "If I had had the right guidance when I was young, I would have started even in basketball early..."
SEE ALSO: Bitok hopeful team will do well despite virus disruption
The entire team is celebrating the win, and he wears a fond look on his face as he watches them chatter away before turning to me. "I have three children but I would like to have a volleyball team in my home, so I am working hard for three more," he says with a naughty twinkle in his eye. Volleyball, he says, has brought so much good in his life, most especially the light of his life, his wife Jenifer, an engineer. "She was a student at the University of Nairobi and I was a player in the national team then and had a match at the university. She came to watch the match and I noticed the beautiful girl in the crowd." And like the go-getter he has always been, the gorgeous girl ended up being his wife.
SEE ALSO: Flopped plans leave Malkia Strikers coach Bitok a worried man
"Our firstborn child is 20, and he loves basketball. The middle child loves music and the last born, who is only 10, is our sportiest one. She wins numerous competitions at school and is very tall for her age. I am trying to encourage her to get into volleyball to utilise her God-given talent," he says. Being away from his family the past 10 years has been very difficult for him, and despite receiving a very good offer to extend his contract and stay in Rwanda, he had to forfeit it because he wanted to come back home to his family. "I used to come home once a month. My family would also visit me in Rwanda over the holidays. Because of having been away for so long, whenever I am with them, we love going to different places just to spend time as a family." He is happy to be back home now and while he had once considered joining politics, he feels he will keep to sports for now. "I like politics. In 2017 I wanted to vie for MP of Kapseret but because of my Rwanda contract, I changed my mind. I won't join politics because I am needed here as a coach," he says.
SEE ALSO: Malkia Strikers coach Bitok warns players on Olympic Games slots
Being in a field where unpredictability is the norm, has made him a smarter man in managing his money. "My best money decision has been with taking risks, like resigning from, KCB to pursue sports. I also invested in other things like real estate, to have a better life for myself and my family, so it has saved me from the plight of many athletes, where they get a lot of money but it disappears quickly," he says. "Not that I am perfect. I have also tried many businesses which failed because I was not around to oversee them. Now that I am back, they should succeed," he says. He has also learnt to treat his body as a temple since it is literally his tool of trade. "I decided to be disciplined and avoid a lifestyle that could bring me down so I could be an example to others. So if I decided not to drink when I had the money, the chance and the friends to do it with, now when I advise a player to avoid that before they get to a certain level, they listen, because I have lived it." And he is very disciplined. Despite not being an active player, he still goes out of his way to be fit. "I go for morning runs twice a week. I also play with various volleyball school teams not only to encourage them, but also as a way of keeping fit," he says. He also a believer in continuous self-improvement. "I read up a lot on volleyball research to update myself on latest trends. I follow top teams like Brazil and Russia, who also are my favourites. I study how they train, which facilities they use and then try to come up with my own for my players," he says. His goal is to see Kenya in the top five in volleyball globally. Because of his experience in other countries and studying the subject, he has learned not only technical skills but how to work with the psychology of the players. "Anyone can coach, but having the psychological understanding of your players gives one that extra edge. I also work with their social lives. Outside training, I teach them about life," he says. "I ensure they maintain a good work life balance." Before he leaves me to focus on his team, who he explains they are at the time gearing up for Japan, I ask what his life philosophy is. "Be honest, respect others, say 'thank you' and 'I am sorry'." And true to his words, he thanks me profusely before he lumbers on back to work.