Senior policeman claims Kavuludi is witch hunting him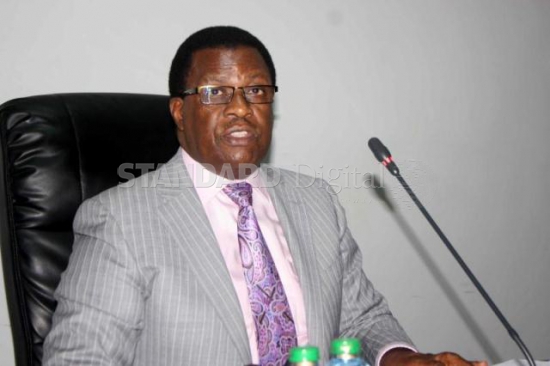 A senior officer is considering taking the police vetting panel to court over what he considers a violation of his right to employment.
James Mwaniki Thathi claims the panel chaired by Johnstone Kavuludi is not interested in giving him a fair hearing, instead the senior assistant commissioner of police fears that the session will be used to embarrass him.
On June 22, Thathi was to appear before the panel, but failed prompting Kavuludi to declare unspecified action against the officer who led a GSU elite rescue team at the Westgate shopping mall, which was under the siege of terrorists on September 21, 2013.
While he was leading the operation, Thathi was unaware that he had been sacked a few days prior to the attack. He challenged the dismissal in a court that ordered his reinstatement last year.
But he was not assigned any role since his boss, Grace Kaindi, insisted that he had to face the vetting panel, which he did on May 8.
He was slated to appear before the panel at 3pm, but he was allegedly kept waiting until 9pm. Thathi says he was never interviewed but Kavuludi apologised for keeping him waiting.
"I was never interviewed, Kavuludi who was sorry for keeping me for long said there was an executive document that was missing. At that point, I thought I had been cleared and went home," he says.
He claims nobody bothered to notify him about the second appointment with the vetting panel. He said that when he received a call later, he was in his rural home in Embu. The officer tried to rush to Nairobi, but arrived late for the interview. However Kavuludi told members of the panel the officer was in Ruiru, not Embu.
Take a quick survey and help us improve our website!
Take a survey
"Thathi was dismissed over a disciplinary issue. He claimed he was in Embu but our investigators have found out that he was in Ruiru. The commission will make a decision without further reference to him," said the National Police Service Commission boss.
Thathi told The Nairobian that he was sure his fate had been sealed and that the panelists had formed an opinion to kick him out.
"I will not appear before them, they are too personal. Let me move to court to seek an independent panel," he said.
Was 'wa Kahalf' bewitched?
Disturbing details are now emerging of what transpired in the months before the death of popular musician, 'Murimi wa Kahalf' he of the Ino ni momo vernacular hit song.