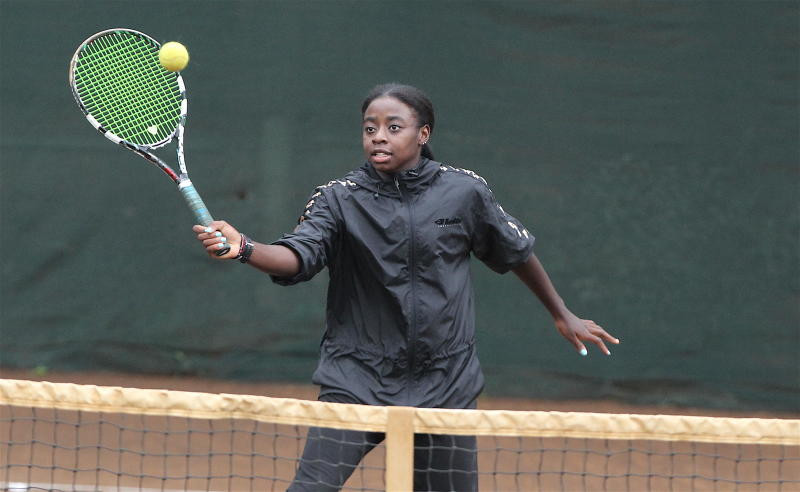 Wimbledon doubles junior champion Angella Okutoyi is through to the quarterfinals of the W15 Nairobi World Tennis Tour.
The Kenyan tennis sensation on Thursday sunned eighth-seeded Sevil Yuldasheva from Uzbekistan 6-4, 6-4 at Karen Country Club in Nairobi.
The victory moves her another step closer to her first-ever W15 title after registering some early exits in the same level of tournament in Sharm El Sheikh (Egypt), Marrakech (Morocco) and Monastir (Tunisia) this year.Okutoyi, who heads to the USA in January 2023 to join Auburn University on a full scholarship, has a career-high of 1501 in WTA rankings.
On Wednesday, she joined her win sister into the round of 16 at the W15 World Tennis Tour after knocking out Sharanya Shetty 6-0, 6-0.The 2018 Kenya Open winner saw off the 20-year-old Indian qualifier in less than an hour.
Wild card Asumwa punched her ticket on Tuesday after stunning Australian Nessa Pratt 6-4, 6-2.Asumwa is drawn against Indian sixth-seed Sharmada Balu in the second round. Balu dismissed Kenyan qualifier Katarina Karanja 6-1, 6-1 in 47 minutes on Wednesday.
Okutoyi will head to Auburn University in the USA in January 2023 to pursue tennis and academics on a full scholarship.With the tournament also having points on offer apart from the 15,000 USD (circa Ksh. 1,828,500) up for grabs in the overall competition, Okutoyi, who is looking to make her transition to the senior side will be keen to close the year on a high as she plays in the country for the first time in the tourney.
After her singles match, the former African Junior Champion will also be taking part in the Doubles category and will link up with India's 19-year-old Smriti Bhasin where they will take on Caroline Romeo (France) and Sevil Yuldasheva (Uzbekistan).
Related Topics