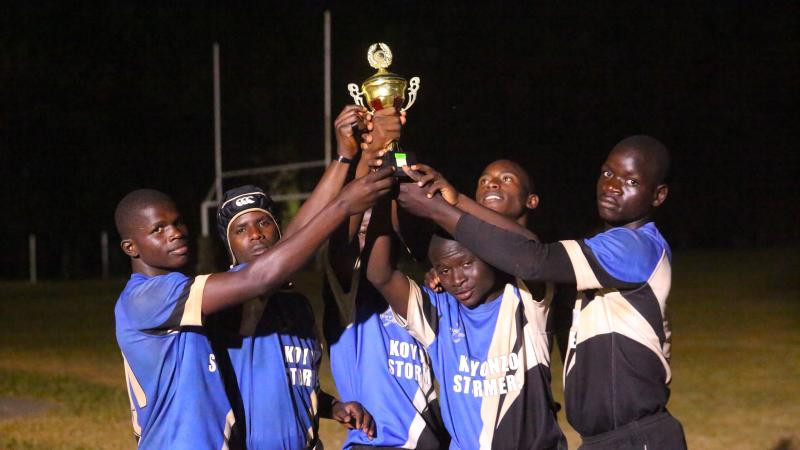 Koyonozo Secondary School are the new national rugby sevens champions.
The Kakamega County rugby sevens champions thrashed Butula Boys 31-0 in what will be a repeat of the Western Region finals yesterday to win this year's title.
In the process, Koyonzo punched their ticket to the East Africa Games slated for Arusha, Tanzania.
Speaking after the win, Koyonzo rugby coach Oscar Okaron said they cannot wait to play in Tanzania next week.
"To win the nationals unbeaten is no mean feat and I give it all to the young players who have shown that they can play rugby. Our journey doesn't end here as we eye to win the East Africa title," said Okaron.
Koyonzo who thrashed Butula 26-05 during the Western Region finals saw off Alliance Boy's 52-0 in the quarters before booking not only a spot in the finals but also a ticket to the East Africa games in Tanzania by knocking out Nduru Boy's 24-7 in the semis.
On the other hand, Butula knocked out defending national champions and Nairobi's Upper Hill 31-5 in the quarters before seeing off Nanyuki 24-7. Koyonzo and Butula will now represent Kenya in Tanzania next month.
Nanyuki finished third after seeing off Nduru from Nyanza 14-0.
Main Cup quarters
Ofafa Jericho 0-28 Nduru
Koyonzo 52-0 Alliance
Butula 31-5 Upper Hill
Nanyuki 14-0 All Saints
Main Cup semis
Nduru 7-24 Koyonzo
Butula 24-7 Nanyuki
Final
Koyonzo 31-0 Butula
Related Topics