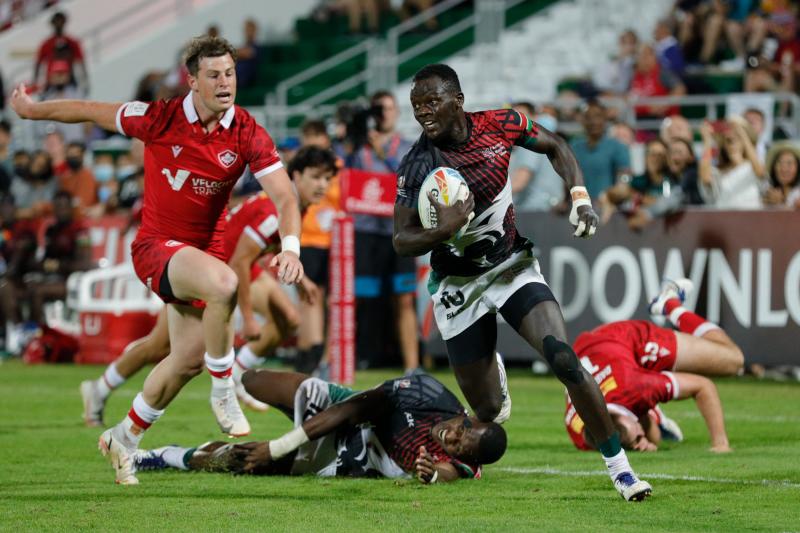 Kenya Sevens will be seeking to kick off the new year with a bang when they travel to Spain later this month for the World Sevens Series which resumes after the festive break.
Spain will welcome teams for the first time in the World Sevens Series history where Malaga, the first of three new locations on the 2022 Series, will be hosting the opening men's and women's tournaments of the year on the weekend of January 21-23.
The Spanish venues (Malaga and Seville) temporarily replaces traditional hosts Sydney, Australia, and Hamilton, New Zealand who have very strict COVID-19 restrictions not favorable for mass sporting events.
Shujaa are in Group D where they will battle with France, Canada and Wales in Malaga in the 16-team tournament. Wales are set to make a return after missing the 2021 Sevens Series and the opening two legs of the 2022 World Sevens Series.
Kenya are eighth on the World Sevens Series standings after registering poor results in the first two legs (Dubai Sevens) played last year in the United Arabs Emirates.
Shujaa collected 10 points during the first leg where they finished eighth after losing to Ireland in the seven and eight classification match playoffs.
In the Dubai Sevens second leg, Innocent Simiyu's charges registered an improved performance when they collected 12 points after thumping USA 29-0 to finish sixth.
In overall, Kenya are eighth in the standings with 22 points after a tough outing that saw them register only three wins out of the 12 matches played across the two legs.
However, Shujaa coach Innocent Simiyu said they have a good platform to build on and is satisfied with the team's growth so far.
"We have a long season ahead culminating with the World Cup and we believe we have a very good platform to build on," said Simiyu.
"We've also addressed a few areas of concern in our game around our attacking shape, kick off and possession. Our key target leading up to this tournament is to improve on our performance across the board and hopefully we can get better results from that."
And as fans await to see a much improved performance from Shujaa in 2022, fast-rising Timothy Mmasi who made his Shujaa debut last year is ready to help the national team achieve its goal.
Mmasi scored one try for Kenya against South Africa at the Dubai Sevens first leg and is confident Shujaa will bounce back stronger ahead of the Malaga Sevens.
"It was a dream come true to play for Shujaa. Donning the national team jersey and taking hits for Kenya was precious for me. That aside, it is time to work hard heading to Spain," said Mmasi who features for MMUST Rugby.
"We started slow but played some good rugby during the second leg of the Dubai Sevens leg. We want to play even better at Malaga and we can't wait for the games to begin because our focus is to improve in every event this year."
The Dubai legs, which kick started the 2021-2022 World Sevens Series season, saw Johnstone Olindi star for Kenya while fans' favourite Alvin 'Buffa' Otieno's was not in his bullish mode.
Olindi, who features for Kenya Cup champions KCB, was the most outstanding player for Shujaa after scoring five tries and 33 points. Herman Humwa and Otieno also scored five tries each.
Shujaa captain Jeff Oluoch also impressed with four tries, 23 tackles and made the most runs for Kenya.
Kenya Sevens will, however, need to improve on their defense and attacking plays if they are to compete with the best teams including South Africa.
In Malaga, Group A has 2021 World 7s Series Champions South Africa who won the opening two legs. They will battle with returning England and Scotland alongside Olympics Champions Fiji.
In Group B, Australia will square it out with Ireland, Japan and New Zealand who are also set to make a return after missing the opening two legs.
Argentina, USA, Spain and Samoa are in Group C. The series will move from Malaga to Seville after the weekend of January 21-23.
Last year, Shujaa finished third in the shorter 2021 World Rugby Sevens Series with 34 points after claiming silver in Vancouver and bronze medal in Edmonton.
Most of the core teams skipped the Series which was shortened due to travel restrictions related to COVID-19 pandemic.
Shujaa bagged silver at Vancouver 7s after losing 38-5 to rivals South Africa in the Cup final before finishing third in Edmonton after beating Canada 33-14 in the third place play-offs.
Alvin "Buffa" Otieno was a show stopper for Shujaa in the shortened World Series where he scored 11 tries in both the Vancouver and Edmonton legs. He was ranked the top try scorer for Kenya at the Series and fourth overall
Related Topics