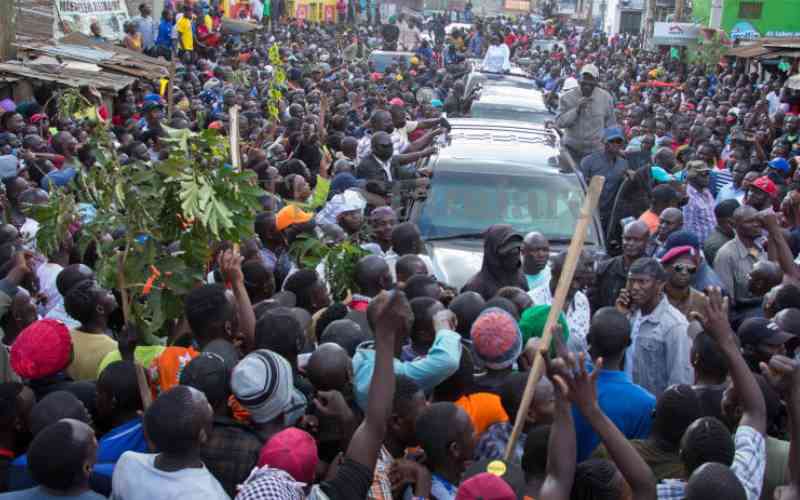 There was calm in Central Kenya and North Rift regions as residents went about their daily activities. They ignored countrywide mass action called by opposition leader Raila Odinga, with learning institutions continuing with the syllabuses.
In Nyeri town, locals remained optimistic that leaders would find a solution, including dialogue to avoid demonstrations.
A 2NK Sacco supervisor Peterson Nderitu said demonstrations in Nairobi affected the transport sector for the public service vehicles plying the Nyeri-Nairobi route. "Monday is our busiest day since it is the beginning of the week," Nderitu stated.
He urged Azimio leader Raila Odinga and President William Ruto to dialogue and focus on resolving the numerous challenges facing the country.
Nyena Sacco chairman, Peter Theuri, said the matatu industry was losing millions of shillings due to the ongoing demonstrations. "There are normally over 50 vehicles daily in Nyena Sacco carrying passengers to Nairobi but because of fear of demonstrations, no matatu operated yesterday, leading to loss of billions in revenues from fare and parcel deliveries," he said.
Mau Mau veterans from the Veteran Matigari, History Foundation and Kenya African Mau Mau Union (VEMAHIKA) condemned the ongoing demonstrations.
VEMAHIKA chairman Paul Gachara said that the demonstration might trigger violence in the country, likely to worsen the economy.
Meanwhile, a section of religious leaders from Nyeri county called for dialogue among the key leaders.
Bishop Paul Wanjohi of New life church called for national leaders to resolve issues affecting the nation.
And unlike in major cities, including Nairobi and Kisumu, where there was heavy deployment of anti-riot police, there was no indication of officers deployed for any action in Eldoret and Kapsabet, among other urban centres of North Rift.
Youth and church leaders in the region spoke against protest demonstrations in the country and called for peace and stability for a conducive environment for economic growth.
"There has been rising political tension in the country caused by calls for mass action by opposition leader and retired Prime Minister Raila Odinga. The biggest casualties of this stalemate are the youth, who are in business and working to fend for their young families," said Kelvin Kipleting. Kipleting, the Uasin Gishu Youth President, said he is in disagreement with Raila's calls for demonstrations twice per week, saying it would hurt economic prosperity.
Bishop Patrice Chumba of African Inland Church Nandi region said: "We condemn violent demonstrations that have seen the destruction of property. Elections ended, and every Kenyan should respect the law. Nobody is above the law."
Eldoret Anglican Church of Kenya (ACK) Bishop (Emeritus) Rev Thomas Kogo called on the religious faithful to pray for the country's peace and stability.
Reports by: Titus Too, Purity Mwangi and Amos Kiarie
Related Topics