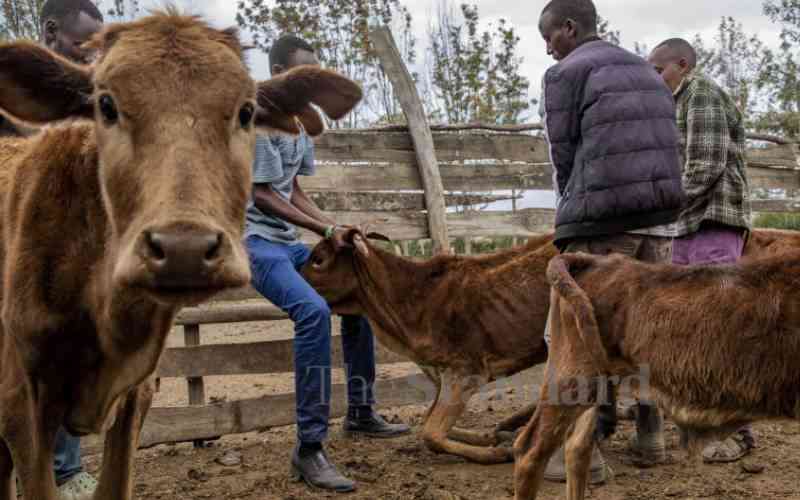 Mzee Ole Puruo has been trying to sell his few remaining cows at the Kiserian market in Kajiado County, the ongoing drought having wiped off most of his herd.
Earlier, he watched his cow that had just died being moved to the slaughterhouse.
He is not alone. Most members of the Imparbali Oo Nkineji (place for watering goats) community in Kiserian, are grappling with this change of fortunes. Most households in this village have lost their livestock to the biting drought. The few remaining cattle have depreciated in market value, with cows selling for as low as Sh500, while goats and sheep go for as low as Sh100.
"Our cows are dying, yet they are our livelihood," Ole Puruo says.
"I'm pleading with our government to come to our help as pastoralists because we are in trouble," he says.
Drought is not the only problem members of Imparbali Oo Nkineji are grappling with. There is also distance and terrain. The village is located some 15kms from Esonorua, the main centre where they can access water. Getting to Imparbali Oo Nkineji involves using a vehicle before abandoning it and jumping onto a motorbike that can wriggle its way through rough stony footpaths.
"We tried constructing the road using the tools we had but it didn't work, we need a tractor to do a better job," says Mark Lekutit, one of the well-wishers who occasionally delivers relief supplies to the village.
Ravages of drought
While livestock and humans here suffer the ravages of the drought, learning has come to standstill.
In Nkineji, children don't go to school until they are 10 years because the school is far and the terrains too rough to be manoeuvered by younger children.
Even food aid hardly makes it directly to this village. Whenever there is a government relief food programme in this area, the donations are dropped at institutions that are nearer to the centre, some 15kms from this village.
The villagers then embark on the 15-kilometre journey to the centre. Often by the time they get to the distribution centre, the food is finished and they have to walk back to the village emptyhanded, hoping to be lucky next time.
In most areas, most water sources have dried up as crops fail, and families lose their livestock.
According to Marisa Sintaroi Puruo, the community has had more than a fair share of misfortune and drought has only made it worse.
Bitter water
"We have no water. What we dig up is bitter and we share it with livestock and wild animals. Even if you boil it, the stench remains and it is not safe for drinking," says Marisa.
"We also get water from a place called Esonorua which is quite a distance away from here. We go early in the morning at 4am and leave our little children and livestock all without water until we come back," she adds.
As if unclean water is not bad enough, the community has no hospital nearby and residents are forced to carry patients on their backs up to Esonorua because of poor roads.
"Some die on the way and we just throw away their bodies since we don't have coffins."
Lekutit, the village well-wisher says they thought it wise to plant a church in Imparbali to try and open up the village so missionaries could come and bring the locals food, water and also build roads and a school.
"We have nicknamed our village "London" as a prophecy of good things to come. We pray to God to remember us like other people who have good roads, schools and clean water," says James Puruo, a village elder.
The tribulations of the children of Nkineji are similar to those in Ol Choro Onyore Primary School, in remote villages around Magadi in Kajiado West. Ol Choro Onyore is facing imminent closure because of the ongoing drought.
The government has introduced a feeding programme at the school but it lasts them only two to three days. Last month, the school received food from the National Government through the chief's office but it only lasted two days.
Hellen Siampei, a senior teacher at the school who is also in charge of the feeding program, says that when there is no food, almost half of the learners choose to stay at home.
"If this continues, we may not have children in school as some of them have to walk for 5kms to come to school," she says.
Before the drought, parents used to contribute Sh20 per week towards the feeding program. They can no longer afford owing to the drought that has taken on their livelihood.
"The feeding program helped as I only had to worry about my three children who are in university," said John Ole Kipapi, a parent.
Ole Kipapi is in despair. A cow he used to sell at Sh100,000 to pay fees now fetches less than Sh1,000 while sheep and goat go for between Sh100 and Sh200.
"How many animals will I have to sell before I can raise enough fees for all my children?"
According to the area chief Isaac Mpeti, the national and county governments have tried to intervene but more help is needed to keep the children in school.
Relief kitty
"We brought two bags of rice and three bags of beans from the relief kitty. Coming back to this school today, the children see me and they are happy they think that I have brought more food for them," Mpeti says.
"I feel so bad because today I have come with nothing," he adds.
In Kajiado County, the school feeding program has been affected owing to the shortage of grains in the country. The school's meals program started by the government in 2018 has over the years contributed to increased enrollment and attendance, higher levels of learning and has even been credited with improved performance in schools situated in drought prone areas.
However, some schools like Oloirien Primary School were not earmarked for the program since the area was considered better off as it was not an arid but a semi-arid area.
According to Joseph Nkaiwatei, the head teacher, most of the children come from families that cannot afford even one meal a day.
"I feel really sorry for our KCPE candidates," he adds.
Related Topics