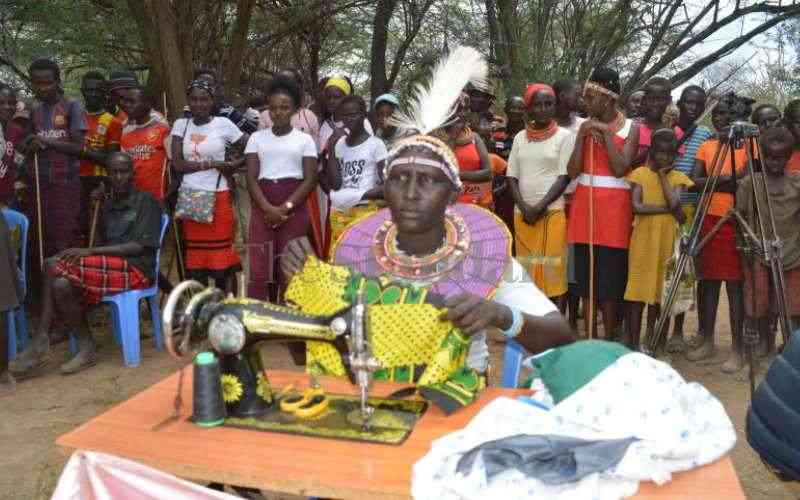 Rising insecurity due to the current drought has necessitated the need for alternative economic activities among pastoralist communities.
Ujuzi Manyattani is among the initiatives equipping youth and women from the communities with adult literacy and entrepreneurial skills.
Tiaty residents have benefitted from the initiative by Northern Rangelands Trust (NRT) programme and funded by the United States Agency for International Development (USAID).
Yesterday, 59 youth and women drawn from the Pokot and Ilchamus communities graduated with certificates in vocation courses and were given equipment to start them off.
James Leparkitore, 24, who lost both parents in a cattle raid in 2000 was among the beneficiaries. He trained as a mechanic. "I was orphaned at the age of 2. My parents were killed and all our livestock were stolen. I am now married with two children. I have been jobless and when this opportunity came, I had to grab it," said Leparkitore.
He explains that the programme will boost the jobless youth who started engaging in illegal activities to earn a living. "Lack of education and jobs drives the youth into cattle rustling. I am now a mechanic and ready to use the skills and tools given to start a garage at our trading centre," said Leparkitore.
Faith Muge, 30, is also a beneficiary. She was trained to be a tailor. Muge is a mother of seven, and says life has been difficult due to the drought.
She reveals that her husband had moved with their livestock at the onset of the dry period and only returned with a few after they died due to lack of water and pasture.
"I was a housewife with no other education. Now I have been certified as a tailor. With the training and sewing machine given to me, I intend to start a tailoring shop at home to serve my community," said Muge.
She explained that the vocational training is a boost since most of her peers have not gone to school.
"Acquiring technical skills was easy despite having low education levels. The course took three months and I have since perfected my skills," said Muge.
Muge added that with the anticipated income, they intend to embark on table banking, which she says, will help them save. "We have been going through a vicious cycle of drought and famine every year. This initiative is welcome," she said.
Jackline Parama, 25 and a mother of three is now a trained hairdresser. She intends to open a salon and a beauty shop. "I am happy with my progress. I now have a future to look up to," said Parama.
Ture Boru, the Chief Economic Programs Officer at NRT says that the vocational training programme initiated in 2019 has benefited 605 people across the arid counties. "This is a journey to transform the beneficiaries into great businessmen. After the training, we continue to mentor them under Biashara Mashinani to ensure they make a living out of the skills," said Boru.
Marigat Deputy County Commissioner Douglas Mutugi lauded the programme noting it will transform lives. "The government supports such programmes," said Mutugi.
Related Topics