Susan Wairimu can't hide the joy of having her 3-year-old daughter playing her around despite her past mistakes in life.
The 23-year-old mother recounts how different her childhood life was when she lived with her father and siblings in Mathare slums.
"Being raised by a single parent, my father always locked us up in the house and isolated us from neighbours. He used to warn me that he never wanted to see me playing with boys. I was too young to understand the reasons," Wairimu says.
She explains that her father, the typical traditional man, could never broach the subjects of dating or sexual reproduction with her or her siblings.
She says that she just avoided playing with the opposite gender because of her father's instructions but never knew the possible consequences.
In 2017 after sitting her Kenya Certificate of Secondary Education, she decided to get into a relationship out of curiosity.
"I came back from visiting my boyfriend and thoroughly bathed with a lot of water believing that I was washing all that I had engaged in that day. I only felt uneasy after some weeks when I started missing my menses," she recounts with teary eyes.
Wairimu says that she felt uneasy with the sleepiness and loss of appetite which prompted her to run away from home to discuss the issue with her boyfriend.
When she mentioned all the strange feelings to her boyfriend, he hinted that she could have gotten pregnant.
"He bought me a pregnancy test kit and advised me to take it to ascertain my condition. I had just been reading about pregnancies in books. I couldn't believe it when the test came out positive," she says.
She says that her boyfriend advised her to go for an abortion fearing her parent's reaction if they came to know of her condition.
Her boyfriend, being a teenager who assumed that visiting a hospital could have been costly, resorted to home remedies to procure the abortion and ordered her to try if it could work.
"He first bought me anti-malarial tablets and told me to overdose. I told him that I did not want to die but he assured me that all was going to be well. I monitored myself after some hours but did not feel the effect. I again prepared highly concentrated tea and drank but did not work," she says.
Wairimu says that she started feeling abdominal pains but no blood stains or any discharge accompanied it.
Her boyfriend then took the risk and bought abortion pills over the counter that she finally used to get rid of the fetus.
"The piercing pain I went through in the process was terrible. I regret my actions and wish that I had an alternative solution," Wairimu says.
Wairimu thinks that if her father could have been understanding and willing to accept her with her then she would not have cut short the life of her unborn child.
"My father could only speak to me through threats. He used to tell me that if one day I dare to shame him by getting pregnant then he would disown me," she says.
She also regrets not knowing of the existence and use of contraceptives which she later came to know about them at 20 years old.
Grace Achieng' shares a similar experience of how she procured an unsafe abortion as a teenager.
Achieng', a slum dweller back then fell into a trap and became a victim of teenage pregnancy as a result of poverty and peer influence.
"My friends told me that if I got myself a boyfriend then I would not lack the basic needs like sanitary towels. I then got into a relationship with a mechanic who could give me money from time to time," Achieng' narrates.
The 30-year-old says that she kept the relationship a secret but unfortunately got pregnant along the way.
"When I realised that I was expectant, my boyfriend told me that he was not ready to be a father and advised me to go for an abortion," Achieng' says.
She says that her mother was always busy fending for the family and the environment where she grew up she could always hear stories of girls getting rid of their unborn babies.
"I'd heard stories of girls havingabortions so I never thought it could be a crime. I took over-the-counter pills and within hours started seeing blood coming out," she adds.
Achieng' now a mother of one regrets her past actions as she highlights some of the effects she felt after undergoing the process.
"It really lowered my self-esteem. Every time I went to play soccer, the guilt kept creeping on me until I stopped participating in all my hobbies," she added.
Both Achieng' and Wairimu believe that the environment they lived in also contributed to their early pregnancies and thoughts about abortion.
According to doctor John Ong'ech, a reproductive health officer in Nairobi, practicing unsafe abortion could lead to multiple health effects.
"The effects of abortion are immense, it could lead to a patient's death, infertility in case of a ruptured uterus, infections of reproductive organs, or uterine perforations. I advocate for normal and safe delivery and advise patients not to risk their lives," said Dr Ong'ech.
He says that the effects of the procedure could also lead to heavy bleeding, infections, and damage of the genital tract and internal organs resulting from inserted objects through the vagina or anus.
Ong'ech says that patients who have undergone unsafe abortions only seek medical consultations after they start feeling the post-abortion effects.
According to the World Health Organization, unsafe abortion is a leading cause of maternal deaths and morbidities.
It can lead to physical and mental health complications and social and financial burdens for women, communities, and health systems.
The Network for Adolescents and Youth of Africa(NAYA) in collaboration with communities and medical practitioners has begun working on possible remedies to end abortion among youth in Kenya.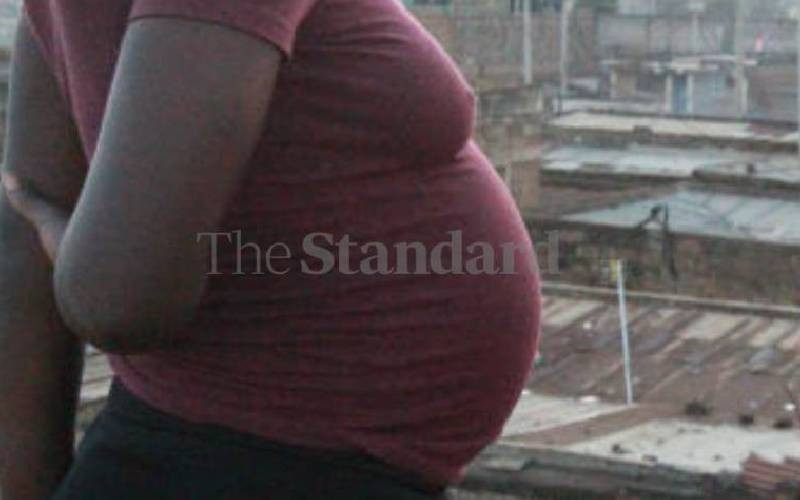 Benard Ayieni, a nurse in Pumwani Hospital Nairobi is one of the medics working around the city to identify victims of unsafe abortion and give them medical care.
Ayieni says that he listens to different patients' stories who had procured unsafe abortions when they visited health facilities.
"Patients come with different stories about why they opted for abortion as they cite peer pressure, poverty, culture, and availability of abortion pills in chemistries," Ayieni says.
He says that the first step he takes on post-abortion care and services is offering counselling services to the patient.
"I identify a victim and provide counseling services interacting with them with empathy and ensuring patient confidentiality. During counselling, I respond to the patient's emotional, psychological, and physical health needs," Ayieni noted.
He then conducts a comprehensive medical check-up including relevant systematic examination and diagnosis to identify the level of effect of the incomplete abortion or any related complications.
"Infection prevention measures are always observed. Clients undergoing treatment for incomplete abortion are given appropriate analgesia or anaesthesia," he added.
As a medical practitioner, he champions for use of contraceptives to help women prevent unintended pregnancies or birth spacing which he believes can end unsafe abortions.
Related Topics