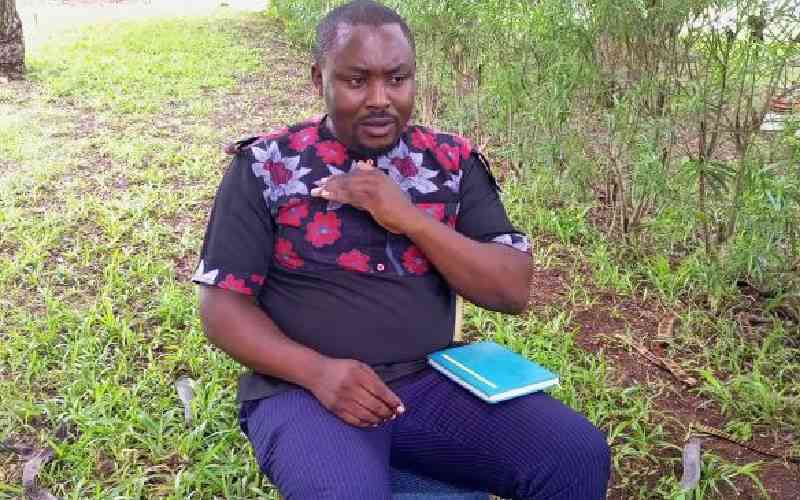 Michael Waithaka is stockily built and walks with an unmistakable confidence.
Even on this day when he is about to share intimate details about his private life, nothing seems to bother him. It is a quiet evening in Diani, South Coast and Waithaka, a statistician and senior data analyst with a local NGO in Nairobi has had a full day in a seminar. He, however, agrees to an interview, and we set out by a beachfront.
Waithaka, 35, takes a seat opposite and peers through my eyes. He is ready to answer all the uncomfortable questions. "Sema sasa" (let's begin) he says, and breaks into short laughter.
The father of two sons is among a modest number of Kenyan men who are embracing vasectomy as a choice method for family planning despite the myths and misconceptions around it.
It was in 2019 when Waithaka underwent the procedure at a Nairobi clinic and ever since, he says he walks with his head held high, sure that he is in charge of his reproductive health.
Speaking ahead of the World Contraception Day tomorrow, Waithaka says his decision was fired up by a desire to cushion his wife from the life-threatening complications brought about by hormonal contraceptives and pregnancy. Waithaka says he watched his wife struggle with two pregnancies that nearly cost her life and he decided he will take personal responsibility.
In 2015 when his wife was delivering their first child, she developed complications, forcing her to be admitted to a hospital where she delivered through cesarean section (CS) method. After a few days of monitoring, mother and baby were allowed to go home but a few days later, something happened.
Lower abdomen
Waithaka says she started having nagging pains in the lower abdomen. "Then the scar opened up and a nasty wound developed," he recalls. He took her to hospital where she was successfully treated and discharged after days.
Four years down the line, the couple decided to have a second child but Waithaka dreaded the thought of seeing his wife go through the pain all over again. For the four years, they were not on any contraceptive method. When she fell pregnant again, what Waithaka feared happened.
His wife's health deteriorated and she would be in and out of the hospital due to complications. He reckoned that the family size was now enough and it was time to take the family planning responsibility himself.
"I knew we needed a permanent method and I was the one to go for it. I consulted doctors and specialists and made up my mind; it was vasectomy," he says. One day while his wife was pregnant with their second child, he broached the subject with her but a shocker awaited him.
"The discussion did not last even a minute. She brushed me off and walked out," he recalls. "She was simply not ready for that."
When his wife had safely given birth, through another CS, he knew he had to act quickly. Though his wife was not agreable to his method of choice, Waithaka was determined. For the second time, he revisited the topic with his wife, telling her he would be the one in control and vasectomy was his chosen method. Like in the first instance, she was indignant.
"I was seriously thinking about vasectomy. I talked to another doctor and I said 'wow, this is it, this is what I want. I had no doubts at all," he says.
Waithaka recalls when he walked into the clinic one morning around 9am and 20 minutes later he was out and about, having undergone a non-scalpel vasectomy. He had a meeting towards midday. "I was given painkillers and I rushed to my meeting as if nothing had happened," he says with a chuckle. He was 32 then.
For the procedure, he paid only Sh20,000. He says his wife has since shelved her worries, especially after noticing that nothing manly has changed about him. "We no longer have to worry about pregnancy anymore. We are happy," he says.
However, Waithaka says it has not been easy 'coming out' for fear of a judgmental society, especially fellow men who equate vasectomy to castration. Lately however, he talks about it liberally, not to recruit anybody but to enlighten other men so that they can take vasectomy as an alternative contraception method. "It is a permanent method so you have to be sure," he advises.
He says he knows men who have undergone the procedure but have kept it secret even to their spouses. But to him, he has outgrown the fear of the judgmental society. "As long as I am happy and my family is happy, that is all that matters to me. I really don't care what people say," he says.
According to data by UN on contraceptive use by method 2019, male sterilisation among Kenyan men (ages 15 – 49 years) was 0.1 per cent. This is an indicator that prevalence use of vasectomy as a method of family planning was modestly acceptable in Kenya compared to other countries in the region such as Ethiopia which records zero vasectomy uptake.
The highest rates of vasectomy use in Africa are recorded in South Africa (0.7 per cent) followed by Namibia at 0.4 per cent, according to BMC public health report 2020. Dr Charles Ochieng, a specialist, says their ignorance about vasectomy which makes men shy away despite the procedure being safe, painless and cheap. He says the non-scalpel vasectomy (also called no needle, no scalpel) is an advancement of the earlier scalpel method where doctors opened the scrotum to access, cut and seal the vas deferens (tubes that carry sperms).
But now, the procedure is simpler and takes about 10 to 15 minutes. He says in this method, anaesthesia is sprayed on the scrotum then the vas deferens are clamped using a special ring clamp. Instead of making two incisions, like in the conventional method, the doctor makes one tiny puncture. They then stretch the opening so the tubes can be pulled out and sealed. The incision is so small and it requires no stitches, he explains.
"The procedure does not interfere with testosterone production; neither does it kill one's ability to orgasm. This is what worries most men," says Dr Ochieng.He says three months after a vasectomy, a test is necessary to ascertain success. "There should be no sperms in the semen," he says. Dr Ochieng advises men to take charge of their reproductive health instead of burdening their spouses.
"We have been socialised to think that family planning is a woman's responsibility. That is not true," he says. In a month, Dr Ochieng conducts between 15-30 vasectomies.
Related Topics