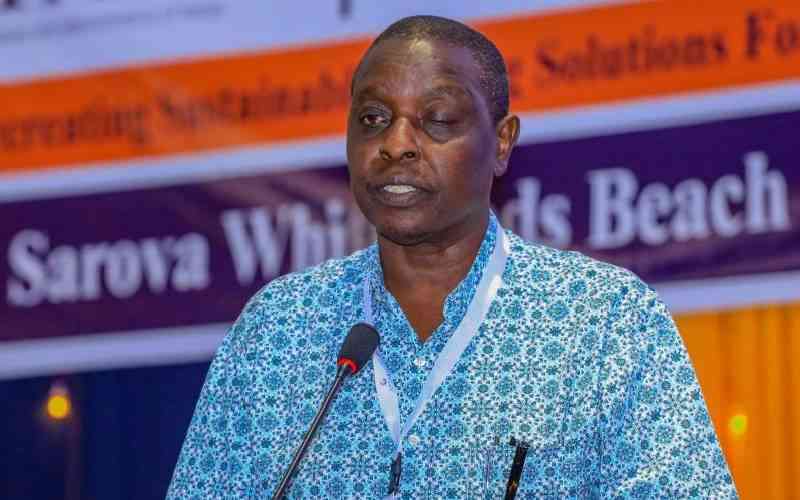 Kenyan pension stakeholders have backed investment trusts to pool funds for capital-intensive and long-term projects such as affordable housing and infrastructure.
This is as the Sh1.6 trillion asset-rich sector puts its skin in the game amid calls to diversify its traditionally conservative portfolio from investments such as bonds and fixed deposits to long-term projects and other alternative asset classes.
Entry of the sector into affordable housing is tipped to be a game changer that plugs the housing deficit, lowers the cost of units by 30 per cent and creates about 1.8 million jobs annually.
During last week's second annual Association of Pension Trustees and Administrators of Kenya (APTAK) International Conference held in Mombasa, pension players placed their bet on Real Investment Trusts (Reits) to fund affordable housing and Infrastructure Investment Trust (InvITs) to fund projects ranging from energy, water and sanitation to transport.
"Schemes and stakeholders gathered here are making this promise to participate in affordable housing investment through appropriately structured Reits while taking the necessary safeguards to protect members' funds," said APTAK President Hosea Kili.
APTAK has been pushing for a national Reit known as the Kenya National Real Estate Investment Trust (KNR).
Capital markets
As explained by Liaison Group Managing Director Tom Mulwa during the conference, (KNR) will be a company limited by guarantee to register all Reits and licensed by the Capital Markets Authority (CMA) to develop affordable housing and infrastructure.
"KNR will have all the branding rights to all the Reits that will be issued in this country. We expect that when we go to market internationally we are going to be referring to the KNR," said Mulwa adding that the outfit would be packaged as investment grade for financial sector players including Saccos, banks insurance firms
"All these Reits will remain as special purpose vehicles. The same way we buy shares, there will be a counter for any Reit at the NSE for all the Reits that will be issued for all will have different elements."
Mulwa noted that a Reit structure is the solution for end-to-end affordable housing funding and can also be shariah compliant. InvITs would help fund projects in sectors such as green energy, water and sanitation, transport
He added that affordable housing through a rent-to-own model would benefit both pension schemes and Kenyans.
Mulwa noted that they would work to ensure rent becomes an investment grade for pension schemes. "For that to work, we count the receivables, we say you're paying Sh10,000 monthly for the next 15 years. With an interest of seven per cent for tenant purchase, that's Sh1.6 million."
The way to make this attractive to pension schemes is by lowering construction costs, he said. "As long as we can meet the construction costs at a value where rent-to-own can give me a return of about 12 per cent, then schemes will opt-in. The reason is that they are buying a tradeable instrument that they can exit and is not going to be written down," he said.
Pension players have already tabled six enablers to the government, aimed to smoothen financing for investors in the housing sector.
Infrastructure bonds
These enablers included reducing the time of processing documents like title deeds and Value Added Tax (VAT) refunds. RBA guidelines allow pension funds to invest about 30 per cent in Reits and 10 per cent in infrastructure bonds.
"Assuming we invested 10 per cent of Sh1.5 trillion, it would be Sh150 billion a year. If other financial sectors such as banking, insurance and Saccos join in we can generate Sh500 billion a year," said Mulwa.
Kili, who is also the chief executive of CPF Financial Services, a giant retirement benefits scheme, rallied the call for pension schemes to diversify their portfolio even as they generated wealth for members.
"Literally 50 per cent of our assets are in bonds, that's a major risk that we are taking in case things go south when a government has a problem," he said in one of the forum's sessions.
Retirements Benefits Authority (RBA) official Jackson Nguthu noted that 45 per cent of pension assets worth about Sh722 billion were invested in government securities.
RBA in its investment guidelines spells out the limits that pension firms can expose themselves to in the various asset classes in order to protect retirees' money and has also been advising them to spread their portfolios.
Nguthu noted that as per current RBA data, Reits were one of the lowest investment grades where pension schemes had put their money in. This was at 0.02 per cent which accounts for Sh280 million of the total pension assets under administration.
He said pension schemes have heavily invested in government securities (45 per cent), property (15.76 per cent), equity (13.6 per cent), fixed deposits 2.68 per cent and private equity 0.23, among others.
He gave a cautionary tale of Ghana, where pension funds held a massive chunk of the country's government securities. This has retirees take a hit when the country's economy tumbled by debt.
Nguthu explained that one of the reasons that schemes shunned alternative assets was poorly informed trustees on other asset classes. "There's no proper structured security or avenue through which to assist and invest the assets," he said.
"We are looking at the issue of a debt instrument where pension funds can put their money without going directly to the construction of affordable housing and all that."
Mr Nguthu also noted that the three-year term for trustees was short for them to engage in long-term investment projects.
This sentiment was also echoed by Nairobi Securities Exchange chief executive Geoffery Odundo saying that the short-term reporting for trustees saw them unable to give a good long-term investment modelling. "Three years isn't enough for a strategic vision to be driven ... we need to give vision careers adequate time to deliver."
Octagon Africa Commercial Director Florence Muchiri said the affordable housing challenge is a complex issue as its intertwined with other factors including political and social.
She noted that high land prices, construction costs and fraud prevented many pension schemes from venturing into affordable housing. Ms Muchiri put the current construction costs per square metre market rate at Sh44,754 which is not affordable.
"There's a need to create an enabling environment that will build confidence for our trustees. We also have to work on technicalities in policy to make it easy to transact," she added.
Related Topics