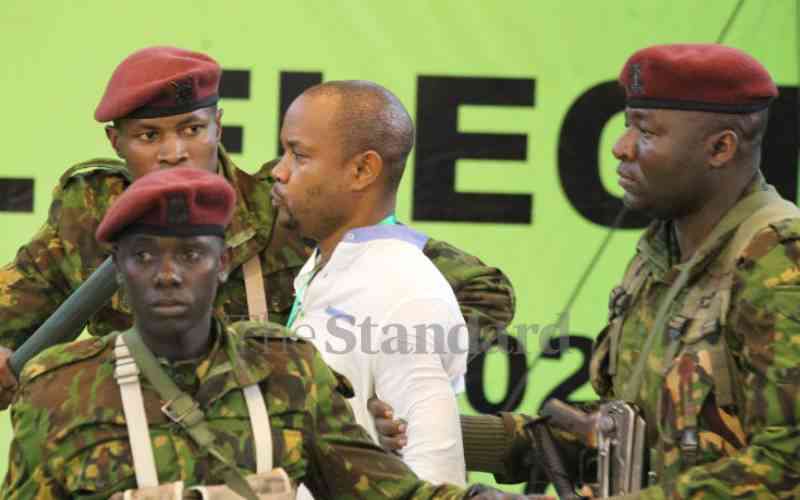 The Raila Odinga of the immediate future will still have his mojo but his incredibly strong support base may not have the energy to receive the blows that may come with another election loss, his chief agent in last year's poll predicts.
In his book "Why Baba is not the 5th", Saitabao Ole Kanchory makes a case for the Azimio leader to begin planning his succession the earliest possible, and to pass the mantle to an heir who can carry his historical burdens, grievances, pain and tears.
Kanchory was Raila's chief man at the Bomas presidential tallying centre, and braved it all to tell the story. He says from his experience and appreciation of the 2022 moment, Raila will never have a better chance at the presidency.
He says the copious amounts of trust Raila has earned from Kenyans over the years is incrementally being withdrawn without any commensurate deposits of the same coming in to his stable.
"Given the pain and the suffering that Baba's perpetual losses have caused so many Kenyans, and considering the number of orphans - even eunuchs - left along the way, the grand old man must now hang up his gloves. It will be unfair - even cruel - to put Baba back in the ring when it is the Kenyan people who are taking all the blows," he writes.
He says Raila has played his part, and played it better than most. He must now decide how he wants to leave the stage, on a high or a low. Kanchory adds in the present calls for dialogue, Raila is blowing hot and cold at the same time, and, therefore, not making things any better for himself.
He, however, credits Raila for mastering the art of reinventing himself, comparing his present exploits to that of a crocodile which drags its prey back into the water for the kill.
Still, he says, Raila appears unsure of how to conduct himself in the opposition despite his many years in that space. In contract, President William Ruto, who has been in government for long, equally appears unable to run a government
"In the interest of the country, Baba must now plan his succession. To paraphrase William Shakespeare, the world is a stage where all men and women come to play and go," he writes.
Kanchory worries more for the man or woman who will take after Raila. They must earn the trust of Kenyans, be fearless, sincere and uncompromising in defending public interest. They must also be strategic in terms of pursuit of power.
"Unless the person who wishes to take over from Baba is willing to step up to the plate and drink from this cup of agony, the grand old Tinga will continue to plough, but not harvest," he warns.
In the book, Kanchory reveals what he considers to be the problem with Raila's perpetual search for power which has not been rewarding. He says the main problem has been Raila's perception of politics as not being a means to an end but an end in itself.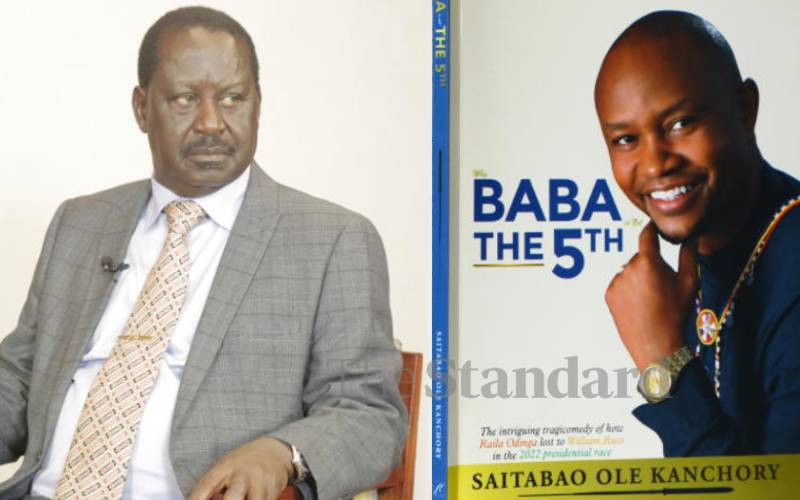 He compares him to the house in a gambling game: "He never loses. In other words, Baba is now a big-time gamer in the political casino."
He throws caution to the wind in most critical of times, and makes costly decisions whose result deeply hurts his support base. On this, Kanchory cites the decision to boycott the re-run of 2017 when the Supreme Court gave him a second bite at the cherry.
"I was bewildered by the nonsensical decision to boycott the repeat election. From a power perspective, it was the most foolish thing the two could ever do," he says of Raila and his running mate Kalonzo Musyoka's move to boycott the poll.
Despite the basis for refusing to participate in the poll being trust issues with the Wafula Chebukati-led electoral commission, Raila proceeded to participate in the 2022 election with the same team in charge.
"It is even more bewildering why this many-times-beaten and highly experienced politician would throw all caution to the wind and disregard clear tell-tale signs pointing to a repeat of the 2017 scenario or worse," he says of the 2022 decision.
Kanchory attributes these bad decisions and flip flops to Raila's penchant for ending up "with the wrong people every election cycle" for advisors. He says every cycle, a new crop of henchmen floods Raila's space, clouding his outlook and while looking at him as simply a highly lucrative venture.
Raila fails to reward the few who have been loyal but also fails to punish those who betray him.
"I have come to learn that just as one can be penny-wise and pound-foolish, it is also quite possible to be politically astute but power foolish. It must be understood that there is a world of difference between these two related pursuits," he writes.
Kanchory says Raila does not appreciate that while politics is a competition of ideas in an attempt to gain access to resources, power is the ability or capacity to apply those resources. He says as much as Raila is an unrivalled political genius, he is strangely naïve when it comes to power.
The pursuit of power, he writes, is a raw and practical affair which does not yield to Raila's theoretical and abstract notions of free and fair elections. He says the game is a fast paced "primitive and primordial" affair.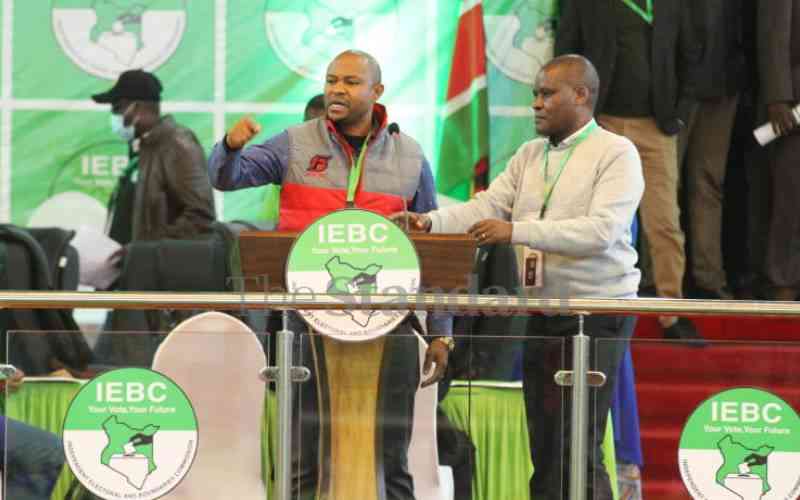 "Power is often a brutal war game of instinct and intuition requiring speed, fluidity and decisiveness. In this fast-paced game of thrones, you cant afford to take any chances. If you snooze, you lose," he says, repeating his clarion phrase that "presidential elections in this part of the world are not won or lost; they are taken."
To seal one's victory, one must then outspend, outsmart and outdo their opponent at every level. He says even minus the external forces of advisors and all, Raila himself does not seem to him to want power bad enough to be able to take the proper measures of getting the job done.
"Baba's primary concern is his well-groomed image and legitimacy, as well as his long hard-earned legacy in the eyes of the international community. In this pursuit that some would term worthless, Mr. Odinga seems to pay undue homage to the now moribund opinion of waning Western powers," he writes.
Compared to him, his student, Ruto is a ruthless man in power tussle. He concerns himself with the end result, does not care about legitimacy and does not sit pretty even when done.
"Always obsessed with the endgame, William Ruto first identifies the end result that he wishes to attain, then works backwards. Whether the process is fair or unfair, right or wrong, legitimate or illegitimate, what matters to him is the outcome," he says.
He cites Ruto's obsession with terms like "ukiona vyaelea jua vimeundwa" or his often stated "kujipanga namna hii namna hii" to underscore his belief in the tried and tested philosophy of power.
Kanchory writes that the paradox and parody of the matter of Raila is both the solution and the problem facing Kenya. Whereas he has the political muscle to challenge government on its excesses, he neither takes Kenyans to their promised land or allows anyone else to do so.
Raila has run for the presidency five times; 1997, 2007, 2012, 2017 and 2022. In 2002, he successfully sacrificed his ambitions for late President Mwai Kibaki, a feat Kanchory says scored immensely for the country.
"Having taken time to understand Raila's agenda, philosophy and ideology and to interrogate the heart and soul of the man, I can confidently say that Raila Odinga is the best President Kenya never had. Of those who have sought to lead our country for the last 20 years (other than Mwai Kibaki), only Raila Odinga, in my view, truly had the interest of Kenya at heart," he writes.
He talks of the triple tragedy of the 2022 election where "not only did the better man lose, but couldn't possibly have lost in a worse way to a worse opponent."
Kanchory hopes whoever takes after Raila will learn from his mistakes, and complete his dream for a new Kenya.
Related Topics