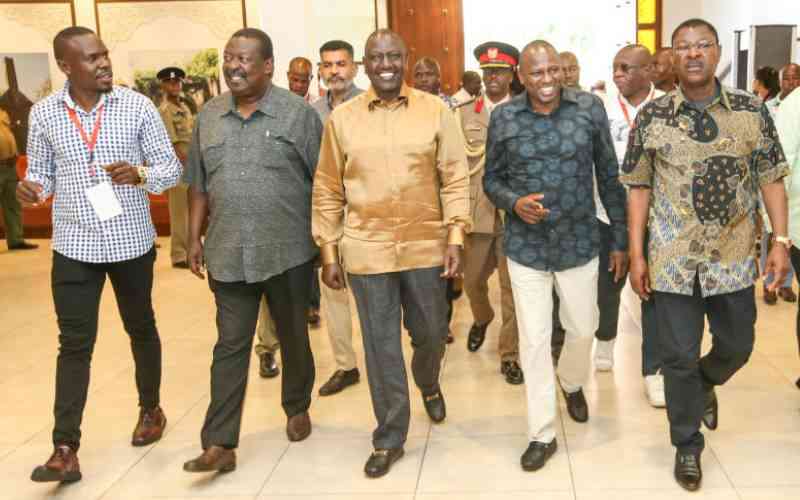 Taxes and taxation has always been a hot potato in any political dispensation. More often than not, those in power are always seen as burdening the populace that is always reluctant to pay new levies.
President William Ruto has pegged his administration's delivery of services on an ambitious budget that he wants taxpayers to fund and not debt. As a result of this the opposition has lurched on the Kenya Kwanza's proposals on taxes to claim the mwananchi has been overburdened and in return, the president thinks it is the work of saboteurs who are behind the protests.
The ruckus has roped in former President Uhuru Kenyatta with Ruto claiming his regime was made up of tax cheats and he is going to push them to pay their fair share of levies. Kenyatta though seems unbothered by the insinuations saying those who have nothing to do will always be the loudest.
Ruto claims powerful individuals are sponsoring Azimio leader Raila Odinga's rallies with a view to arm twist the government to not pursue their tax debts.
"We cannot continue to operate in a space where those in power exempt themselves from paying taxes using all manner of instruments," Ruto said on Monday.
A section of lawmakers from Mt Kenya have accused Uhuru of sponsoring Raila's rallies, leaving no doubt as to whom Ruto has targeted in his statements.
In a letter addressed to the Kenya Revenue Authority (KRA) Deputy Commissioner, Nyandarua Senator John Methu wants a tax audit of businesses owned by the Kenyatta family.
This could suck in all the past former presidents and mirrors similar efforts made by previous administrations since 1970s to tame influential wheeler dealers who ran afoul with incoming governments once their political godfathers are out of State House.
Already, a petition received by the National Assembly registry sought the repealing of Section 7(3) of the Estate Duty Act, which exempts the property of former presidents Jomo Kenyatta and Daniel Moi from estate duty.
Raila, on the other hand, faults the President for burdening mwananchi, struggling under the weight of the skyrocketing cost of living, with more taxes.
"Amekuwa Zakayo mtoza ushuru (He has become Zacchaeus, the tax collector)," he said.
To counter Ruto's tax avoidance claims against the former president and his family, the opposition leader has cited individuals within Ruto's government that have faced tax evasion charges.
They include newly appointed Communication Authority of Kenya chairperson Mary Wambui, whose Sh2.2 billion tax evasion case was withdrawn earlier this month. Her closeness to the President earned her the moniker Wambui wa Ruto.
The other case being cited is of businessman Humphrey Kariuki, whose WOW Beverages Limited won a tax evasion case, following a 2021 ruling that faulted the KRA for prosecuting the tycoon and not the Director of Public Prosecutions. Ruto recently appointed Kariuki to National Investment Council.
New KRA board chairperson Anthony Mwaura has also been cited, courtesy of a previous corruption case, which saw some Sh277 million worth of assets belonging to his two companies, Hardy Enterprises Limited and Toddy Civil Engineering Company Limited, frozen.
Issues of tax have been part of the political discourse, amid allegations that it had been politicised. Such claims accompanied the multi-billion-shilling tax row involving Nakuru Senator Tabitha Karanja's Keroche Breweries and KRA in the previous regime. In the run-up to last year's election, some of Ruto allies lamented that Uhuru's regime was misusing state agencies such as the KRA to force them into defecting to Raila's Azimio la Umoja One Kenya coalition party.
Political analyst Herman Manyora faults the attacks on Uhuru.
"Has the KRA gone and asked Uhuru to pay and he has refused?" Manyora posed. "Would it be strange to exempt the Head of State from paying taxes? The royal family in the United Kingdom is exempted."
Ruto's remarks on powerful families paying taxes mirrors sentiments by Uhuru during his tenure. On several instances, the former president ordered lifestyle audits on government officials aimed at fishing out tax evaders.
The audits stretched to KRA staff who were suspected of aiding tax evasion.
Throughout the years, well-connected persons have been accused of receiving favours such as tax exemptions. Such was the case with former Makueni Senator, the late Mutula Kilonzo, who accrued taxes from non-remittance during the Kanu regime when he was the president's personal lawyer.
The KRA went after Mutula during the Kibaki regime, collecting his entire salary as taxes since 2003.
Amid a push to have him censured as the minister of Justice and Constitutional Affairs over the tax arrears, estimated to have been more than Sh300 million, Mutula would claim political harassment.
"We have seen when the government wants you they send institutions such as KRA to you," says Manyora.
Related Topics