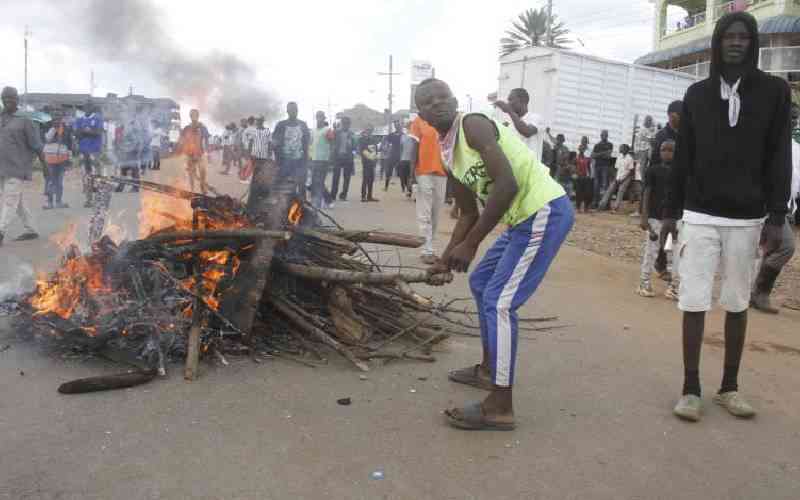 Tension remains high in Isebania, Migori County, after police reportedly shot dead four protesters, injuring several others on Thursday evening.
Residents have been staging demonstrations to protest against increasing insecurity in Isebania town.
One of the survivors, Christopher Chacha, said he arrived in the town only to find chaos as the police and the protesters were clashing.
Chacha sustained a gunshot wound in the chest. He is admitted to Emalia Hospital.
Sammy Thomas was shot in the abdomen. He accused the police of using live bullets against the protesters. He is also receiving treatment at the same hospital.
Attending to victims
Felix Odhiambo, the doctor who is attending to the victims, said they managed to carry out surgeries on two of the victims who he said are in stable condition.
"One of the patients was in critical condition and was transferred to Migori County Referral Hospital for specialized treatment," Dr Odhiambo said.
Migori County Police commander Mark Wanjala said the protestors tried to force their way into Isibania Police Station on their way to bury a person who was killed by thugs last week.
"They pelted officers at the police station with stones. They also tried to break into the armoury. The officers tried their best to contain them. However, the officers ran out of teargas and blanks and were forced to shoot live bullets to protect themselves and the armoury from the charged crowd that was threatening them," said Wanjala.
Deputy Governor Joseph Mahiri condemned the police accusing them of using excessive force on the protesters.
Necessary action
"The officers should have listened to their grievances and taken necessary action instead of shooting live bullets, killing and maiming people in the process," he said.
Dr Mahiri called on the Independent Police oversight authority (IPOA) to investigate the shooting incident and bring the officers responsible to book.
The deputy governor also warned politicians against inciting the public to violence. "We should always find a peaceful way of solving issues."
Bodies of those who died have been preserved at St. Akidiva Mindira Mortuary awaiting postmortems.
Related Topics