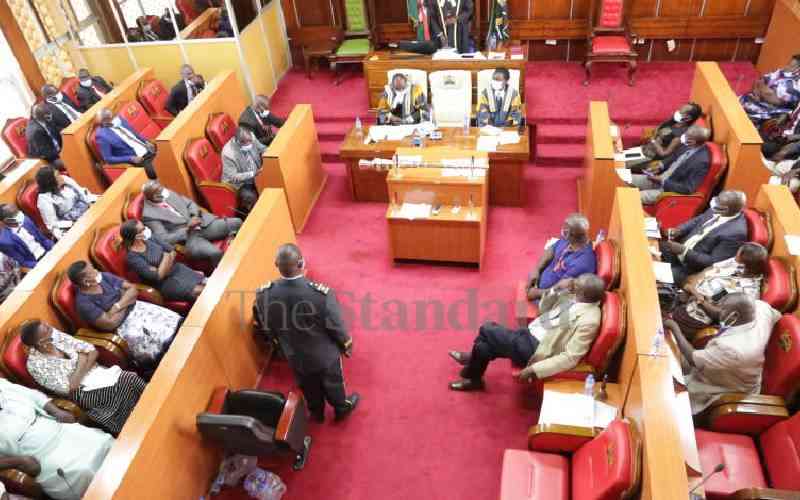 Siaya County Executive member in charge (CEC) of Water, Environment and Natural Resources Caroline Onyango is walking a tightrope after the County Assembly initiated the process to impeach her.
The planned impeachment comes barely a few months after Ms Onyango was appointed to the office and will be the first CEC from Nyanza region to be subjected to an impeachment.
In a notice of motion tabled by Chairperson of the House Committee on Water, Justus Oguta, the ward representatives have accused Ms Onyango of gross misconduct, abuse of office and gross violation of the Constitution.
According to the motion moved by the West Uyoma MCA, the CEC is reported to have failed to appear before the assembly committee on different occasions to answer to a number of allegations levelled against her.
"The CEC despite being informed of the obligation to appear before the committee and incident consequences, by design or default, or contempt, failed to honour any of the invitation," read the notice.
In his notice, the lawmaker further raised concern over derivative information from a report of another assembly committee on the propriety of the CEC to steer the department that revealed incidences of 'falsehood, fraudulence, fabrication and unfettered dishonestly'.
"Her consistent incapacity to obey simple statutory obligations and gross violation of guiding laws is curiously bolstered by the fact that the CEC used deceptive means to clinch the position," said Oguta in his notice.
The motion, which is supported by 39 out of the 42 MCAs, is due for consideration by the House tomorrow. On Wednesday, the Assembly resolved that the CEC be removed by way of impeachment.
"A County Assembly, pursuant to provisions of Article 185(3) of the Constitution of Kenya, 2010, oversights County Executive.
"One way through which an Assembly executes this mandate is by inviting a Member of the Executive Committee to appear before any of its committees for purposes of giving evidence or providing information in line with canons of Article 195(1) of the Constitution," read the notice.
The CEC is further accused of failing to appear before the committee of water on January 9 and January 12 without any apology tendered to respond to concerns on matters within the jurisdiction of her department.
Ms Onyango is also accused of harassing, mistreating and intimidating junior officers.
Yesterday, the CEC dismissed all the claims levelled against her and claimed the attempts to kick her out of office are driven by malice.
"These are allegations that have no basis and we are waiting for the governor to intervene," she added.
She claimed an MCA from Bondo sub-county is behind the push to have her impeached.
"There's been an artificial water problem in parts of Siaya especially in Bondo and it is the cartels fighting back," she said.
Related Topics