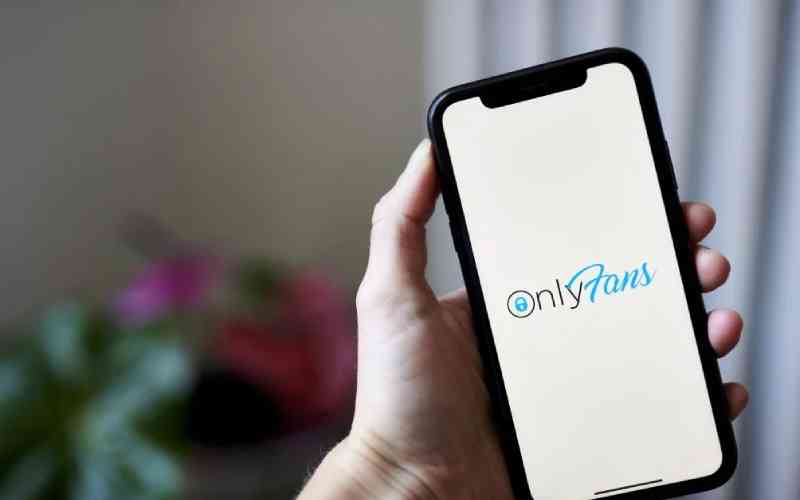 Danielle Bregoli aka Bhad Babie recently made a shocking revelation. The 19-year-old American, famed for her viral moments such as 'Catch Me Outside' and 'Gucci Flip flops', uploaded a video of herself purchasing a fully furnished mansion worth Sh600 million in cash.
This evoked mixed reactions, with some online users questioning how she makes her money.
In response, Danielle scoffed at the comments and claimed she is worth more than Sh5 billion.
Subsequently, she uploaded receipts of her adult subscription top revenue earner – Only Fans, revealing indeed a total net income of up to Sh5 billion.
So if showbiz is no longer as lucrative as it used to be, how are celebrities earning their money?
"Only Fans," read a comment by Kenyan content creator Wayu Wayua.
Wayua, a popular content creator says she generates over Sh100,000 monthly on Only Fans.
"First off, Only Fans is not about sex or bad things. For me, I am not explicit. I won't put those dirty videos on there as people think. I upload the same content I use on Instagram. Why should I give you these things for free on Instagram when I can make money? So pay for them," she told a local media outlet of her side hustle pursuit.
"I know the consequences of doing this. There is a good side and a bad side. I tell myself that if I can take the negatives and live with them, then that is okay. Some brands do not want to work with me. At the end of the day, I want to do what makes me happy and comfortable. Otherwise, I am still making money," she says.
Wayua is just one among the many female content creators cashing in on this trend. Some go as far as transforming their looks to suit the part.
In a recent interview, Gen Z Tik Tok star Cindy Kipsang shared how her looks play a key role in her current job despite studying Business IT at university.
"I removed fat from my stomach and got a Brazilian butt lift because I wanted to. I wanted a very defined look, and I felt this was going to give me that. We all want to look prime, premium and classy. I cleaned my Instagram as well because I am evolving into a new brand," she says.
Cindy has since rebranded herself, following in the footsteps of fellow youthful entertainers such as Tanasha Donna, who rebuffed critics on a snippet of her latest song she uploaded on Instagram.
"Just trying to feed N.J... Just trying to make paper, some pretend that they like me, but I know that they are haters," she raps on a Drill beat allegedly responding to the backlash she has been privy to over her latest body enhancements.
Body transformations and enhancements have been here for a long time, but this trend gained popularity with the Kardashians.
Kim Kardashian was the first to make headlines, followed by sisters Chloe and Kylie, who have dramatically changed their looks after making their debuts into the modelling and cosmetics world.
In the past, content creators would be bashed for revealing too much skin and body transformations, but today they are hailed for embracing their curves and 'body positivity'.
You will also notice more women are indiscreet with their bodies online. Pregnancy shoots, body photography and postpartum positivity are just among the newer notions and narratives being pushed for by the New Media.
Nairobi-based creative directors such as Lauren Torres have stretched the body positivity into a different understanding, "nude art". She has worked with crème clientele including Karun and Xenia Manasseh, and Urban Pitchaz.
"To me, nudity is the most natural and beautiful state of being, but for a long time it was not," she says.
"I had to unlearn the heavy shame created around nudity in our society. In my explorations of sexuality, nudity, and shame I found many of the stigmas we carry about our bodies are not only rooted in patriarchy, but also colonialism and racism," she says.
"Owning our nude form – especially through art – can be an act of rebellion. When I create nude images with myself or with other women, I aim to make them feel seen, loved, and respected as they are – not just as subjects for the male gaze to consume," she says.
More women are also branching out into ancillary businesses that involve body-centred businesses. We have more forwarding initiatives such as plus-size pageants cropping up and fashion brands expanding to represent various body sizes and types.
Social media sensation Chebet Ronoh earlier warned about artificial means of body transformation after losing 25 kilogrammes in two years in an intense and challenging process.
"Many of you are asking the fastest way to get the 'ideal' body; they are seeking fat burning easy routes like supplements and other pills I have learnt of, including BBL, fat freezing and lipo," she said via her social media.
Chebet urged women to be disciplined and practise self-love more often.
"Do not get me wrong. I am not against anyone doing the above. Do what is okay for you. Although hard work does feel great, the discipline you cultivate matters. The mindset seems positive because of high dopamine and serotonin levels. What am I saying? Body movement is ideal. Please get to know your body through each step," says the fitness enthusiast.
So, is the body positivity tirade a sham or an authentic narrative? Many Only Fans partakers deny this form of entertainment is sort of X-rated and by extension a paywall for videos that would otherwise not be allowed on the regular social spaces.
This trend that is only now catching on locally, has been going on for years in countries like the UK.
The platform allows content creators to get users to subscribe and pay for content. Fans may pay for single sessions or monthly depending on the terms of the agreement.
Even though there are several content-sharing platforms that allow creators to earn money online, Only Fans, which originally came into being in 2016, is more lucrative.
Kevin* is a regular consumer of such classified content. He says that he pays up to Sh50,000 to connect with a Fans Only service provider twice a week. He, however, admits the practice has its disadvantages.
"I used to watch internet erotic sites before I got into this. Many ladies here in Nairobi are indeed providing these services. Honestly, I would not ask any man to get into this. It is very addictive and morally draining. It is a pleasurable exercise that can affect one's self-esteem," he says.
According to Kevin, charges increase depending on how engaging the requests get.
Mercy Buret is a Kenyan model based in Kericho. She had been hosting a Fans Only weekly session until the demands became too much.
"My Fans Only sessions were simply on being body positive. I could show my hips and generally my curves as a plus-size model originally to encourage plus-size models to appreciate themselves. However, with time, men who used to attend the sessions started asking for more," says Mercy.
"They wanted me to engage them personally. They were willing to pay more if I showed more or became inventive. That is how I stopped and quit the practice. I felt like I was dealing with perverts. I felt like I was being recruited into porn."
Unknown to some of the content creators, a number of their consumers run adult sites where a portion of this stuff occasionally shows up.
"I have heard of cases where some content creators find their videos on porn sites. Girls who are engaging in such practices should be wary of being extorted or used as adult content creators for porn sites," says Kevin.
Related Topics