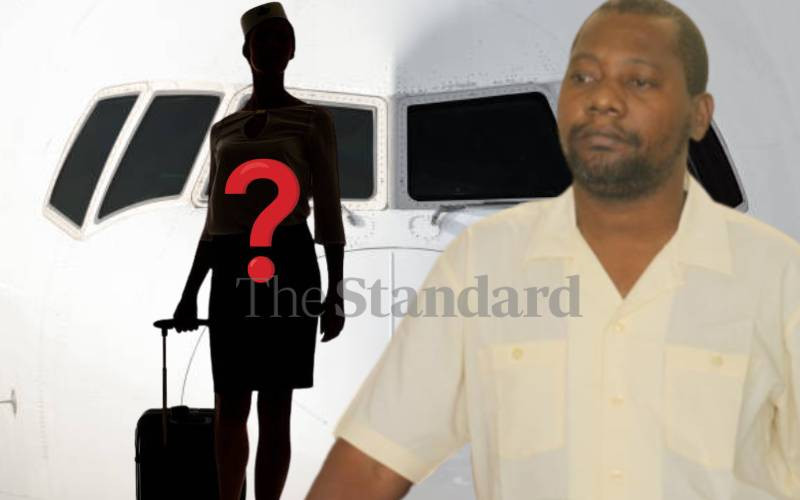 An air hostess quit her 11-year career last month and relocated to Shakahola in Malindi, Kilifi County, to join Pastor Paul Mackenzie's church, according to one of her relatives.
The woman reportedly headed to the remote village with her sister and niece to join their mother, a long-time follower of the controversial Good News International Church.
According to her brother-in-law, the air hostess flew from Nairobi to Malindi and then took a matatu to Shakahola.
"They left our Nairobi home without a word and traveled to Shakahola village in search of Pastor Mackenzie," explained the distraught man, who added that their mother had been living on Mackenzie's land for the past year.
They also alleged that the woman sold her land for Sh7 million and took the money to Pastor Mackenzie as tithe and offerings.
"My wife too left her military job after her sister quit hers, and they left," Abbas explained at Shakahola as he witnessed the exhumation of bodies believed to be those of believers who fasted to death in order to meet Jesus as promised by the preacher.
The has been camping at Shakahola for the past one week, hoping to find his loved ones.
"Since I arrived here, I have witnessed horrific scenes, but I'm still hoping that my family is still alive," he said.
Mr Jackson Masha, a resident of Shakahola, said Pastor Mackenzie showed up in this village disguised as a saint and started helping people before his followers started fasting, resulting in deaths.
''After camping here, he started giving relief food to the residents and that is how he earned the trust of the locals. We thought he was a good man, and everybody embraced him,'' said Masha.
"We trusted him but it came to a point when his word was final. That's when he started to take advantage of the locals," Jackson added.
He said the cult has been in existence for a long time but people were afraid of disclosing it "to avoid arousing God's anger."
Detectives have been camping in Shakahola for the past week, searching for mass graves on the land belonging to Mackenzie.
At least 21 bodies have been exhumed, but the number is expected to rise as the exercise continues.
The detectives say the 14 days given by the court for the search of bodies is not enough given the number of graves expected to be exhumed. They are planning to plead with the court for more days to complete the exercise.
Mackenzie is still being held by police for allegedly introducing the cult-like doctrine that advocates starving of followers to death so that they can go to heaven and meet their creator. He has denied any wrongdoing but the court has denied him bail.
Related Topics