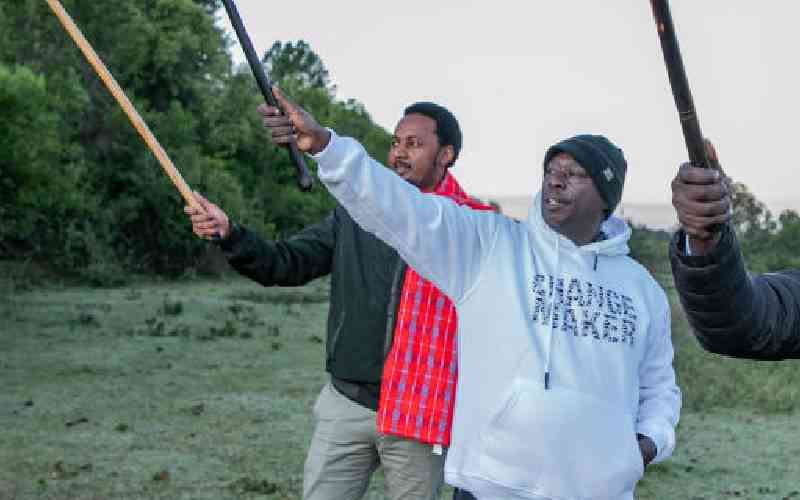 Deputy President (DP) Rigathi Gachagua should engage in political transfiguration asap. Going by what has been transpiring between him and the governor of Nairobi, he is proving his critics right. It doesn't mean governor Sakaja is entirely correct, but the DP is becoming the weakest link in President Ruto's Big Six. I say to Riggy G, to whom much is given, much is expected.
One of the arguments Azimio la Umoja advanced when William Ruto chose Gachagua as his DP was that he (Gachagua) was not a presidential material enough. Whether they were right or playing politics, the DP must work out politically to survive the political tides to shed off this tag. No other person among the Ruto Big Six has a similar worry.
The six most senior Kenya Kwanza leaders are President William Ruto, Mr Gachagua, Prime Cabinet Secretary Musalia Mudavadi, Attorney General Justin Muturi, National Assembly Speaker Moses Wetangula, and the Senate Speaker Amason Kingi. Being the second in command, their opponent know they need to tumble one of them if they are to topple the Kenya Kwanza government.
This Kenya Kwanza team held the 2022 political firewall against the firebrand Azimio la Umoja, making it hard for Raila Odinga, the enigma of Kenyan politics since 1982, break through.
Their number is vital because in numerology, the six is the number of luck. To the Christians, six is the number of perfection and completion—they draw that from the fact that God completed creating the Earth in six days. Therefore, the Ruto Big Six should be politically complete, impenetrable, and unbreakable. The team would constitute the 'Kimonda Ndung'ani team' in DJ Afro's commentary.
Now, let me explain three reasons that make me warn our DP. First, among Ruto's Big Six, the DP is the ripest target of political foragers. That is why ODM Secretary General Edwin Sifuna and other opposition leaders quickly hit at the DP when he dared Nairobi Governor Johnson Sakaja over a plan to sling out matatu from the Central Business District.
It is not that the opposition team supports Mr Sakaja; they were at the forefront tearing him up when he was fighting the ghosts of his university degree certificate before the elections. However, they know very well that Gachagua is the weakest point through which they can crack Ruto's Big Six, divide them, and scatter them before 2027.
Second, the DP has refused to pluck off the talons of Gikuyuness and beat off Mount Kenya region's beak as required by the Presidency. By now, Riggy G should have left partisan issues to political 'pikins' from Central.
On their tussle over Nairobi, Sakaja's responses were more sober, sensible and sound. The political heavens remind our DP that there are political spanners and pliers for these political errands called proxies—blessed is the one who knows how to use them.
Thirdly, Gachagua is the most vulnerable and dispensable among Ruto's Big Six. What do I mean? Unless he adjusts his political approach, there is Ndindi Nyoro, Governor Anne Waiguru, and other young Turks from the Mount Kenya region.
In conclusion, experience and Kenya's political history remind Gachagua of two reasons that can motivate the president to elbow out his deputy. One is if the deputy is too ambitious and feels like he can overthrow the president. This is the primary reason President Uhuru Kenyatta sidelined his deputy, Ruto.
Two is if the DP requires constant jump-starting to move in the right direction. This is why Gachagua should be careful not to join Raila in 2027 in a bid to oust President Ruto. The DP has two choices; political death or political life. We encourage him to choose political life. The political heavens have spoken.
Dr Ndonye is a senior lecturer in the School of Music and Media at Kabarak University
Related Topics