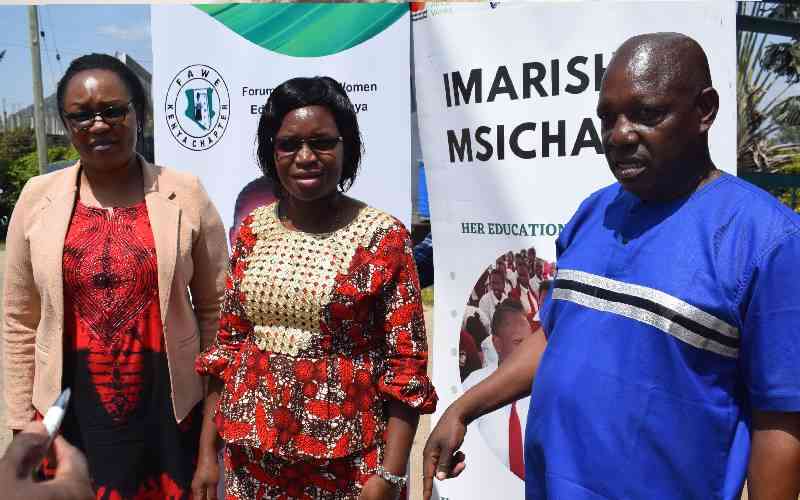 An organization has begun a programme for sensitising men and boys against teen pregnancies and retrogressive cultural practices which impede development of girls in Homa Bay and Migori counties.
The Forum for African Women Educationalists (FAWE)- Kenya Chapter has launched the campaign christened 'Care about Her'.
The campaign involves engaging men and boys in senstisation to enable them to participate in protecting sexual rights of girls.
Homa Bay Woman Rep Joyce Osogo, FAWE Chief Executive Officer (CEO) Teresa Otieno, Migori Deputy Governor's wife Evaline Mahiri and Suba Deputy County Commissioner Sebastian Okiring launched the campaign in Homa Bay town.
Otieno said they decided to engage men and boys in the campaign to bridge the gap which has been in the previous initiative for fighting defilement and teen pregnancies.
She argued that men and boys are the culprits of teen pregnancies hence the vice will end if they change their attitude.
"We have decided to target men and boys in this campaign because they are the ones who defile and impregnate girls. We want every men and boys to understand the essence of protecting sexual rights of the girls," Otieno said.
Dr Osogo warned that defilement will prevent many girls from becoming future leaders interferes with their education,
"We will have future female leaders if our girls are defiled as it happens to day. Let our men and boys stop perpetrating this vice," Dr Osogo said.
She urged girls to stand firm against men with intentions of defiling them.
"If a man does not defile a girl, the girl will not be pregnant. Let our girls be rigid against men who want to destroy their lives," Dr Osogo said.
Okiring said the National government will collaborate with FAWE to ensure success of the campaign.
He said Kenya cannot achieve millennium development goals if defilement continues in the society.
"We will mobilize various policy makers including the ministry of education for success of the campaign," Okiring said.
Mahiri said Migori County government will support the campaign to rescue girls from socio economic challenges affecting them.
"Apart from defilement, Migori is also affected by female genital mutilation. We are going to support this project to help rescue our girls," Mahiri said.
Related Topics