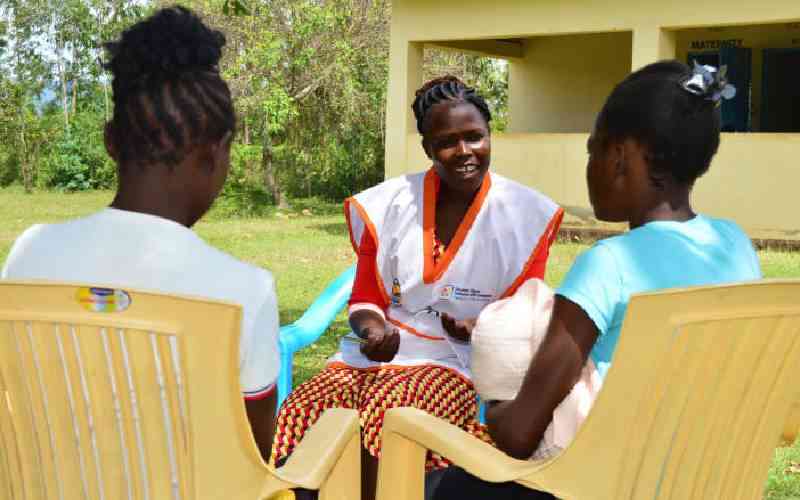 Grace* was 16 years old when she got into a sexual relationship with a man who she ended up living with.
She had just dropped out of school in Form Two because her parents could not afford to pay school fees.
One and a half years into the relationship, Grace gave birth to her first child.
Later, she started facing sexual assault and beatings from her partner.
"The man was so abusive. He would beat me mercilessly without a reason," says Grace.
Soon after leaving the first relationship, the young mother got into a second one, which also turned toxic.
Narrating her ordeal to The Standard, the resident of Nairobi's Dandora estate reveals that her life turned into a nightmare after she got pregnant for the second time.
Her 'husband' had multiple partners and he became aggressive, accusing Grace of being paranoid whenever she raised a concern. In the end, he threw her out of their house.
Sadly, by the time Grace's second relationship ended, she had acquired HIV.
"I received news of my HIV status with shock. I was struggling to fend for my two children, and now I had to add HIV to my troubles. I did not know what to do," narrates Grace, who is now 23 years old.
Though she says she remains optimistic about living with HIV, recovering from abuse, being on treatment and giving birth at an early age have left her disadvantaged.
"Raising children and being on HIV treatment has not been easy. I hold onto my faith that there is a better life tomorrow, especially for my children," she says.
In the neighbourhood, The Standard meets 16-year-old Beatrice* cuddling her six-month-old baby.
Even though the teenager wears a bright smile, she is hurt after the man who impregnated her disowned the baby.
As she fights to get back on her feet, the teen is faced with stigma from her peers and the community at large.
"I am ridiculed for giving birth at an early age. I am used as an example of girls with reckless sexual behaviour just because I have given birth," narrates Beatrice.
"At times I am hesitant to take my baby to the clinic because some health workers make of me saying things like, 'mtoto amezaa mtoto' (a child has given birth to a child). It hurts so much," she says.
To earn money for food and essentials, Beatrice does manual jobs such as washing clothes. But with a baby to take care of, she can't do much.
"At times, the only meal we can afford is porridge," she says.
According to the minor, poverty is a trigger to many cases of teen pregnancies in the slum.
She observes that a number of girls are easily coaxed into sexual relationships in exchange for sanitary pads and food.
"Lack of food is a major challenge in the slums. Parents are even asking their children to go and look for food. We have seen cases where men promise to help families," says Beatrice.
The young mother is looking forward to getting a well-wisher to help her back go back to school to enable her to realise her dream of becoming a doctor.
The cases of Grace and Beatrice mirror the struggle facing many young people who are exposed to the triple threat of early pregnancies, sexual gender-based violence and HIV infections.
Last year, the Ministry of Health's Department of National Syndemic Diseases Control Council (NSDCC) launched a campaign to address the overlapping challenges of the three issues.
However, Douglas Bosire, the officer in charge of County Support Programmes at NSDCC, says: "It is worrying that the combination of these three issues is derailing the fight against HIV and related infections."
"Adolescents are reporting syndemic factors namely HIV infections, early pregnancies and sexually based violence. The challenges that are overlapping, and exacerbate the occurrence of each other," said Bosire.
In urban areas, Nairobi and Nakuru lead in cases of this triple threat.
Counties with a low prevalence of HIV are reported to have low awareness according to health data. For example, Wajir, Mandera, Marsabit, Samburu, Turkana, Lamu and Tana River record a low prevalence of HIV, according to the 2022 KDHS report. These counties have low HIV awareness, with more cases of mother-child transmission.
Despite the campaign to end HIV as a public health concern by 2030, Bosire said there is concern over proportionately increasing infections in adolescents and young adults.
Bosire added: "We have a population of young people, who are currently engaging in unprotected sex which leads to HIV infections."
HIV infections, according to data from the Ministry of Health, are also higher among children.
At least 1.4 million Kenyans are living with HIV/AIDS. Out of this, 147,442 are children between zero and 19 years.
Every week, Kenya records at least 99 new HIV infections among children aged between 10 and 19 years.
In 2021, there was an estimated 34,000 new HIV infections, an increase from 32, 000 documented in 2020. The number of HIV-related deaths increased from 19,000 to around 21,000.
Kenya spends an estimated Sh25 billion annually on the procurement of HIV treatment drugs and commodities.
"It is important to close the tap of treating HIV, a tap that can only be closed if we end new infections, particularly among young people," said Bosire.
Apart from HIV infections, teen pregnancies in the country remain high according to data from Kenya Health Demographic Survey of 2022.
For example, in 2022, there were a total of 260,000 children aged between 10 and 19 years who attended Antenatal Clinics (ANC).
Samburu leads in cases of early pregnancies, with at least one in every two pregnancies being of an underage girl, aged between 10 and 19 years.
Also, 37 per cent of all the sexual gender-based violence in health facilities across the country occurred in children between 10 and 17 years
"Because of unprotected sexual encounters, there is the likelihood that a girl will not be able to negotiate her sexuality, and men will take advantage to advance their sexual demand," said Bosire.
Kenya set a target of ending HIV transmission by 2030, and teen pregnancies and sexual-based violence by 2026, targets that might not be attained, according to the ministry.
"Yes, we have done well, and are on the right path in fighting the triple threat. However, the curve is not flattening fast enough to get us there to 2030," Bosire said.
Failure to handle these three threats, according to Bosire, might result in less productive young adults in future.
"If we do not fight the triple threat, we might have children transiting into productive years but a good percentage will not be productive because of diseases and socio-economic constraints," said Bosire.
As a mitigation, the council is working closely with local administrators and community health workers to disseminate information at community levels, on preventive measures and support those in need of service.
"We want to account for every Kenyan child, whenever they are. We want to ensure those falling from school are taken back to school," said Bosire.
Under the programme, girls who have given birth are encouraged to go back to school.
Related Topics