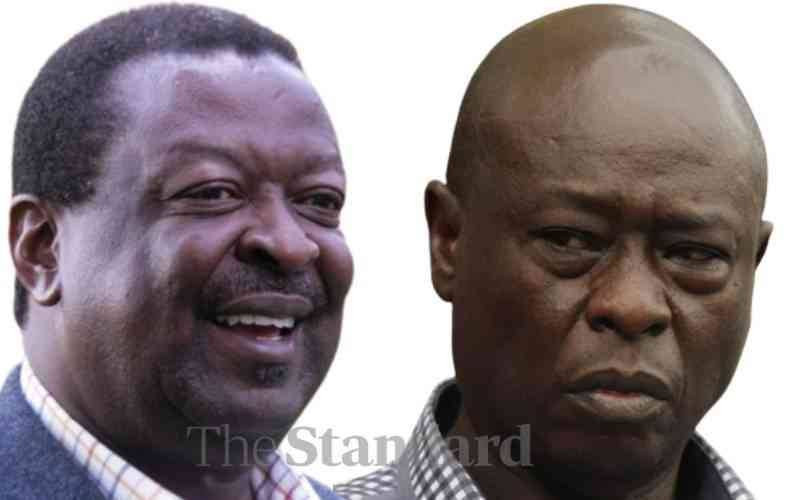 President William Ruto's game plan is finally out. The symbolism of his choices and the power relations of the men and women he has picked to assist him in administering the government, speaks volumes.
After moving to State House, the President relinquished Harambee Annex to his deputy Rigathi Gachagua while retaining Harambee House office where his presidential standard will flatter the skyline every time he comes to office. Musalia Mudavadi, who will be the third most powerful man in Dr Ruto's government, will now operate from an office at Railway headquarters along Haile Selassie Avenue.
Mudavadi, who will be vetted by Parliament on Monday for the Prime Cabinet Secretary, will be working away from the seat of power at Harambee Avenue which houses the offices of the President and Deputy President.
Ruto, in an Executive Order number 1 of 2022, assigned Mudavadi five roles which include assisting the president and his deputy in coordination and supervision of government ministries and State departments in keeping with the promise he made during campaigns.
Mudavadi was initially to have an office at Harambee House. Prior to that, there were suggestions that he would be housed at Harambee House Annex where the offices of the Deputy President are situated.
Political analyst Barrack Muluka said the President had clearly defined roles for the Deputy President and Prime Cabinet Secretary in keeping with the promises made during the campaigns to avoid conflict of interests.
Public service roles
Dr Muluka said the debate about a lucrative ministry or department in government was neither here nor there since they are all public service roles. He said Mudavadi being at the Railway Headquarters and not Harambee House does not make him less effective.
"President Uhuru Kenyatta worked from State House while President Ruto used his official residence in Karen for public meetings while serving as Deputy President. I do not see anything wrong with Mudavadi working from Railway headquarters," said Muluka.
Political analyst said Dismus Mokua said the proposed office of the Prime Cabinet Secretary is in a prime location with Palladian architecture and that most public servants of rank would crave for that spacious and prime location with the same feel as State House, Nairobi.
Mokua said power, authority and influence are a factor of personalities and that the State House and Railway Headquarters were designed by Sir Herbert Baker, a British architect who also designed the High Court and Nairobi School among other buildings in the city.
He said the roles and powers assigned to Mudavadi are to assist Ruto and Gachagua run government. He said some politicians were creating a false narrative that Mudavadi's roles may clash with Gachagua's.
"Mudavadi understands variables around power in the public sector and will have minimal challenges in executing his roles. The President has also indicated that he is the third in command," said Mokua. "Mudavadi as the Prime Cabinet Secretary will chair and coordinate government legislative agenda across all ministries and state departments in consultation with and for transmission to the parties and coalition leaders in parliament," said Dr Ruto.
The Prime Cabinet Secretary in liaison with the Ministry for Interior and National Administration will oversee the implementation of National government policies, projects and programmes.
Mudavadi will chair Principal Secretary's committees and supervise the technical monitoring, evaluation of government policies, programmes, projects and perform any other function as may be assigned by the President.
DP Gachagua has been given seven roles in the executive order released by the President, with the cardinal role being to deputise the president in the execution of the President's functions in accordance with the Constitution.
Gachagua will oversee the implementation of Cabinet decisions across all ministries and coordinate intergovernmental relations between the National Government and County Governments including chairing the Inter-Governmental Budget and Economic Council.
"The Deputy President will chair Cabinet Committees, coordinate the planning and supervise the implementation of development partners funded programmes & projects, oversee public sector reforms and any other functions as may be assigned by the President," said Ruto.
Mudavadi joined politics 33 years ago as Sabatia MP following the death of his father, former Local Government Minister Moses Mudavadi and served as a Cabinet minister, Deputy Prime Minister and Vice President in the governments of Presidents Daniel Moi and Mwai Kibaki.
Musalia has been in the political cold since 2013 when he vied for presidency emerging third behind Uhuru and former Prime Minister Raila Odinga. In 2017, he supported Raila who lost before joining Ruto in 2022.
Related Topics