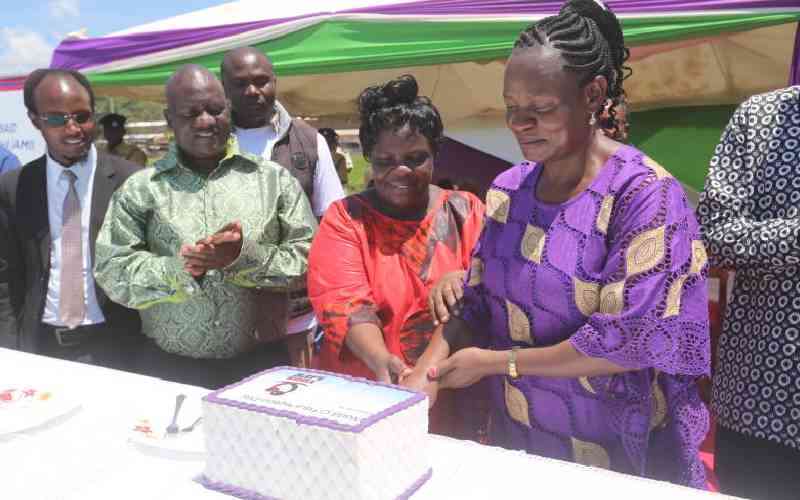 The Ministry of Health is advocating for an increased uptake of postpartum family planning products.
Janet Angote, the Kakamega County Health Reproductive Coordinator, said providing a woman with postpartum contraception immediately ensures she can initiate the method before her first ovulation.
"If the initiation of the method is delayed, then the woman or teenage girl may be at risk of unplanned pregnancy and shorter inter-pregnancy intervals," Angote said.
She also added that this approach "helps reduce maternal and child mortality" while simultaneously improving the health and economic well-being of families and communities.
According to Angote, research indicates that women who experience a miscarriage often desire to conceive again promptly, whereas those who have given birth tend to prefer waiting for two or three years before having another baby.
"Counseling begins during the mother's pregnancy. Once she gives birth, she is offered her preferred contraceptive method so that by the time she leaves the hospital, she is already equipped with her chosen method," said Angote.
She further said these proactive measures have enabled Kakamega county to surpass its targets, ensuring at least 60 per cent of women aged between 15-49 years (the childbearing age) have access to contraceptives.
"Our target for this year (2023) was 60 per cent, but within just nine months, we have exceeded the targets, currently standing at 63 per cent according to our recent survey. We aim to increase this figure to 65 percent by the year's end," Angote added.
At the national level, the goal is to achieve a contraceptive prevalence rate of 66 percent by 2030. Kakamega is now just three per cent away from reaching the national target, aligning with the Sustainable Development Goals (SDG) 2030, particularly SDG 3.7.
Angote attributes the success to the proactive measures they have taken to ensure family planning services are accessible in all health facilities throughout the county.
"At Level One, we have community health volunteers who refer individuals to health facilities for these services, while at Levels 2 to 5, all healthcare workers have received training on providing various types of family planning services to clients," said Angote.
She added that the presence of "political goodwill" at the county level has played a pivotal role in achieving this remarkable milestone.
Kakamega governor's wife Kasili Barasa has been leading a special education programme aimed at teenage mothers who wish to return to school.
Speaking at the Kenya Medical Training College (KMTC) Shianda during World Contraceptives Day, Kasili said the use of contraceptives empowers individuals and couples to make informed decisions about when and how many children to have, ultimately contributing to healthier families.
"Whether it's through pills, intrauterine devices, injections, implants or sterilisation, these options enable individuals to have greater control over their lives and futures," said Prof Kasili.
She vowed to continue pushing to end the existing disparities in accessing contraceptives in the county.
"We must ensure we provide a wide range of family planning services to our people," said Kasili, adding that there was a need to increase awareness of why family planning is the cornerstone to sustainable development.
According to the Kenya Health Information System (KHIS) 2022/23 report, the number of women of reproductive age (WRA) receiving family planning (FP) commodities in Kakamega stands at 57.7 per cent.
During the year under review, 435 women received post-abortion contraceptives, post-partum family planning 4-6 weeks (12, 013) and post-partum FP within 48 hours (5,451).
Related Topics