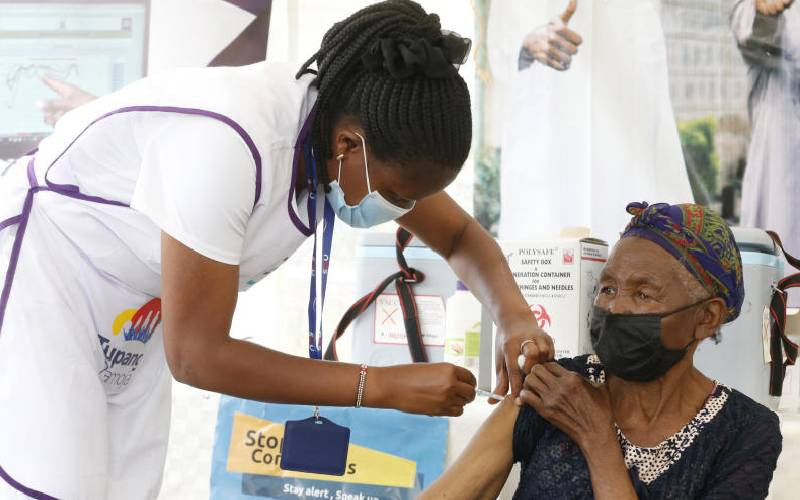 Simon Kirathe, from Busara village in Nyandarua, is pained as he was restricted from taking care of his 76-year-old ailing father before he died.
His father, John Kirathe, had been admitted to Nyandarua Hospital shortly after the first case of novel coronavirus in Kenya was reported on March 13, 2020.
But the hospital did not have oxygen. He was transferred to Othaya Hospital in Nyeri.
Back then, panic, fear and confusion were the moods that dominated anything surrounding the disease.
Hospitals were overstretched as patients grappled for oxygen.
Patients were left to die lonely in hospitals, as hospital visits were restricted.
Religious and traditional burials were restricted, with bodies disinfected by public health officers who were fully donned in protective gear.
Simon says his father died lonely, as Covid-19 restrictions could not allow hospital visits.
"My experience with Covid-19 was horrible. I was bitter because I wasn't allowed to spend time with my father in his sick bed," narrates Simon.
But unlike in the past, Simon does not fear the disease but has since understood how to manage, if he contracts it.
"I used to fear Covid-19, but nowadays, I know what to do so as not to get infected," he says.
Slightly over three years after the outbreak of the pandemic, the population live normally with the disease.
Scientists and the population at large are well-informed on its diagnosis, treatment and prevention.
According to the Ministry of Health's Covid-19 last update dated January 26, Kenya recorded 342,810 positive cases and 5,688 deaths.
According to the Ministry of Health and experts, the situation could have been worse, had the population not adhered to public containment measures.
Kenya to spend Sh26.6 billion for post-Covid-19 recovery
"Nobody was prepared for this pandemic. We were shaken, but we quickly gathered courage and stood strong to defeat the virus, whose spread has gradually slowed," Acting Director General in the Ministry of Health Patrick Amoth told The Standard.
Amoth notes that a larger percentage of the Kenyan population has also been exposed to the virus, creating natural immunity, in addition to vaccination.
"I applaud Kenyans for cooperation. It has been a long journey," he observed.
Prof Julius Oyugi, a virologist, and a Director of Research, at the University of Nairobi Institute of Tropical and Infectious Diseases, said though Kenya is much more prepared to handle Covid-19 as compared to 2020, 2021 and 2022, the country needs to be more vigilant, to avoid a surge in infections and outbreaks.
According to him, the country is prepared in terms of installing oxygen, Intensive Care Units (ICUs), isolation beds, and equipped laboratories for testing the virus.
"It is encouraging that we have revamped our healthcare system, but if Covid-19 were to occur on a large scale, we would still be required to change our bed capacity in the ICU. I cannot say we are prepared and have enough facilities," said Oyugi.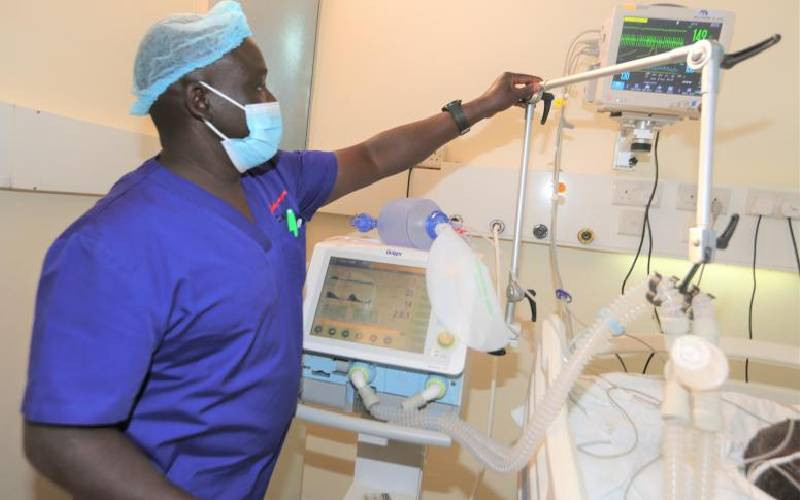 Before the pandemic, the country's oxygen production capacity stood at 3 million per 24 hours, according to Kenya Medical Practitioners and Dentist Council (KMPDC).
Most Kenyan employees prefer working from home post-Covid
The production has significantly increased to 32 million litres per 24 hours.
Only 16 per cent of hospitals had oxygen supply, according to the Ministry's report titled 'preliminary report of the oxygen working group of the resource mobilization subcommittee, Covid Taskforce, of August 2020.
The task force projected a surge in cases and therefore recommended a boost in the supply of oxygen in 76 Covid-19 facilities in 16 high-risk counties.
The 16 Counties include Nairobi, Kajiado, Machakos, Kiambu, Mombasa, Nakuru, Migori, Uasin Gishu, Kilifi, Busia, Nyeri, Narok, Kisumu, Taita Taveta, Garissa, Mandera.
Oxygen plants have since been installed in the counties.
The estimated budgetary allocation for support of the 76 facilities was Sh587,725,000.
ICU beds also increased according to the Kenya Medical Practitioners and Dentist Council (KMPDC), audit report of 2022.
For example, in January 2020, the county had about 150 ICU beds, numbers that have insignificantly improved to about 651.
Prof Omu Anzala, a virologist at the Department of medical microbiology, College of Health Sciences, University of Nairobi added that a quick rapid understanding of the virus, and pathogenesis, lead to the discovery of vaccines.
"The availability of vaccines was a big game changer in the fight against the disease," said Anzala.
Despite the vaccine having been a game changer, Kenya among other low-income countries experienced vaccine nationalism and geopolitics.
The challenges witnessed in the continent in terms of vaccine acquisition and distribution presented an opportunity for Kenya to expose the possibility of manufacturing its on vaccines.
Kenya set up a Sh2 billion facility-Kenya Biovax in Embakasi, Nairobi for repackaging of vaccines.
In addition, the government has partnered with Moderna to set up a Sh60 billion manufacturing plant in Tatu, this month (March).
Anzala added that the availability of non-pharmaceuticals like gloves and facemasks also enhanced the fight against the disease.
During the wake of the Covid-19 pandemic, there was also a shortage in the supply of non-pharmaceuticals like facemasks and gloves, commodities which fetched high prices.
Currently, the market is flooded with facemasks which are selling at Sh10 a piece, as compared to more than Sh250, when the pandemic was reported.
Kenya and the globe is also improving in emergency response to help detect diseases, following lessons learnt from the Covid-19 pandemic, according to Anzala.
He gave an example of an outbreak of Ebola in Uganda, which did not last for long due to the ability to quickly put an emergency response together.
"We have learnt to put in place surveillance so that we are aware of outbreaks earlier, services which never received much attention before the pandemic," said the virologist.
In March 2022, the ministry loosened the restrictions following low infections.
Even with loosened measures, the then Health Cabinet Secretary (CS) Mutahi Kagwe advised Kenyans to continue heeding public health measures, including washing and social distancing.
A spot-check by The Standard revealed extreme laxity among the population, following low infection.
Despite laxity, the World Health Organisation (WHO) gave new guidelines to states, including the revamping of mask-wearing, irrespective of the local epidemiological situation.
The new guidelines suggest 10 days isolation from the date of symptoms, for symptomatic patients, a revision from earlier guidelines where patients were discharged 10 days after symptom onset, including three days after recovery.
Asymptomatic patients are expected to undergo five days of isolation, as compared to 10 days previously, with patients discharged from isolation early if they test negative on an antigen-based rapid test.
The Ministry of Health experts have further warned against casual attitudes towards the disease, saying the country is not yet out of the woods.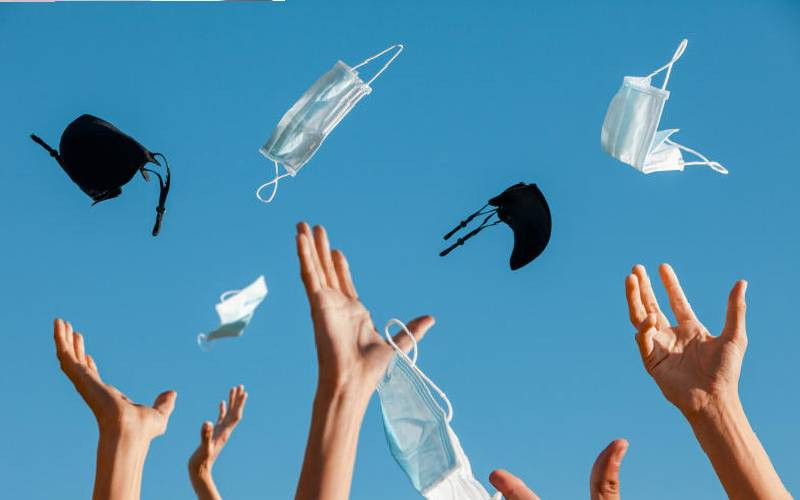 Daniel Lang'at, the Head of the Department of disease surveillance in the Ministry of Health, said surveillance and vaccination will be scaled up.
"Until the very last case, people have to be cautious. Despite Kenya not recording an upsurge of the disease," said Lang'at.
Oyugi further asked the public to be vigilant, despite the low infections reported, saying due to mutation, we might have a more lethal variant.
"The population should not forget about Covid-19, because the virus can mutate and change to a more lethal version, and take the country back to where we were in 2020," he said.
Further, he emphasised on social distancing and wearing of facemasks, adding that those who are yet to pick the jab should be vaccinated.
"Reality is, Covid-19 has not gone away. People should be vaccinated because we need to prevent a surge or an outbreak," advised the virologist.
As per the ministry's data released late last year, an estimated 24 million vaccinations have been administered, with some 10 million people having been fully vaccinated.
Kenya had planned to vaccinate 27 million by June 2022, an estimate yet to be met.
This May, the head of the UN World Health Organization (WHO) declared "with great hope" an end to COVID-19 as a public health emergency.
However, he stressed that it does not mean the disease is no longer a global threat.
Related Topics