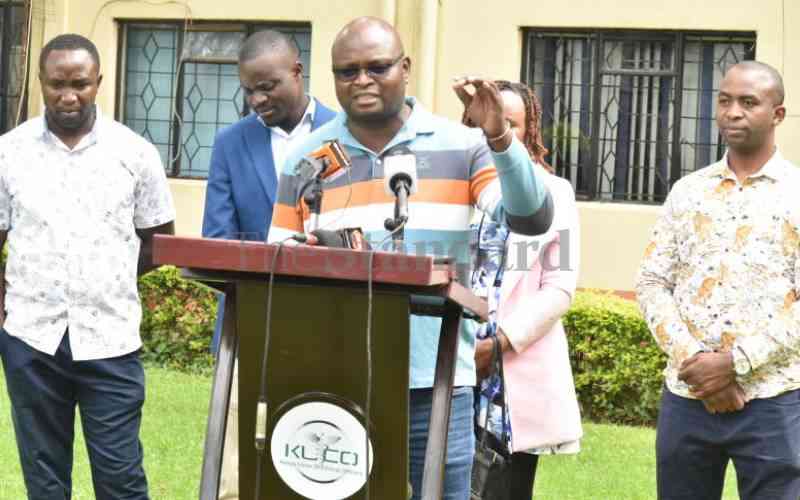 Healthcare providers, including clinical officers, nurses, nutritionists, laboratory officers, and pharmaceutical technologists, have threatened to go on strike if the government does not recognize their agreements.
The unions have given the government 60 days to conclude and register the Collective Bargaining Agreement (CBA), which aims to establish fair and equitable terms and conditions of employment.
"Failure to conclude and register these CBAs within 60 days, the union shall proceed on strike without further notice," said the Kenya Clinical Officers (KUCO) Secretary-General George Gibore.
He added, "We have given this government enough time, and nobody should tell us about the new government because the government is never new, government is about policies which are there to be implemented. Change of guard does not mean new."
Healthcare professionals are also demanding adequate compensation for their essential services and recognition of their work.
"Failure to reach a mutually beneficial agreement has resulted in a state of uncertainty, dissatisfaction, and demoralisation of employees, who tirelessly serve the public needs," added Gibore.
KUCO chairperson Peterson Wachira added that the government has delayed the conclusion of the CBA since 2019. "CBA is a right and workers must be facilitated to enjoy it," said Wachira.
The delay in concluding the CBA has resulted in brain drain, irrespective of an acute shortage, an issue that continues to affect smooth service provision.
The union regrets that the Kenyatta National Hospital (KNH) has become a transition zone, where health providers train and travel abroad to offer healthcare, regardless of Kenya grappling with an acute shortage.
"It is just a joke to have health workers who are well-trained and experienced leave the country just because of lack of goodwill by the government to boost care," said Gobore.
The failure to address issues affecting employees may derail the implementation of the highly hyped Universal Health Coverage (UHC), which is Kenya Kwanza's key agenda.
The union wants the government to employ more healthcare providers to handle the high volume of work.
For example, there is a total of 9,000 health workers recruited under UHC across all cadres whom the union says should be absorbed. If employed under new terms, the government will require a budget of Sh10.07 billion, annually, against Sh5 billion, if their contracts are renewed.
Nurses representative Mr Seth Panyako also regretted how the Kenya Kwanza government is handling the health sector and employees.
"Kenyans are fighting to have food on the table, but the direction taken by the government is 'hot air'. This government is not listening," said Panyako.
He added, "Nurses are saying no to 3 per cent, no to 2. 7 per cent National Hospital Insurance Fund (NHIF). We need accountability on how NHIF money has been used in the past".
Panyako said public servants have 16 per cent of NSSF, and more schemes, and that they should not be taxed to the last coin, leaving them poorer.
Related Topics