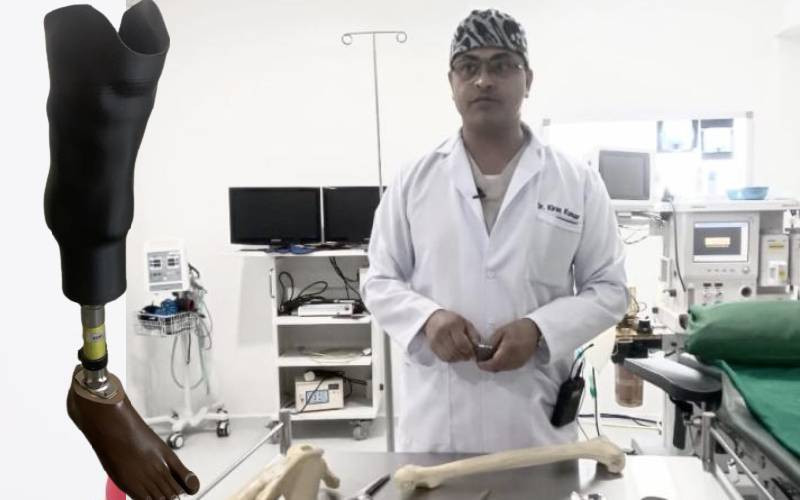 When you talk about accidents, road mishaps and fatalities always come to mind. This being the UN Global Road Safety Week, a lot of sensitisation is expected.
Accidents, be it road, train or at home, are huge contributors to deaths and severe injuries.
Evans Absalom Odhiambo, 35, from Mathare slums in Nairobi, was travelling upcountry in 2005 when he was involved in a road accident on the Busia-Kakamega road. He lost his right leg.
As a family man with two children, working as a casual labourer, he couldn't afford a prosthetic limb and turned to the Association for the Physically Disabled for Kenya (APDK). The non-governmental organisation provided him with a prosthetic leg, which still required him to use crutches and was unable to bend at joints. He was unable to continue searching for casual jobs and resorted to being a cobbler.
As he progressed with the prosthesis, the process of wear and tear led him to opt for improvisation where he would be forced to wrap the limb in a tyre tubing, if only for stability during movement.
In 2011, he fell and abandoned the prosthesis altogether.
He continued working as a cobbler, having lost hope of ever taking his children to school. He could not afford new prosthetics in retail shops which were well above Sh200,000 and the National Council for Persons with Disabilities didn't have the requisite funds to support the purchase of the same.
Then he got another call from APDK, informing him about a new technology that would allow him to have a normal life. The technology allowed for the 3D printing of artificial limbs with molten plastic, meaning he would have a range of motion across his joints.
In March 2023, he walked into Prothea Kenya, whose unique technology allowed for 3D printing of Evans' custom fit lib and 24 hours later, he was not only walking again but running again.
"My children are happier than I am, I can now take part in their activities. I play football with them, take them to school and can even squeeze in time to go to the gym," he said.
Evans, an amputee, is now able to walk, bend and run again.
Accidents also happen at home, and it is believed that home accidents are the least expected. Jacinta Wanjiku, 52, had a full hip replacement after falling while doing domestic chores.
"I could not do anything on my own. The pain was too much that everything had to be done for me, everything" says Jecinta, who had the procedure in Kwale County
We meet Jecinta in a hospital ward, two days after her surgery. The bubbly mother of four is dressed in a pink hospital gown with her eldest daughter Agnes Muthoni helping her when the need arises.
Jecinta is now beaming with excitement and hope after healing from the excruciating pain that almost crippled her.
In 2022, Jecinta slipped and fell and just like what many would do, she did not go to the hospital but took painkillers. However, her health took a nose-dive in February, this year, after she felt a sharp pain in her left thigh that compelled her to go to the hospital.
"I did not know my hip was broken, but after the X-ray, I was astonished. I think when I fell, it cracked," she says
The doctor advised Jecinta to go for a full hip replacement. She decided to go back for the surgery after consulting her family and sourcing the funds.
"I am an independent person. I am so used to doing things on my own but the pain made me feel helpless. If you'd leave me somewhere, I could not move until someone came and moved me. I thought I would never walk again. If I tried to put my feet down, the pain would be so unbearable," she says as her voice breaks then eventually breaks down.
Now that she can walk again, Jecinta says that all she wants to do is enjoy life.
Her stitches will be removed after three weeks and she is currently on medication.
Hip replacement is a surgery where part of the hip joint is replaced with implants. There are different types of hip replacements and procedures – total and partial hip replacement to hip resurfacing.
Dr Kiran Bhokry, an orthopaedic surgeon who was Jecinta's doctor, say her symptoms required a total hip replacement because once there's a fracture in the head of the femur, the blood supply is cut off.
Dr Kiran says the life span of some implants ranges from 20 to 25 years while others are 30-40 years.
"If a patient is younger, we use a long-lasting hip replacement. We make sure we do a hip surgery once in one's lifetime, but sometimes due to some complications we will have to revise it," he says
But despite age and injury being the key considerations, according to Dr Rajgopal V, they have different kinds of implants that also depend on the patient's budget.
"The procedure costs between Sh500,000 and Sh800,000, and NHIF covers around Sh300,000," he says.
In 2021, the Kenya Medical Practitioners and Dentists Council, however, said that surgeons in public hospitals should not charge more than Sh80,000 as a professional fee for hemiarthroplasty, the replacement of one hip joint, and not more than Sh180,000 for the total hip replacement.
According to Dr Nick Were, co-founder of Prothea Kenya, there is a backlog of patients who aren't able to afford artificial limbs or surgical procedures, attributing it to high costs.
"In the case of Evans, he had gone for years without a limb, and the now fitness trainer and football enthusiast had begun losing hope. However, the cost of an artificial limb was reduced by a third once he learnt of the 3D printing initiative in Nairobi.
While Evans was a beneficiary of a disability support programme, the prosthesis he received that retails for Sh60,000 is still a fraction of the cost of what's locally available.
The access to new technologies that allow for accident victims, be it road or at home, has given a new lease of life to many Kenyans.
Related Topics