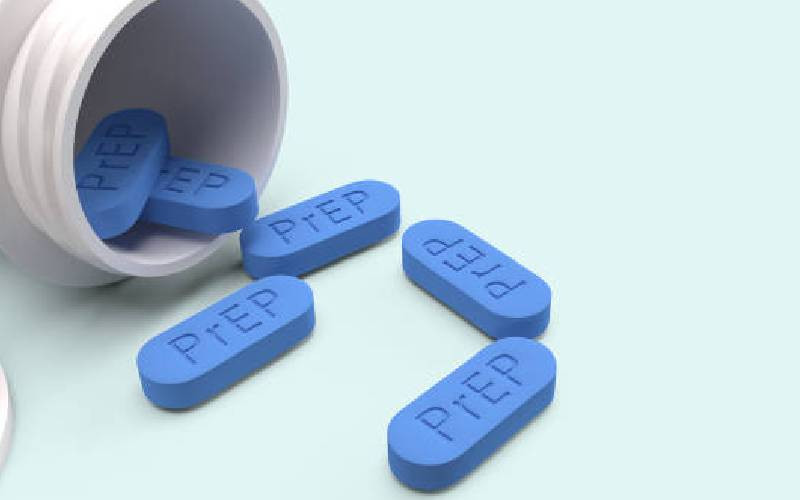 John was confused, battling strong sexual desires.
The 40-year-old businessman from Kendu Bay, Homa Bay County, had been smitten by a woman he had just met.
Quickly, he dashed into a nearby hospital, where he collected Pre-Exposure Prophylaxis (PrEP) drugs.
He later learnt that the woman, whom he had met for the first time, was HIV positive and had lived with the condition for more than 10 years.
"I opted for PrEP as a precaution, because the woman was adamant about undergoing HIV tests. I am thankful that the medicine protected me," says John.
Use of PrEP is not new to Beatrice, a sex worker in Nakuru.
Beatrice reveals that she uses the medicine because she is sexually active, and has multiple partners.
Restocking
"PrEP gives me a sense of security because I have many sexual partners," narrates Beatrice, who collects the medicine at Bondeni Health Centre.
She refills her stock after every two months.
Though the 28-year-old is a regular user of the medicine, she is faced with stigma at the facility and among her partners.
"I hide the medicine from my partners because they may think I am HIV positive," she narrates.
The experience of the two is not unique as the country reports low uptake of the medicine meant to prevent spread of HIV/Aids.
Prof Koigi Kamau, a fertility specialist at the University of Nairobi's Department of Obstetrics and Gynaecology, explains that PrEP is an anti-retroviral medication which reduces the risk of HIV infection.
PrEP was recommended by the World Health Organisation (WHO) in 2015 for people who are at high risk of HIV infection.
Prof Kamau explains that there are two types of PrEP, namely tenofovir disoproxil fumarate (TDF)-based oral PrEP, and vaginal ring, medication provided as part of comprehension prevention of HIV.
The tablet is taken before sex, by either of the genders, whereas the vaginal ring is impregnated with hormones, pressed and placed in the vagina around the cervix. The ring releases hormones, preventing infection.
PrEP, according to the fertility expert, stops the virus from replicating in the human body.
"PrEP is a deliberate drug. It is taken by someone knowing that he or she is going to engage in illicit sex, for example commercial sex workers," said Prof Kamau.
However, despite the PrEP preventing HIV transmission by 99 per cent, its uptake is low in Kenya and the African continent.
Use of the medicine, says Prof Kamau, therefore depends on the judgement of a health practitioner, as there are no policies to govern its use.
"There is no policy on use of PrEP, and the government is unlikely to announce it because of ethical dilemma," said Prof Kamau.
He added, "A health practitioner has to make a decision, for instance denying access to a sex worker means contributing to the spread of the virus, whereas giving it might be translated to mean encouraging illicit sex," says Prof Kamau, who observed that failure to use the medicine contributed to more HIV infections.
In Kenya, it is estimated that 1,508,405 people are living with HIV, out of which 1,401,598 are adults and 106,807 are children aged between 0 and 14 years, according to data by the Ministry of Health.
At least 1,204,104 people are on HIV treatment.
Kenya has the second-largest treatment cohort in Africa, after South Africa, and therefore treatment is key.
Ms Anne Githuku, the UNAIDS regional director for East and Southern Africa, says that though Africa has low PrEP uptake, its usage is high among key populations such as sex workers, homosexuals and young women indulging in transactional relationships.
Sex workers, for instance, know that they are going to have sex every single day, an act that forces them to pick the medicine.
Availability is also a factor in the low uptake of the medicine.
Unlike Kenya, however, some African countries such as Zimbabwe, South Africa and Eswatini have passed policies for access to PrEP.
Meanwhile, plans are under way to manufacture long-acting PrEP so as to ease access to the drug in 90 countries.
In a statement published in medicines patent pool last month, selected generic manufacturers will have an opportunity to manufacture and supply a generic version of PrEP to help scale up access.
Apart from PrEP, individuals are encouraged to take Post-Exposure Prophylaxis (PEP) after having sex with an individual who is HIV positive.
PEP is an emergency treatment for HIV, which is taken after possible exposure to HIV.
Unlike PrEP, PEP is taken for 28 days.
Mr Jeremiah Junior, 28, is among the beneficiaries of the medicine.
Junior used the medicine, having had a condom burst during sex.
"I was not sure of the status of my girlfriend; she encouraged me to take the medicine. After 28 days, I tested negative," narrates Junior.
However, to fight HIV/Aids, the UNAIDS director maintained that there was need for a combination of prevention programmes.
Conspiracy theories
These include condom use, PrEP and comprehensive sexuality education. Other barriers in uptake of PrEP include cultural, sexual violence and economic hardship, more so among women.
Dr Ntombi Muchuchuti, the Aids and Rights Alliance for Southern Africa (ARASA) director, says it is better to provide PrEP to youth, rather than treating Aids.
However, she regrets that there has been conspiracy theories on alleged misuse of the medicine.
"Misuse can be qualified. For me, I do not think there is misuse. If I am a sex worker, and I have clients throughout the month, and I am taking PrEP every day, because I have got clients every day, is that misuse?
Dr Muchuchuti maintains that vulnerable groups such as sex workers and those with multiple partners should be issued with the drugs.
"If we have 100 sex workers coming to take PrEP every day, by all means give it to them, because it means they are being exposed".
UNAIDS has launched a Global Alliance programme to end HIV/Aids in 12 African countries with the highest infections.
Related Topics