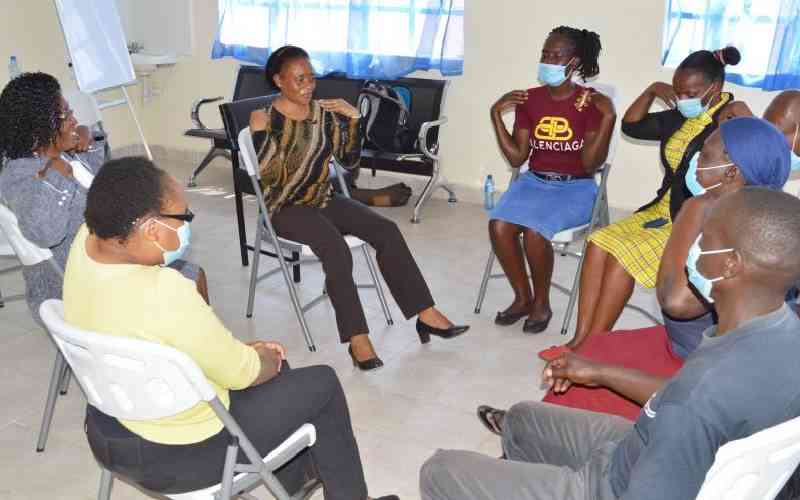 Faced with an overwhelming number of mental health patients, various public and private organisations in Meru are sensitising residents on the need to support the affected.
Meru Care Medical Centre and IKOKAY, a youth group and others have partnered to encourage communities to treat mental health disorders just like other diseases and avoid stigma.
According to Dr Andrea Mwikamba, the consultant psychiatrist at the Meru Teaching and Referral Hospital (MeTRH), a big number of residents were suffering from mental, neurological, and substance use disorders, but there were no adequate treatment facilities to help them.
"Meru having a population of around 1.5 million we estimate around 150,000 of the population having mental disorders," said Dr Mwikamba.
He said that they get patients with depression, anxiety disorders, alcohol, and other substance use disorders.
"Those are the most common conditions apart from psychosis, which is the most severe of mental disorders," he said.
Mwikamba attributed cases to biological, psychological, and social-economic factors.
"If you abuse substances, it makes you prone to mental disorders. Again, people with mental disorders tend to self-medicate with substances. The other factors could be social-economic, especially the hard economic times people are facing. Loss of livelihoods could have also contributed to rising mental disorders," Mwikamba says.
"There is a genetic component of it. So that if in your family if you had a history of any form of mental disorder you are more likely to also get it," he adds.
Mwikamba said mental health services were being offered at MeTRH's mental unit which gets around 25 patients daily, translating to around 500 per month.
Mwikamba said the unit has a 17-bed capacity, 10 for men.
It is full, he said.
"From an estimation of 150,000 and we are only seeing 6,000 (annually), that shows there is a gap in terms of access," he said, adding that the only other public facilities with mental health services were Kanyekine and Githongo hospitals in South Imenti and Central Imenti sub-counties, respectively.
He said there was no functional mental health facility in the Igembe region.
"The other problem we have is stigma. Stigma is still very high and I think that is partly the reason why people don't even go for those services. They only tend to come when they have severe mental disorders," he said.
Mwikamba said awareness of mental health and the addition of relevant personnel to address the challenge was key to successful interventions.
"There is a knowledge gap about mental disorders. Human resources working in mental health are few. It needs a lot of advocacy for us to cover that gap. As a county, the little money that is usually set aside for mental health services is usually for human resources, for salaries and for medication," he said.
Dr James Mugambi, a psychiatrist at Meru Care Medical Centre at Makutano, said mental health disorders were "quite rampant" in Meru.
Dr Mugambi said most of the patients seeking treatment included the youth.
He said stressful events like bereavement, job loss, could also cause the disorders.
Improper sleep and an unhealthy diet could also cause disorders, he said.
"We are also seeing a lot of elements of childhood trauma; things that most of us faced in our childhood, either at school like bullying, parental separation, lack of basic needs and conditions that could have been there in childhood but were misdiagnosed," he said.
"Most of the hospitals do not espouse the component of mental health or invest in it. We are really short of services. That is why we came in to offer a component of mental health," Mugambi said, adding that nationally there were only around 100 psychiatrists.
IKOKAY's Douglas Wanyama and Edwin Thuranira said they were using sports and creative arts to educate communities.
"We are raising awareness through social media and communities so that we can reach out to people who need help. We want people to come out and speak out, for them to get help," Wanyama said.
Related Topics