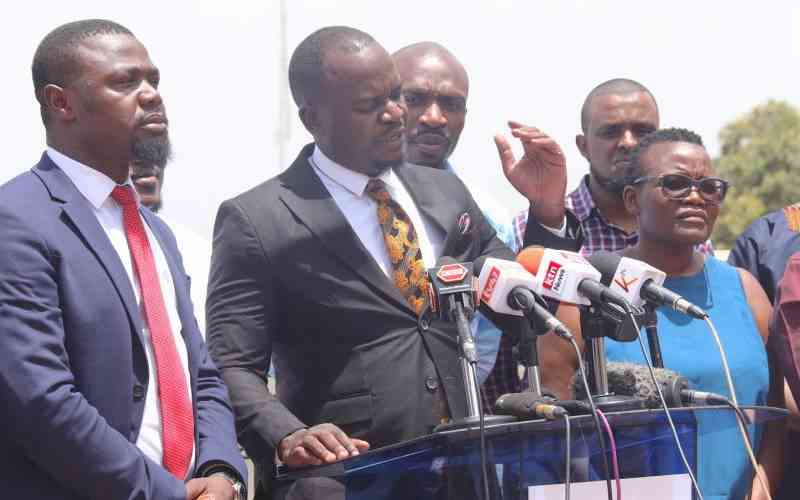 Kenyan doctors have raised the red flag, saying the country is not adequately prepared to deal with Ebola.
Through the Kenya Medical Practitioners, Pharmacists and Dentists Union (KMPDU), the medics said the health workforce is already stretched and can't handle an Ebola pandemic.
Dr Davji Atellah, KMPDU National Secretary General on Saturday said the fact that Kenya has not recorded a case doesn't mean the country is safe. "We have always been having a shortage of health workers. The capacity building that was done for Covid-19 where some doctors were hired was not enough, no more addition has been done. The shortage is still in existence up to now" said Dr Atellah.
Their concerns comes after a Tanzanian doctor working in Uganda died, becoming the first health worker killed by the disease.
"I regret to announce that we have lost our first doctor, Mohammed Ali, a Tanzanian national, 37-year-old male," Ugandan Health minister Jane Ruth Aceng said yesterday in a tweet.
She said Ali tested positive for Ebola on September 26 and died while being treated at a hospital in Fort Portal, 300 kilometres west of Kampala. KMPDU said steps that were taken during the onset of Covid-19 like construction of isolation centers, sensitization of the public, and procuring personal protective equipment should start so that when the country records a case, it's all about management, not reacting.
"There is need to start sensitizing doctors about Ebola. The country should take deliberate efforts to handle any pandemic. We should always have a robust and prepared healthcare workforce that can overcome any pandemic. This can only happen if there is more investment in healthcare and its workforce," said Dr Atellah.
Seven deaths
The availability of PPE's in hospitals is said to boost doctors' confidence in handling situations. Uganda has so far recorded seven deaths from Ebola Virus Disease (EVD) as of October 1, with a caseload of 35 patients as tension gets higher with parents said to be withdrawing their children from schools.
Travel restrictions on non-essential workers and a ban on large public gatherings has already been imposed in Mubende District in Uganda.
The outbreak was first detected in Ngabano village, Mubende District in central Uganda, and the first casualty was reported on September 19.
Even as Uganda races to contain a surge of Ebola cases, its neighbour DRC which is known to have perennial outbreaks of the deadly virus, just declared an end to the fifteenth outbreak of the virus. Dr Atellah said the preparation in Kenya is not satisfactory and that governors should boost preparedness. With the Sudan strain said to be more deadly, Attelah says there is need to have a robust and resilient public health care system.
"We need to have simulation exercise in every county that borders Uganda so as to have health workers and the population empowered. We are casting out the government, but we are coming out to offer technical support because we have practitioners and specialists. We also need to have functional hospitals," said Dr Attelah.
Peterson Wachira, the Kenya Union of Clinical Officers, chairman says the country should roll out a sensitisation plan. "For you to detect Ebola easily you need a motivated health workforce who are not fatigued to be on the lookout," said Wachira.
Related Topics