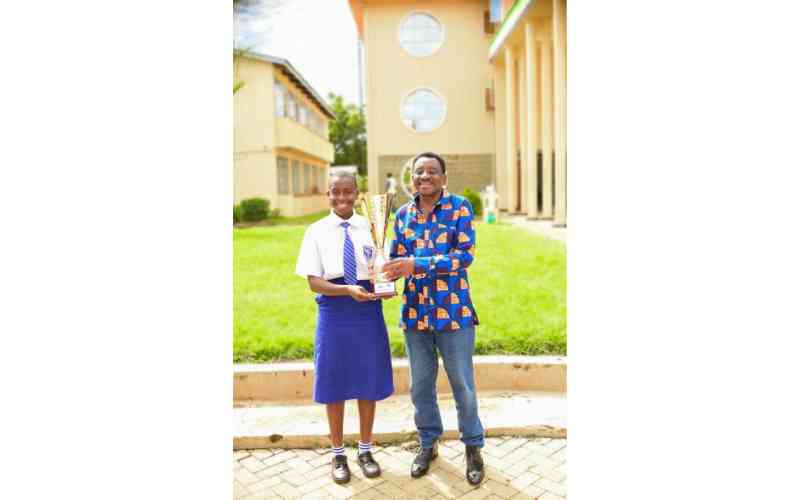 Siaya Governor James Orengo has promised to revive and strengthen hockey in the county.
Speaking while receiving the trophy that was won by Nyamira Girls in the National Secondary Schools Games, Orengo said the team can popularise hockey in the entire county.
"Historically, Kenya as a country used to be a power house in hockey internationally and form went down drastically. We used to be almost at par with India and Pakistan. We want Siaya to be up there in hockey," Orengo said.
He has therefore vowed to support Nyamira Girls as part of the strategy to revive the sporting activity in the region.
Orengo lauded efforts put in place by coaches and commitment of hockey players.
"I am going to adopt the hockey team from Nyamira Girls if they continue bringing trophies in Siaya and now that they are headed to Rwanda, will partner with like-minded stakeholders to give support towards their preparation and provide them with new hockey sticks ahead of the August competition scheduled to kick off on August 15," Orengo said.
He said he will be sending Public Works officials to assess the hockey fields in Nyamira with a view improving it's standards.
Orengo at the same time revealed that his government is committed towards supporting other sporting disciplines saying it's a suitable way of promoting talent.
Orengo noted that countries have developed through sporting activities and hence will not hesitate in giving necessary support towards sports.
"Sports is an industry. Sports and arts create jobs for our youths. There are nations that are very well known for various sporting activities including Kenya which is top in athletics," Orengo said.
Nyamira Girls are eager to lift the regional trophy at the East Africa secondary school games.
Team captain Vivian Akinyi said that winning East Africa trophy will be a culmination of a journey they have steadily and religiously walked.
"We walked to most of our competitions because it was the only way we could honour our matches. We are a small school and we were faced with numerous challenges but that did not deter us from achieving our goals," she said.
Related Topics