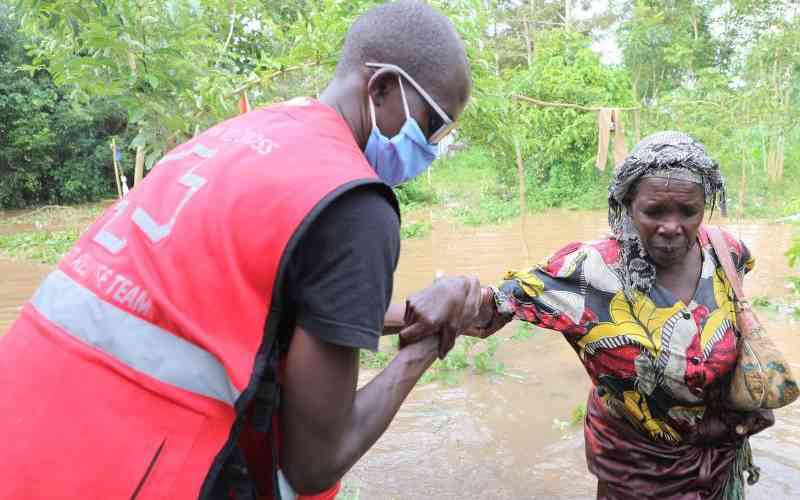 In the face of escalating climate disasters, Kenya is grappling with a silent crisis that extends beyond the visible destruction.
As the impacts of climate change intensify, a growing number of Kenyans are experiencing mental health challenges, magnifying the human toll of environmental upheaval.
From droughts to floods, the changing climate is leaving its mark on the mental health of those directly affected, painting a haunting portrait of despair and resilience.
In Turkana, one of the regions hardest hit by recurring droughts, the anguish of the local population is palpable. Lydia Ekai a 42-year-old mother of three, recounts the daily struggle for survival.
"We used to have predictable rains, but now they come in sporadic bursts, leaving us helpless. Our livestock die, our crops wither, and hope slowly fades away."
For Lydia and others like her, the relentless drought not only threatens their livelihoods but also takes a toll on their mental well-being. The constant fear of water scarcity and food insecurity weighs heavily on their minds, leading to increased anxiety and stress.
"I lie awake at night, wondering how I can provide for my children. The uncertainty is suffocating," she shares, her voice filled with desperation.
While some regions suffer from drought, others bear the brunt of devastating floods.
In Nyando, Kisumu County, the unpredictable wrath of Lake Victoria wreaks havoc on the lives of its residents. Mary Aoko, a 56-year-old grandmother, vividly recalls the day her home was swallowed by the advancing waters.
"I watched helplessly as my house crumbled before my eyes. Everything I owned was lost, and I felt a profound sense of loss and hopelessness."
Mary's traumatic experience is mirrored by many others in the community. Displaced from their homes, they seek refuge in overcrowded camps, where they grapple with unsanitary conditions and limited resources.
The constant threat of flooding and the loss of their belongings leave indelible scars on their mental health.
"Every time it rains, I feel a surge of panic. The memories of that fateful day flood back, and I can't escape the anxiety," Mary confides, her eyes filled with sorrow.
The impact of climate change on mental health extends beyond immediate disasters. It infiltrates the daily lives of communities, breeding a sense of eco-anxiety that engulfs even the youngest members. In schools across the country, children are grappling with the psychological weight of an uncertain future.
Samuel Kariuki, a 14-year-old student in Nairobi, expresses his concerns: "We learn about climate change in class, and it scares me. I worry about what kind of world we will inherit, and whether we can make a difference."
Experts warn that the mental health consequences of climate change are vast and far-reaching.
Cosmas Ngisa a mental health expert at Jaramogi Oginga Odinga Teaching and Referral Hospital emphasizes the urgent need for support:
"Climate change is not just an environmental crisis; it's a mental health crisis. We need to prioritise mental health services and provide the necessary resources to address the psychological impact of climate-related disasters."
Ngisa explains People whose homes are damaged by storms or flooding are significantly more likely to experience mental health issues such as depression and anxiety.
"Floods, drought, and extreme heat, are occurring at increased rates due to a changing climate and can impact individual mental health, increased levels of anxiety, post-traumatic stress disorder (PTSD), and depression are observed in both people with no history of mental illness and those at risk," he revealed.
Ngisa observed that some extreme weather events may require populations to migrate, which can lead to relocation and adjustment disorders. A report by Imperial College.
London's Institute of Global Health Innovation titled, "The impact of climate change on mental health and emotional wellbeing" published in May 2021 states, higher temperatures are tied to depressive language and higher suicide rates. Fires, hurricanes, and heatwaves, and floods carry the risk of trauma and depression.
Related Topics