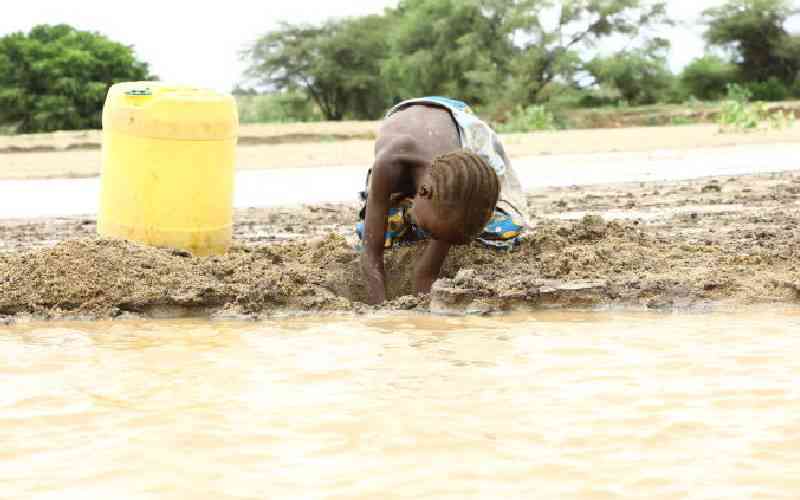 Not a drop of rain for three years in Illeret North Horr Sub-county, and when the rain finally came it poured to the joy of the Daasanach community. Contrary to what was expected, malnutrition cases did not drastically reduce.
"Despite it raining we don't have access to clean water, that is why children get diarrhoea and vomiting, they then become weak," says Nyakero Moroto, a resident of Illeret.
Although the change was not expected overnight, many hoped that the wet season would positively impact the nutrition diets at household levels.
Nyawei Nyakarrou, 36, is a mother of eight who is part of the Daasanach community and is all too familiar with the malnutrition pandemic.
Her three children have battled kwashiorkor, marasmus, and pneumonia all along the dry and wet seasons. Her five-year-old twin boys improved but her three-year-old daughter is yet to fully recover.
"I never thought my children would be alive today, especially my daughter, she was too weak," says Nyawei.
Malnutrition has been a sticky issue in Illeret since 2010. It was last year in 2022 that things got worse and the pathetic state gained recognition worldwide.
Governmental and non-governmental institutions delivered their assistance, from medical supplements, cash transfers, and borehole drilling.
"At least the children improved, they gained strength and were again jovial. As parents we were happy," adds Nyawei.
However, the relief did not last long as the effects of drought took over.
"We were again left to battle the situation alone, sometimes it feels like we are stateless," says Nyawei.
According to Illeret health centre, in March 2023, Severe Acute Malnutrition caseload was 166 malnourished children and Moderate Acute Malnutrition caseload was 545 children.
In April, Severe Acute Malnutrition caseload spiked by seven cases to 174 children and Moderate Acute Malnutrition caseload stood at 543 children out of a total of 1428 children who visited the centre in the two months.
Lack of clean water for consumption remains the local community obstacle. Most search for the precious commodity for almost 13 hours, only to come back home with a few litres of unfiltered water.
"Before I can boil and treat the water, the kids drink the water in a rush, since they have been thirsty the whole day. They then become sick," says Nyawei.
"Those with mabati houses are lucky since they can save the rainwater, though they are few since many Daasanach people have Manyattas," she says.
Nyawei had to walk for almost 6km to fetch a bottle of clean water for her youngest daughter, who is still battling malnutrition.
"The doctors advised me to feed her clean water, though I couldn't walk every day for just a bottle. I had to feed her our normal water. And she started to vomit and diarrhoea. She became weak again," saysNyawei.
Before the severe drought, goat milk came to the rescue. The kids drank the milk as a substitute for water. Right now it is a rare commodity that is only within the reach of the local rich people.
"You know if you have money it gets easier for you, you can purchase milk or even bottled water for your family, though most of us are poor," adds Nyawei.
Luck was not on Galvi Loshilima's side, she lost her granddaughter due to malnutrition. Galvi, who is visually impaired, lost her daughter and was forced to take care of the granddaughter alone. The ten-year-old daughter lost the battle after three days of constant diarrhea and vomiting.
"Everyone is struggling with their kids. Getting help is rare. If I was able to see, I wouldn't hesitate to rush her to the hospital. She died in my arms helplessly," says Galvi, sobbing.
Local hospitals are not easily accessible. Children and adults seeking healthcare services die along the way, this is not news in the Daasanach community. "Hospitals are so far away, we do not have means of transport like ambulances or even motorcycles. Parents have lost their kids in between the journey," stated Zeitun Yusuf, a community health volunteer in Illeret Ward.
"We have made a proposal to the County government to upgrade our facility to either Level 3 or Level 4 so that we don't seek medication in Ethiopia," says Arthur Wanyoike, Assistant County Commissioner Marsabit County.
Illeret ward people are mostly referred to Ethiopia or next to the border since theaters are available within such premises. "Sometimes we refer people but they do not get necessary help since they are Kenyans, and the Ethiopian hospitals require an identification card for medication," says Zeitun Yusuf, a community health volunteer in Illeret Ward.
Lack of food diversity contributes to malnutrition cases, the main diet in Illeret is sorghum, white maize, and mostly dairy products, which have doubled in price due to the recent drought.
"We are very far from Marsabit Town, in fact here accessing vegetables is a big problem, most people cannot recognize a banana or even oranges," says Beatrice Eyomo, a nurse in Illeret health hospital for 14 years.
Alcoholism is a pandemic on its own, not even mothers of affected children are spared. It has been noted with concern that a number of women sell the supplements given to them in exchange for a local brew known as kada.
"We have so many kids that we give supplements to in the facility. Every morning and evening, we have around 20 children collecting supplements at our facility. If we give it to their mothers they sell it in exchange for alcohol. The children end up not getting cured and they stay in the programme for more than the time limit. Some of them stay in the programme for even five years, then they have to be discharged," says Eyomo.
Plumpy nut, fortified peanut butter stuffed with milk, is used to treat emergency malnutrition cases. It supports rapid weight gain derived from overall nutrient intake which can alleviate a starving child from impending illness or death.
"Some mothers stretch the supplements to feed all of their kids, this weakens the strength of the medication, and the affected child won't get better. They say, 'I cannot leave the others since they are hungry too, as a mother I have to'," says Eyomo.
Related Topics