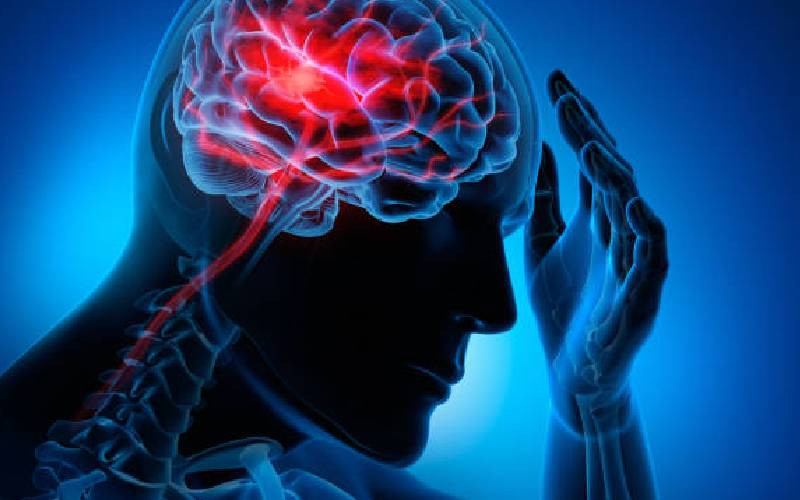 "It happened so fast," Nancy Karume, a nurse at the Kenyatta National Hospital, narrated her stroke experience.
It was April of 2020, and Nancy was on leave. One morning she leisurely went to the toilet and finished her business. As she reached out to flush the toilet, she couldn't see the knob. "All I saw was darkness," she said.
Despite being a nurse, Nancy entered into a state of denial, and with the help of her husband, she went to bed and had a long peaceful sleep from 9am to 5 pm.
"When I woke up, my face had a droop, and my left side was weak. Still, I didn't see the need to go to the hospital because I had no pain," she said. She only consented to visit the hospital at her husband's insistence, where she learnt she had a stroke.
According to Dr Kinoti Ndege, a neurologist at the Kenyatta National Hospital, stroke pain comes later, and when it does, it feels different from fracture or cancer pain.
"People experience painful tingling known as central-post pain, and numbness and so many patients opt to give it time to pass," said Dr Ndege.
The neurologist who specialises in stroke management said a prompt response, preferably within the first six hours, can give a stroke patient increased chances of a better recovery.
"A clot-repressing medication called tissue plasminogen activator or tPA can be given to someone if they're having a stroke, preferably within the first six hours potentially reversing or stopping symptoms from developing," he said.
A stroke happens when blood supply to an area of the brain is interrupted by bleeding or a clot, which causes the surrounding brain tissue to die.
Stroke survivors are left with disabilities and impairments affecting their thinking, moving, speaking, and feeling.
"Knowing the signs of stroke is critical. A minute can save lives, mobility, speech, and independence. If you spot face drooping, speech and comprehension difficulties, a weak leg or arm, get the person to the hospital immediately," said Dr Ndege.
A quick response, Dr Ndege said, can prevent invasive surgeries and long-lasting debilitating states from pressure buildup in the brain.
"Earlier treatment improves outcomes, so time is critically important," he said.
Nancy talked of the heavy dependence and economic burden the stroke brought her.
"I used to drive, but now I rely on other people or Ubers to get anywhere. I never had a househelp, but I was forced to hire one," she said. These extra expenses, added to her monthly medical bill, have placed a dent in her finances.
"Recently I needed to buy a 10 day prescription. The pills cost Sh3,200. I still have a variety of monthly medicines that cost me an average of Sh15,000. Imagine the hundreds of stroke patients who cannot afford," said Nancy.
During the Stroke Awareness Month in October, Stakeholders from the Ministry of Health, Kenya Cardiac society, and the healthy heart federation, among others, called on a need to act on the high burden of heart disease and strokes on Kenyans.
During the discussions, it emerged that there's very little focus on non-communicable diseases, including stroke.
About 41 per cent of deaths occur due to non-communicable diseases. Yet, according to Dr Stephen Mutiso, a public health data expert in the Ministry of Health, despite the need for urgent care and the massive economic burden they place on Kenyans, NCDs are a neglected area.
"Much of the focus is on communicable diseases, but NCDs are killing almost as many Kenyans as communicable diseases," said Dr Catherine Karekezi, Executive Director, NCD Alliance Kenya.
In Kenya, after the 40th birthday, the risk of stroke goes up by 10 per cent in the next 10 years. Twenty-five per cent of non-communicable disease patients suffer from stroke, and strokes account for 6 per cent of all deaths in Kenya.
Dr Ndege said stroke is a leading cause of early disability and mortality in Kenya.
"Kenya must seriously address the high human, economic and social cost of strokes," said Dr Ndege.
Simon Kariuki, NCD Focal Person for Kirinyaga county, called on the Ministry of Health to devolve NCDs treatment and management as it has done for infectious diseases.
"You will find primary-level clinics checking HIV and treating communicable diseases. About 24 per cent Kenyans live with NCDs, but there are no rehabilitative services at the lowest levels except in levels 4 and 5," he said.
Simon and Dr Ndege blame a lack of political goodwill towards implementing recommendations laid down by medics and experts.
"Politicians are concerned about setting up hospital buildings, mortuaries and other 'visible' infrastructure, but not actual policy implementation and delivery of services. But unlike buildings, health is not quantifiable," said Prof Elijah Ogola, a cardiologist at KNH and professor of medicine at Nairobi University.
"What's the need for the buildings, yet there are not enough stroke specialists at all levels of healthcare?" he posed.
The experts urged Kenyans to focus on simple preventive measures for stroke, such as exercising regularly, limiting alcohol, not smoking, maintaining a healthy weight, and controlling diabetes and blood pressure.
"Eighty per cent of stroke incidences can be prevented," said Dr Mutiso.
"The reality is that Kenyans consume too much polyunsaturated fats, sugar, salt, alcohol, and tobacco and lack quality sleep and enough exercise," he said.
All other NCDs, such as hypertension, and heart and kidney disease, heighten the risk of stroke.
World Health Organisation (WHO) data reveal that non-communicable diseases account for over 60 per cent of the world's deaths. By 2030 NCDs will supersede all other causes of death in Africa.
Dr Elizabeth Onyango, head of the NCD prevention and control division in the Ministry of Health, said Kenyans would soon notice a change in how most food items taste, as they're working with food producers to reduce sugars, additives and salts in food items.
"It's not easy controlling food manufacturing industries in Kenya, as there are jobs at risk, but the NCD burden is becoming uncontrollable too," she said.
Related Topics