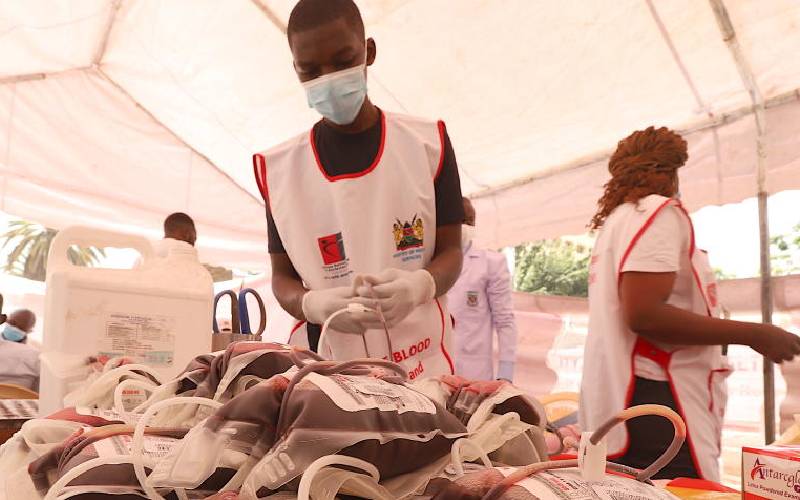 The lack of blood donors is still a hitch in managing emergency cases even as Kenya joins other countries to commemorate World Blood Donor Day.
The Kenya National Blood Transfusion and Transplant Services (KNBTTS) has developed and implemented innovative strategies to engage and create public awareness of the importance of blood donation.
The aim of the strategy is to educate and raise awareness of the importance of blood donation and how the blood ecosystem operates.
As the country gears toward the implementation of Universal Health Coverage, the KNBTTS CEO Dr Nduku Kilonzo said that adequate and safe blood for transfusion will be key, to reducing hospital stay for patients, subsequently reducing the cost of healthcare.
"We need a sufficient supply of blood, that is screened, tested, and delivered to a patient on time," said Kilonzo.
Through the sensitisation programme, the CEO said Kenya has increased the number of donors recruited as voluntary non-remunerated donors in the country.
In 2020, KNBTTS collected 172,000 units of blood, an amount that gradually increased to 297,000 blood units in 2021.
Blood Services is targeting at least 400,000 units. Kenya requires a minimum of 500,000 units annually.
According to WHO, annual blood donation estimated at 1 to 3 per cent of a country's population is sufficient to meet the blood needs.
The KNBTT's strategy is in line with this year's World Blood Donation Day theme- donating blood is an act of solidarity, aimed at drawing attention to the roles that voluntary blood donors play, in enhancing solidarity within communities.
Health CS Mutahi Kagwe will lead this year's commemoration today, in Nyandarua County.
Kilonzo added that KNBTTS has also adopted the strategy of acknowledging frequent blood donors, appointing blood ambassadors, appointing youth-led groups to mobilise the younger population, and engaging the county governments through the County Blood Transfusion Officers.
The policy on donation, transfusion and transplantation of Human-Derived Therapeutic Products has been revised, awaiting ratification.
The installation of equipment by the government has also boosted blood services.
The Blood Services has also adopted the Blood Information Management System (BIMS) to fast-track donation and consumption of blood across the country.
Related Topics