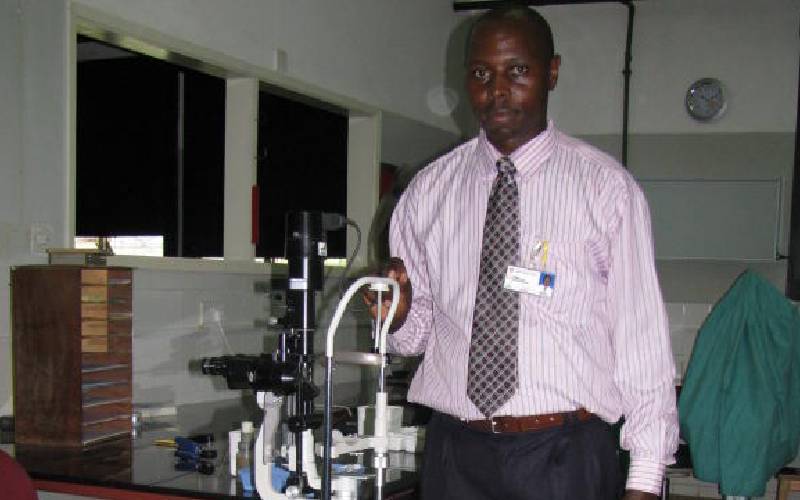 Patrick Kibe has risen from a cleaner, storekeeper, clinical officer to an ophthalmic cataract surgeon at Kijabe Mission Hospital.
An ophthalmic surgeon specialises in examining patients with eye diseases, diagnosing and prescribing medication and performing eye surgeries. Being a surgeon is a steep deviation from the norm for the third born of 10 children whose aspiration was to be a pastor.
Kibe actually sent his application to the Moffat Bible School after clearing high school with a C plus in 1990. But a theological student had to be 20 years old and above.
"They told me Patrick, you're qualified but sadly your age betrays you," recalls the now father of two.
But one of the women in the interviewing panel noticed his enthusiasm and convinced him to work in a hospital where "you can serve, testify and bring many to Christ more than a pastor".
Kibe could not wrap his head around what the woman had just said. So she elaborated that patients attend church out of choice, but those in a hospital are forced by circumstances. Most are also from diverse religions, they can see your service and deeds as a Christian meaning "you can preach to them and some might get salvation."
Coincidentally, there were separate interviews for nursing the next day at the nearby Kijabe Hospital. Kibe passed the interview, but "at the time, I had no hope of enrolling in nursing school, but Kijabe Hospital was willing to employ me as a casual labourer and my job was to clean."
For almost six months, he cleaned the Salome Ward, the Wairegi Ward and the hospital corridors. He was later promoted to a record keeper in the drugstore and six months later, was elevated to the central supply department where "we used to receive equipment from the theater and wards that needed disinfection."
Kibe's meticulous approach to work was being noticed by his superiors such that when a container full of donated equipment arrived from overseas "I sorted them out one by one for three months because I was the only one who could do it."
Kibe's report corresponded with the one from the donors. Nothing was lost. That was his turning point. The year was 1993.
Decision makers at Kijabe Hospital decided to pay for his nursing training since he had qualified anyway. By the time he was graduating with a certificate in nursing in 1995, he had also fallen in love and gotten married.
The following year saw him working in the same Salome and Wairegi wards which he used to clean and later in the maternity ward.
Kibe who was later entrusted with putting up multiple clinics and dispensaries, starting from scratch.
Kijabe Hospital has employees who are missionaries and he was requested to go to Kajiado to open a new community dispensary which is today the AIC Orinie Dispensary.
He worked from mid-1996 to 1998 before later opening the AIC Kajiado Childcare Dispensary, also in Kajiado town.
His career was blossoming and to enhance his skills, his employer enrolled him into a registered nursing programme at Kijabe for three years to 2003. Kibe was seconded back to Kajiado as supervisor for the dispensaries and the experience gained was what nudged him to pursue ophthalmic surgery.
"There was a need for an eye conditions expert in Kajiado," remembers Kibe, "so I asked Kijabe Hospital if they could help me study ophthalmology, but it was difficult since one had to be a clinical officer first."
He therefore joined a school for clinical medicine in Uganda to study from 2004-2006, before graduating and returning to Kijabe Hospital as a clinical officer for two years.
He tried enrolling for an ophthalmic surgery course in Kenya, but selection had already been done. However, there was an opening at the Kilimanjaro Christian Medical Centre (KCMC) in Tanzania. He took it up and pursued ophthalmology for two years until 2009.
After returning from Tanzania, Kibe established an eye department and a diabetes clinic at AIC Kijabe Hospital as the two conditions were linked.
"I've been heading the eye department since 2010, where we meet patients, diagnose them, prescribe medication (eye drops) and do surgeries."
Since Kijabe Hospital is a training facility, there was a need to coach and mentor others and for that reason he enrolled at Masinde Muliro University in 2015. He graduated in 2018 with a Bachelor's Degree in Medical Science and Education.
In the last two decades, Kibe has faced several challenges - including inadequate equipment and personnel - which he has managed to bridge through training more people besides seeking alternative ways of getting equipment.
"One thing that makes me thrilled," says Kibe, "is seeing a blind patient appreciating a minor procedure where they can regain their sight. This gives me satisfaction and the desire to keep going."
He also appreciates support from his family, including his wife, siblings and parents "who are always proud to see the kind of work I do to change the lives of people."
On the journey he has taken, Kibe advises: "Do your work diligently, be active and don't lose your vision. Today, you can be a cleaning, tomorrow you can be nurse, the next day you can be a clinical officer and even an ophthalmic cataract surgeon and you can be a mentor as I have done."
Related Topics