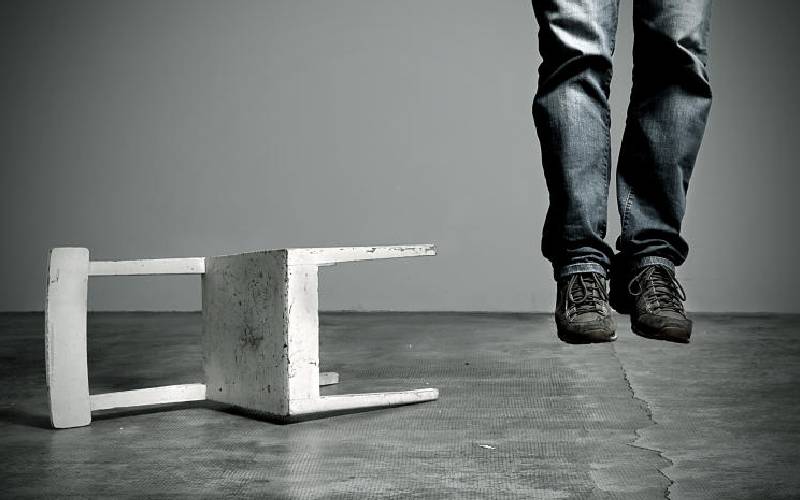 It is illegal to die by suicide in Kenya. The penal code, Section 226 stipulates that any person who tries to kill himself is guilty of a misdemeanour and is liable to imprisonment of up to two years or fine or both.
But what business does the State have if one is tired of living?
City lawyer Jackson Ndegwa says that every person has a right to life and the State, is the duty bearer in protecting people's lives and property and any person attempting to take away that life, including his own, is offending the State which has laws against it.
Ndegwa adds that only the State can take away life after due process is followed and a ruling made by the Judiciary. But this law against attempted suicide cannot be followed if the suicide is successful "since you cannot prosecute a dead person."
But Ndegwa reckons the law needs to be reviewed from punitive to rehabilitative since attempting suicide is a mental health issue which needs medical attention.
Victor Kamau, the deputy director, Kenya National Commission on Human Rights (KNCHR), explains that suicide is illegal because the law says so and "I have heard the theory that it's because you belong to the state and so is your life, but I don't believe that."
The 2021 United for Global Mental Health programme report reveals that most countries have decriminalised suicide, but 20 are still stuck with laws dating back 160 years including Kenya, Ghana, Uganda, Tanzania, Pakistan, Somalia, Sudan and South Sudan.
Statistics show that over 79 per cent of suicides occur in low and middle-income countries, but many cases are under-reported due to stigma.
Kamau says that the Kenyan courts are currently moving away from implicating persons with mental health issues.
"We have not handled cases of persons being punished or prosecuted for attempting suicide but we have studied many cases and we know that there have been instances in Kenya when people have been sentenced to prison for attempting suicide," explains Kamau, adding that criminal courts are reluctant to punish people for attempted suicide, and instead, opts to send them to get medical attention and "slowly they are getting away from criminalizing it."
Among others, the Global Mental Health report recommends that suicide and attempted suicide be decriminalized in all countries and instead, treatment sought.
Related Topics