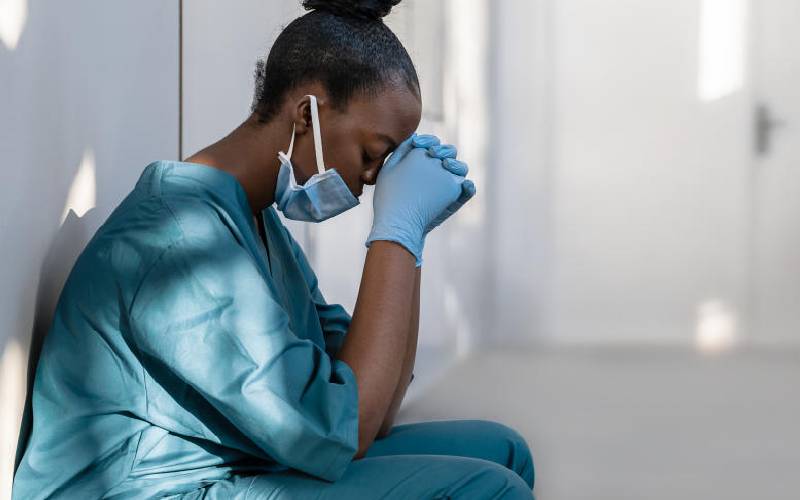 About three years ago, nurses at Kenyatta National Hospital (KNH) shocked Kenyans when they downed their tools and not for the obvious reasons like poor pay or bad working conditions.
Patients and their relatives, the nurses said, had become too violent and hence the workers were demanding protection and respect.
At the time a colleague was fighting for dear life at the hospital's Intensive Care Unit. The nurse had been assaulted by a man whose kin had died of blood cancer at the hospital.
"While we empathise with our patients and their families and appreciate the uncertainty of medical outcomes, we would like to advise our customers to extend to attending staff, the same courtesies and mutual respect as they would expect in return," the then KNH CEO Thomas Mutie said.
But the nurses said they had had enough of workplace violence, and demanded action, failure to which they would down tools.
Opinion, however, was divided on social media, with calls accusing the nurses of resorting to a hammer to kill a mosquito.
"Do we want to go on strike for anything touching on us, even if it's not a global attack? This was just an isolated case," posted Khaleesee Murageh on Facebook.
But Murageh may have been dead wrong, with subsequent media reports showing the KNH issue was not an isolated case.
A few months later, a nurse at Nairobi South Hospital sustained injuries after being attacked by a couple.
The female nurse had sustained deep sword cuts on the temple after allegations she had refused to discharge their patient.
Earlier an angry senior police officer stormed Murang'a General Hospital, brandishing a gun and threatening to shoot health workers.
His beef – a son had died at the hospital for what he claimed to be negligence by health workers.
In 2019, two men chased a nurse round Mama Lucy Hospital, on allegations that she had refused to attend to their patient.
Two nurses were injured in the incident and had to be treated at the hospital for serious injuries.
Three years ago at Madiany Sub-county Hospital in Siaya had an even scarier scene when members of the public stormed the facility and roughed up nurses.
The public had accused the nurses of neglect for failing to transfer a patient on time to avert death.
"This is totally unacceptable, though prevalent in our health facilities," says Ouma Oluga, the former General Secretary of the doctors' union.
"We will take very strong legal action against these characters who transfer their pain to workers. Workplaces must be safe for health professionals. We totally condemn in the strongest terms," said Dr Oluga.
But new data shows violence against nurses is much more widespread than the few reported cases in the media.
A new study among emergency nurses at Kenyatta National Hospital shows that almost 80 per cent of nurses experience violence at work, and regularly.
The study by a team from Aga Khan University and the Accident and Emergency Department at KNH shows Kenyans among the most violent against their nurses in the world.
The study published on January 23, 2021, in the journal Safety and Health Work says the increasing violence is negatively affecting patient care.
"We aimed to assess the prevalence and describe the consequences of work place violence (WPV) experienced by nurses working in an emergency department in Kenya," says the new study.
Evidence, the team said, shows that violence in hospitals negatively affects nurses' retention, job security and attitudes towards the profession.
The study had engaged all the 86 nurses working at the Emergency Department of KNH, which attends to 110 to 130 patients every day.
More than three-quarters of participating nurses; the report shows, had experienced some form of violence.
Verbal abuse, physical violence and sexual harassment were the most common in that order, with patients or their relatives being the main perpetrators.
Higher than the global rate
The overall violence against nurses at KNH emergency department was 76.8 per cent. "This prevalence rate was higher than the global prevalence of about 60 per cent, and higher than in other African countries."
The authors suggest the high rates of nurse-directed violence at the emergency department may be due to overcrowding, inadequate staffing and limited infrastructure. In such a situation patients and their relatives became impatient and even agitated at times.
"It also means that nurses are also working under high stress and experience burnout, increasing their exposure to violence," said the study.
Despite the high incidence of violence, the researchers found no action was taken against perpetrators of most verbal abuse, verbal threat, and sexual harassment incidents.
In most cases of physical violence, perpetrators were only admonished verbally, says the report. None of the nurses who participated in this study indicated that the incidents were reported to the police.
"We speculate that this could possibly be due to the general negative attitude towards police in the country, lack of training and the lengthy process involved in investigations and charging the perpetrators."
How nurses hit back
Almost half of the victims, the report says, did nothing about the incidents, although some reported to hospital security and supervisors.
"Such acts have become routine. They abuse you and you hit back," said a nurse at a sub-county hospital in Nairobi County.
The nurse, who can't be named, said they had developed defensive mechanisms against rude patients. However, this she said had a negative effect on healthcare, as it spilled over to other blameless patients.
"This also creates a perception that nurses in the public sector are rude, cruel, harsh, and unkind," she said.
While most nurses in the KNH study are reported to have done nothing, some took extreme measures such as discontinuing care for the patients in question.
The experiences, the report says, were found to affect the psychological well-being of the affected nurses "resulting in feelings of insecurity, stress, and depression."
Peter Kipkorir Ngeny, a paediatric critical care nurse, says while the constitution allows every person to institute court proceedings if violated, this is also a slippery path.
In a training brief for the Critical Care Nurses of Kenya, Mr Nyeny says hospitals are generally reluctant to take legal action against patients for fear of getting a bad name.
He says nurses are especially more vulnerable because most are females, reflecting the general gender-biased violence in society.
Nurses also are likely to stay with the patients for a longer period compared with other health cadres.
Patient violence against nurses, he says, is underreported in Kenya because some fear that employers may deem assaults as the result of their negligence or poor job performance.
"In some major healthcare agencies, underreporting of workplace violence is due to organisations' intense focus on customer service, which results in the mentality that "the customer is always right".
Authors of the KNH study hope the findings may act as a catalyst for instituting measures that will make it safer for nurses in Kenya to provide care.
Related Topics