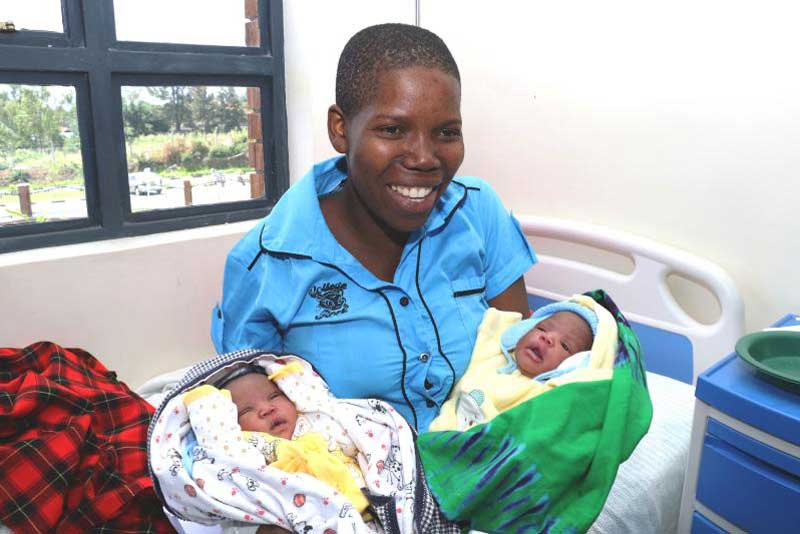 At least 114 babies were delivered in public hospitals in Nairobi and Nakuru at the beginning of the New Year.
Kenyatta National Hospital (KNH) recorded the highest number of births with 22 deliveries - 11 boys and 11 girls - followed by Pumwani Maternity Hospital, which had 19. Mama Lucy Hospital had 17, while at Mbagathi Hospital 16 deliveries were recorded.
In Nakuru, the 40 births were at Bondeni Maternity Hospital and the Margaret Kenyatta Mother Baby Wing at the Rift Valley Provincial General Hospital. The two facilities had 26 normal deliveries and nine through caesarean section. At KNH the heaviest child weighed about 4.8kg, with the lightest weighing approximately 2.4kg.
KNH Acting Corporate Affairs and Communication Manager Hezekiel Gikambi said six babies were born through caesarean section. He said there was an increase of two newborns during the new year compared to the Christmas season where 20 babies were delivered at the facility.
"We thank God all the babies are alive and their mothers are in stable condition. Most of the babies were born before midnight and they are in good health," he said.
Mr Gikambi said some county hospitals referred cases of mothers who had suffered postpartum haemorrhage and the cases were managed well.
"It is unfortunate some county hospitals referred some cases of PPH to KNH, which they can manage at their facilities. You can recommend a referral if cases are life-threatening and require specialised attention. Some private hospitals have facilities to handle the cases.
"Most county hospitals have been upgraded to manage such cases. They have facilities to handle them. You don't need to overwhelm KNH."
Nali Hajira could not hide her joy as she cuddled her twins after a safe delivery at Margaret Kenyatta Baby Wing.
"New year came with its own bundles of joy for my family following the safe delivery of my twins. They are lovely babies whom I will nurture," she said.
Rift Valley Provincial General Hospital Nursing Officer Beatrice Wafula said 35 children had been born.
"All children born at the facility are in good condition and are being attended to by medics who have been working round the clock," said Ms Wafula.
Related Topics