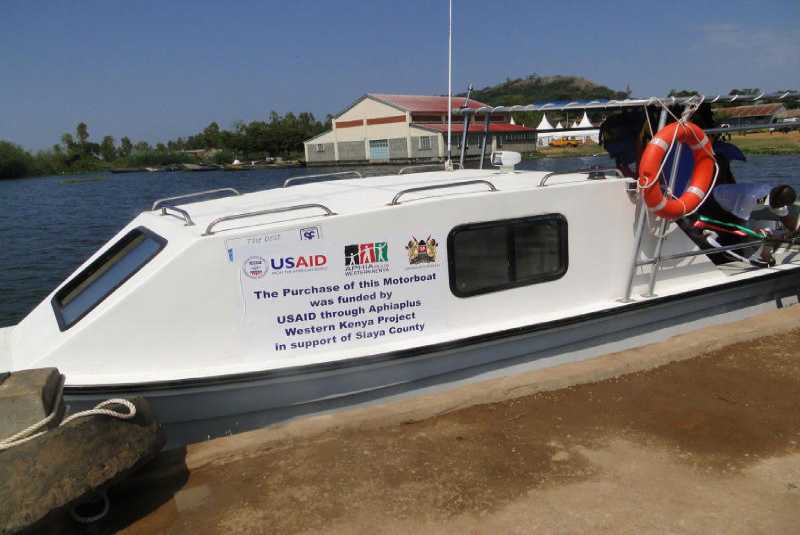 Two water ambulances bought by American taxpayers are rusting away on the shores of Lake Victoria.
Five years ago, the United States government donated three ultra-modern ambulances worth Sh18 million to Homa Bay, Siaya and Busia counties to help with medical referral activities in remote areas.
The ambulances were part of an ambitious project to revolutionise healthcare in the far-flung islands in Lake Victoria.
But the boats in Homa Bay and Siaya have since broken down, leaving only the Busia ambulance in operation.
The ambulances were launched by US Ambassador Robert Godec in a colourful ceremony held at Usenge Beach in Siaya in 2014.
The boats were bought with funds from USAid through the Aphia Plus project and were supposed to facilitate health services for hard-to-reach island populations in the three counties.
They were also expected to facilitate the care and treatment of HIV patients as well as allow counsellors to implement programmes to reduce HIV prevalence.
Insurance cover
In Siaya, there is no coxswain to operate the ambulance that also lacks insurance cover.
"I once had a birth complication and was referred to Bondo Sub-county Referral Hospital. As we were about to dock at Usenge beach, I delivered my now three-year-old baby in a public transport boat," said Monica Atieno, a resident.
Ms Atieno, 39, was among the beneficiaries when the vessel was commissioned. But she and hundreds of island residents soon realised that accessing the ambulance services would present challenges.
According to the county's Finance Bill 2017, those seeking the boat services outside the county are required to pay Sh2,500, while no fee is charged for patients within a 10km radius.
However, questions on sustainability of the project arose after medical referrals dipped.
Siaya Director of Health Kennedy Oruenjo acknowledged the problem but said plans were in place to ensure that the ambulance resumed operations.
"It is true the ambulance is not operational due to a number of reasons but we are putting measures in place to ensure that it serves its purpose," said Dr Oruenjo.
He told The Standard that finding a mechanic to repair the vessel had not been easy, but added that procurement had already been done.
However, a source at the county health department, who spoke on condition of anonymity, said the launching of the ambulance was done before the county government could put the necessary arrangements in place to ensure that it became fully operational.
"As it is now, the vessel is not equipped and there are no established medical referral procedures to be followed by those seeking the service on the islands," the source said.
Related Topics